ATL Symphony Musicians: Mozart Requiem
Description
ATL Symphony Musicians and the Atlanta Mozart Choir present two back-to-back performances of Samuel Barber's Adagio for Strings, Op. 11 and W.A. Mozart Requiem Mass in D Minor, K. 626. Conducted by Richard Prior.
Presented by Arts, Education and Ideas at Oglethorpe Concert Series.
Organizer of ATL Symphony Musicians: Mozart Requiem
ATL Symphony Musicians Foundation, a non-profit, is a steward of the art, culture, and history of classical music, the symphony, all its various instruments and the musicians who play them. Our mission is to promote classical music by example: performing with our state's young people and with local band and orchestra directors, giving school concerts, holding audition clinics and master classes, giving group and individual lessons, offering question and answer sessions and career planning.
The mission of Anacrusis Productions Ltd. is to preserve and advance the tradition and legacy of classical music and related arts for future generations, through intimate classical music performances, strategic artist management services, and focused educational outreach. 
ATLSM Foundation and Anacrusis Productions Ltd. are pleased to commit their two organizations to making this historic concert program a reality. Proceeds from this concert will fund the Foundation's continued educational mission.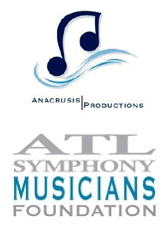 For more information, please visit our websites
ATL Symphony Musicians Foundation www.atlsmfoundation.org
Anacrusis Productions Ltd http://anacrusisproductionslimited.org/