Description
Live Life Headphones Presents: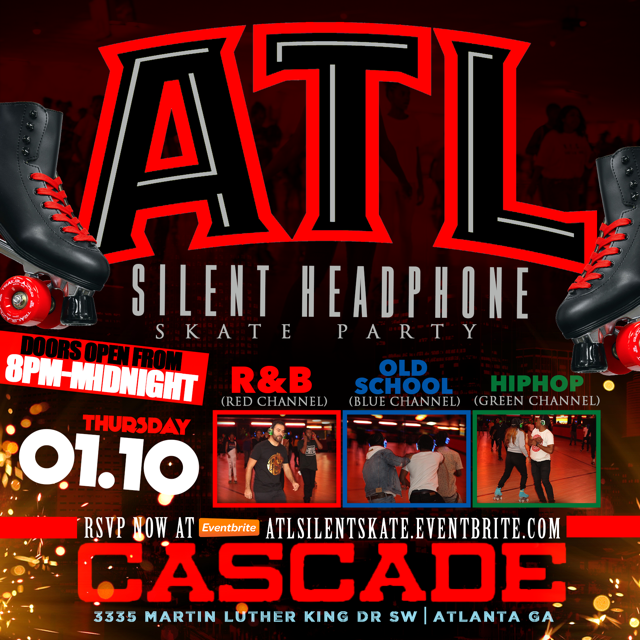 Atl Silent Skate : Silent Headphone Party @ The World Famous Cascade Skating Rink (3335 M.L.K. Jr Dr Sw, Atlanta Ga 30331)
8pm-Midnight
Skating+ 3 Dj's Playing At 1 Time + 3 Different Vibes+ 1 Huge Event
Come experience something new and unique !!! It's time to Live Life !!!
Buy Tix today for a discounted price
atlsilentskate.eventbrite.com
atlsilentskate.eventbrite.com
atlsilentskate.eventbrite.com
Missed the last one well check out the recap Video https://youtu.be/CG-l0W-aock
Check out the pictures from the last Atl Silent Skate at Casade —>> https://livelifeheadphones.smugmug.com/Cascade-Silent-Skate-Party-121318/i-fmzgGxZ
Check out the video from the first event at Casade—>> https://youtu.be/N-HLsSXj3_s
How it Works
-When you get your headphones you can tune into three different DJs!
-Each DJ Will Be Assigned a Color either Red, Blue , or Green
-Don't like the music DJ1 is playing?
-Just flip a switch and see what DJ2 or DJ3 is playing - you're in control of the music!
-Colored LED lights let you know what your friends are listening to.
It's not only fun to be a part of, but exciting to watch and listen to everyone as they dance and sing together.
This will be a new experience for the city so come be apart of the new wave and Live Life....
The DJs will be spinning your favorite R&B , Slow Jamz, Old Scool , Reggae & Trap Music