ATL Music Rodeo f. Carnival Games, DJs, Country, Latin, Vendors! (KIDS FREE...
Description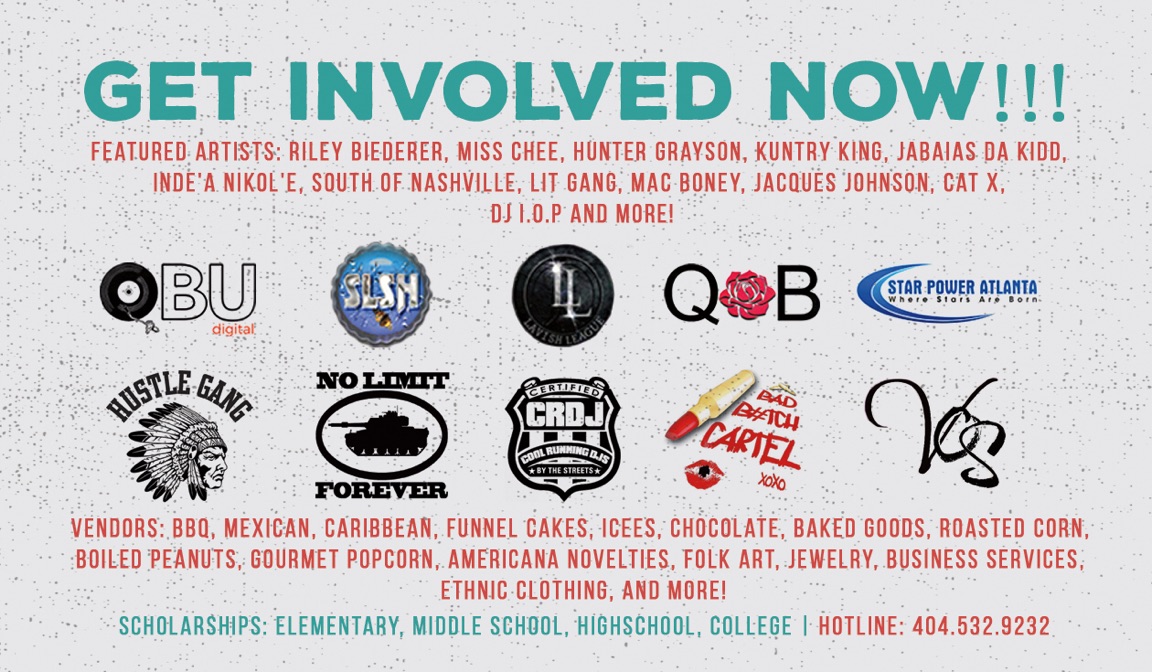 FOR IMMEDIATE RELEASE



Kuntry King & Miss Chee headline Atlanta Music Rodeo
Artists and DJs help QEB Foundation raise $1,000,000 for Scholarship Fund with hip-hop infused festival. #HipHopGivesBack #1000DJs4Education
Atlanta, GA- Never one for convention, after graduating from college this year Qn. Everlena Brown (QEB) has opted out of the job market to launch a non-profit organization. A $1,000,000 Scholarship Fund is the first order of business for the Ashford University alum under QEB Foundation. She immediately sets her fund a part by offering support to elementary and middle school students, in addition to highschool and college students. Brown feels very strong about higher learning having turned her own life around by continuing her education.
"I thought the hole in my heart was fixed when I started working for Akon's Konfidence Foundation. After a few years of navigating Atlanta's cut throat and unforgiving entertainment scene, I found myself poor and homeless once again. On the verge of suicide living out of my office, I decided to go back to school. The first required class was Adult Psychology. This is when my life begin to change. I learned that I suffered from depression because I feared success. It was the result of being ridiculed for my intellect and creativity between ages 4-9. The white kids wouldn't play with me because I was as smart as them in the gifted program. The black kids wouldn't play with me because I excelled in the arts magnet program. More in common with the Latino and Asian immigrant students I had only 1 friend each grade. I did not feel special, yet I was the most popular girl in every school I attended. Not to mention being sexually molested by a friend of the family. According to Erik Erikson's Stages of Development this is where one decides to be industrious or inferior. Realizing my vision on an inferior path explained why I hadn't achieved the level of professional or personal success I desired. Nonetheless, getting an internship at Streetz 94.5FM ultimately confirmed I was still in the game. Joining the Class of 2017 wasn't enough for me to say I graduated. I was born to make million dollar moves." says Brown.
As the entertainment industry grows in Georgia, she is dedicated to mentoring future young professionals and giving back through productions like the Atlanta Music Rodeo.
In keeping with her mission to provide literacy in Education, Finance, and Technology -- the Atlanta Music Rodeo creates the first of four installments of the fund on September 30 at the Grounds of Shiloh Christian Church: 3955 Centerville Hwy, Snellville GA. Fun for the whole family, the Atlanta Music Rodeo is a western-themed outdoor festival featuring Country, Latino, and Hip Hop music. Free entry for kids 10 years and under the doors open at 10a.m. From 12p.m. to 8p.m. 10,000 party-goers also enjoy food, carnival games, bounce houses, arts & crafts and talent contests. Winners of the talent contests receive $100, $200, and $300 scholarships for college. All students are encouraged to compete in art, fashion, music/dance at their term level: elementary, middle school, or high school. There is also a $1,000 essay contest for high school and college students. T
he contests will be judged on September 9 and announced on September 30 by
Voices of Silence
, a non-profit 501c3 organization advocating for survivors of domestic violence and more! QEB Foundation and Voices of Silence believe a good solid education along with support of the arts is a proven step to resolving many of the perils in our society.

In addition to the festivities, we have a special exhibition of an American Flag retrieved from Ground Zero after 9/11.



The $1,000,000 Scholarship Fund is an annual lifetime commitment for Brown as the daughter of a physical ed teacher and art teacher. A gifted and arts magnet student, Brown watched her working class parents struggle with resources to help reach her full potential. This experience made providing financial assistance at the primary level very important. The Atlanta Music Rodeo is currently headlined by Hustle Gang's Kuntry King featuring Mac Boney and Master P's femcee and first lady of BBC/BU Digital Miss Chee along with Riley Biederer from NBC's The Voice (Season 9) and King Roscoe from Lifetime's The Rap Game (Season 3). Special invited guests include Jamie Lynn Spears, Mickey Guyton, Carly Pearce, Becky G, Maluma, Romeo Santos, Bow Wow, Tink, Migos, T.I., Atlanta Falcons, Atlanta Hawks, Atlanta Braves, and more!
ALL ARTISTS HAVE ACCESS TO 5
PAID SHOWS, 4-5m on stage, promo flyer, social media blast, live blogging, celebrity photo op, artist development, management consulting, submit music to Radio, DJs, & Labels (Hustle Gang, Konvict Kartel, RocNation, Sony, etc) plus $5 off every tix you sell
!
DONATIONS: Make contributions payable to "Voices of Silence Corp" on behalf of QEB Foundation. Business Plan provided upon request.
MEDIA/INVESTOR RELATIONS:
Qn. Everlena Brown (QEB)
Office: 404-532-9232
2025 Peachtree Rd NE
Atlanta, GA 30309
Executive Producer
QEB / QEB Foundation
www.qebvlog.tv
Twitter: qneverlena
Instagram: qneverlena