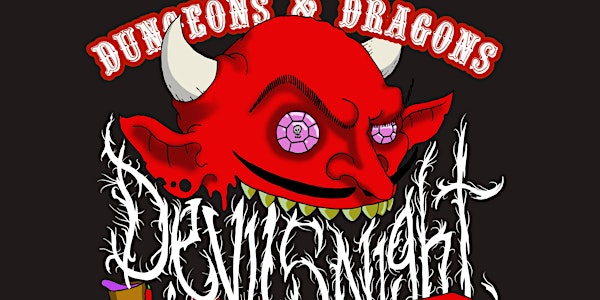 ATL D&D Bar Crawl IV: The Devil's Night
ATL D&D Presents a Bar Crawl of Hellish proportions - A Dungeons and Dragons Pub Crawl in Which Devils Vie for Your Soul!
When and where
Location
Black Sheep Tavern + Oyster Room 330 Edgewood Avenue Southeast Atlanta, GA 30312
Refund Policy
Refunds up to 7 days before event
Eventbrite's fee is nonrefundable.
About this event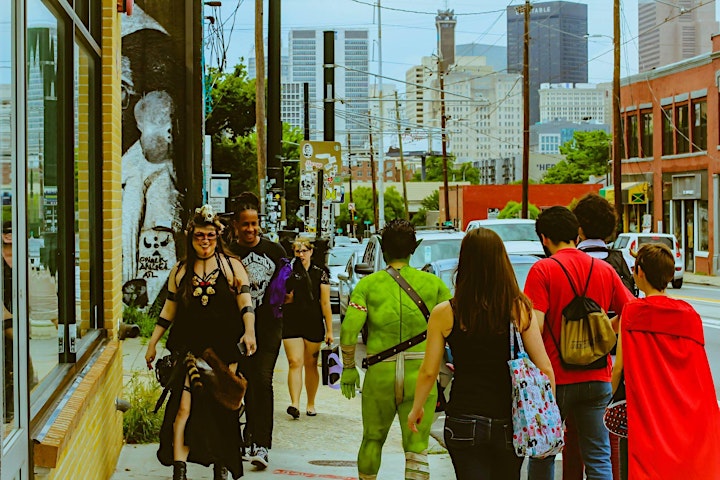 The Devil's Night
You were warned not to travel on the Devil's Night. The tavern keeper told you that fiends play out in the open, the teamsters foretold that the roads become a tangled bramble, and the old nag wagged a finger warning that this night belonged to the King of Hell himself. Nevertheless, you shook off the tales as legends, superstitions, or the work of some monster you could surely defeat. After all, you are an Experienced Adventurer and you had Great Cause to get to your next destination. You could waste no time.
But as you rode through the moonless night, you made no progress along your path. The wilderness grew thicker. The moon disappeared from view. Finally, you came to a crossroads marked on none of your maps. A finely-clothed figure with hair of purple flame greets you as you arrive, telling you that it is his night and that you now travel on his crooked road. He does not introduce himself but you know who he is all the same. He is the Devil, the Lord of the Damned, the King Crowned in Purple Fire.
"Tonight", he says, "three of my children, each from a different hellish cabal, will attempt to claim your soul. If you can outwit them all and reach the dawn at the end of this highway, you will be free to go, but I make no promises for your soul." With a terrifying laugh and a puff of sulfurous smoke, the figure disappears. With no other aid or guidance, you set off on your long, dark journey.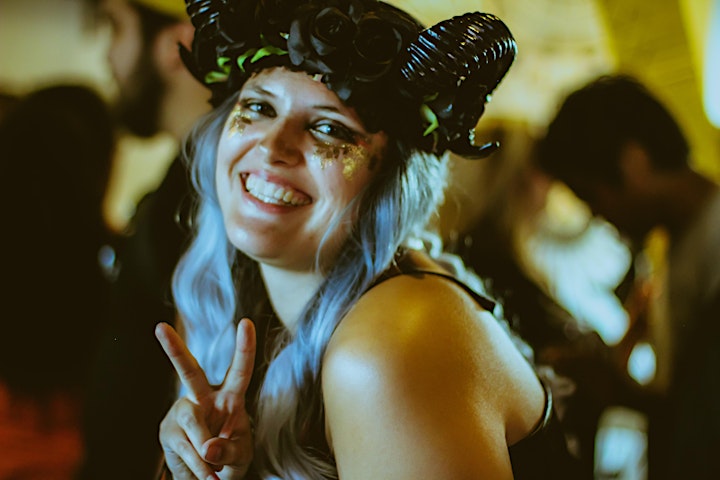 The Devil is in the Details
Devil's Night is the fourth Bar Crawl presented by ATL D&D - it's 120 players, seven bars, one huge, sprawling, day-long dungeon adventure!
You will play three 60-90 minute sessions with three separate Dungeon Masters at three separate bars. You will be assigned your bars and DMs ahead of the event.
In between sessions, you will have a bar to visit where you can swap stories with your fellow wanderers.
Devils and Angels will visit sessions and offer boons to the players… for a price. The King of Hell himself might even drop in to see how his minions are doing.
There will be an After Party with a costume contest and raffle, and crowning of the most corrupting cabal of the event.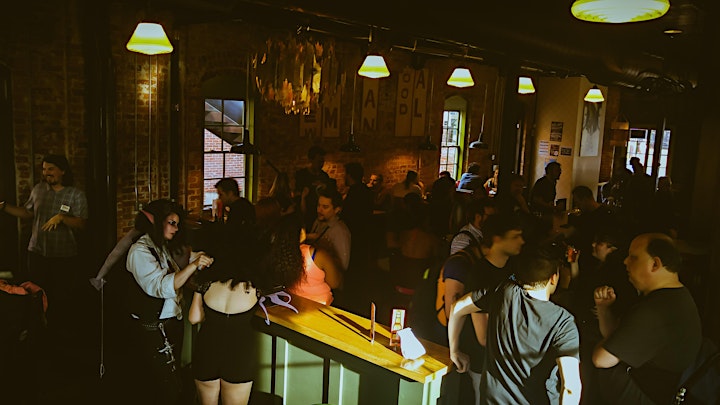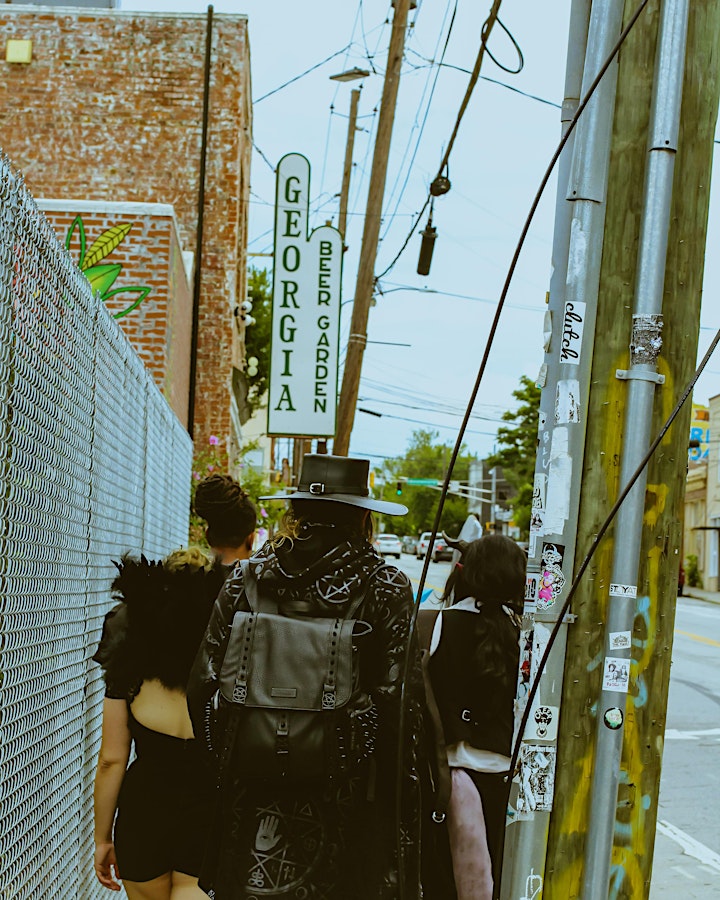 Path to Damnation
11:00 – Sign in at Black Sheep Tavern & Oyster Bar
12:00 – Introduction by The Devil Himself
1:00 – Session 1
3:00 – Session 2
5:00 – Session 3
6:00 – Conclusion at Black Sheep Tavern & Oyster Bar
7:00 – After Party and Costume Contest with The Devil Himself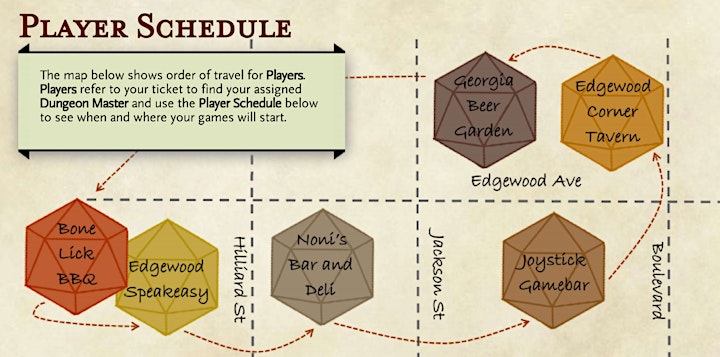 Gather Your Party
You can sign up for the bar crawl as a full adventuring party of up to five players. To join as a group select "Group" when you go to purchase your tickets. For more information visit the Eventbrite group support page.
You can create your group before tickets go on sale and share a group invitation with other players. When ticket sales begin you can choose to have one assigned person purchase tickets for the group or you may purchase tickets individually.
Note that if you buy tickets individually there is a chance that tickets will sell out before every player has an opportunity to purchase one. Also note that any person that buys tickets for other players will need the full name, email address, and phone number for each other player.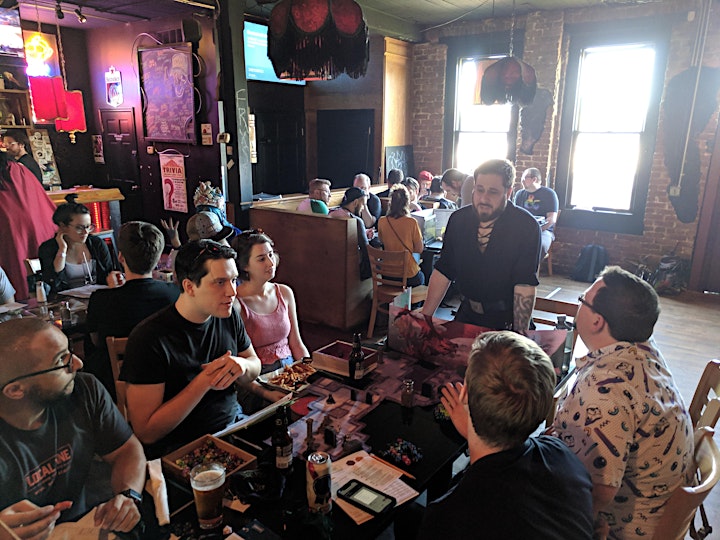 Speak of the Devil
You will build a 5th-level Character for the 5th Edition of Dungeons & Dragons that is legal for Adventurer's League play (full rules can be found here or by internet search)
You must have a great cause for traveling on this night. Get creative and collaborate with your Dungeon Masters and fellow players.
You will not get a long rest during the entirety of the adventure. You may get a short rest with clever play.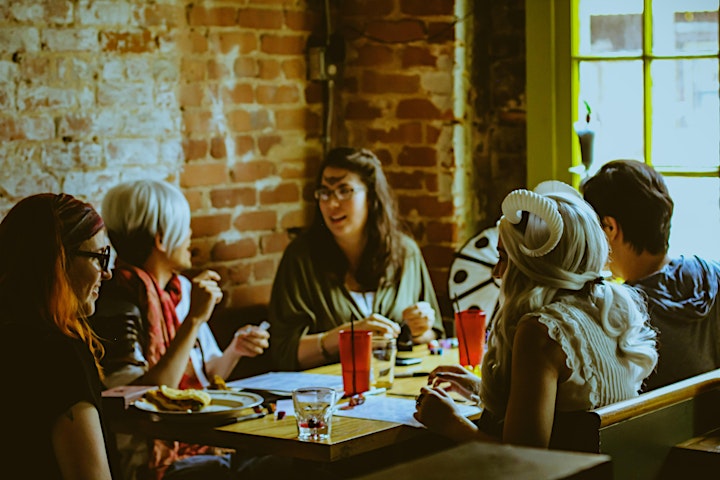 Ready to Make a Deal?
Early registration costs $20 plus an Eventbrite service fee. After October 1st tickets will be $25. Registration grants you entry to the after party, raffle, costume contest, and gets you into the game as a player character.
You must provide contact information (name, email, and phone number) for each ticket-holder. We will contact you regarding table assignments and character creation prior to the crawl.
If you have a preferred Dungeon Master or DM team please select them when you purchase your ticket - otherwise select "no preference". If you would like to be seated with other players you may register as a group.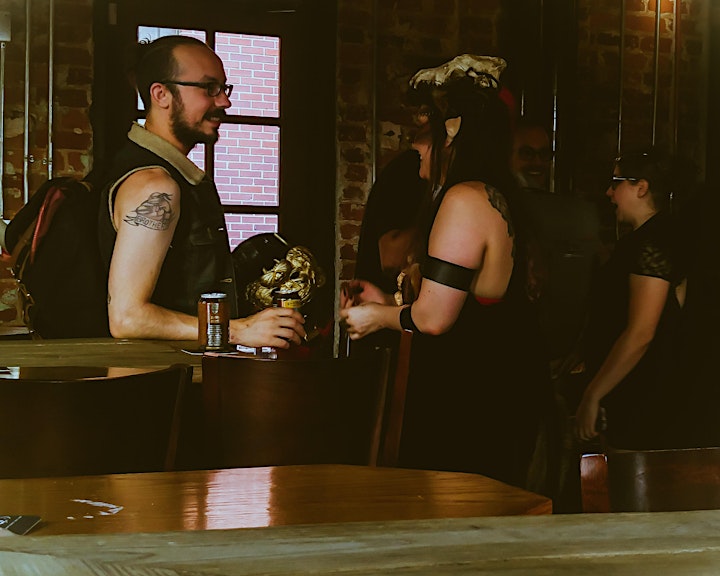 Questions... Questions
You will be connected with your Dungeon Master and the rest of your adventuring party over email prior to the Crawl. You must respond to your Dungeon Master by or before October 13 or your ticket will be refunded.
More details about the Crawl, including the bars where you will start and end, will be sent via email to all ticket holders prior to the Crawl. Please contact your assigned Dungeon Master with any questions or concerns.
For details about ATL D&D or our events, please go to www.ATLDND.com or to our Facebook, Instagram, Twitter, or Meetup pages. Our Discord is also a great place to post questions.