Description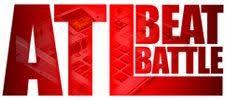 ATL BEAT BATTLE
EXPANDS THE BRAND TO MIAMI
ATL BEAT BATTLE IS THE ONLY EVENT THAT CATERS TO THE PRODUCER & SONGWRITER. ESTABLISHED IN 2007 OUR NETWORKING EVENT IS THE LONGEST AND MOST SUCCESFFUL BEAT BATTLE IN ATLANTA! THE DIFFERENT CITIES HAVE CONTACTED US, REQUESTED US, AND SUPPORTED US. IT IS TIME TO EXPAND OUR BRAND TO MIAMI, FLORIDA. WE ARE PROVIDING OPPORTUNITIES FOR PRODUCERS & SONGWRITERS IN SOUTH FLORIDA TO BE SEEN & HEARD BY THE MUSIC INDUSTRY PROFESSIONALS IN THEIR CITY & ATLANTA. SOME OF OUR PREVIOUS JUDGES IN ATLANTA INCLUDE:
DJ Don Cannon (50Cent &Young Jeezy); DJ Sense; La President
of Aphiliates Music group, Grammy Award Winners: J.U.S.T.I.C.E League (Rick Ross & Mary J.Blige); Maestro (Lil Wayne); Fatboi (Gucci Mane); Tha Bizness (Yung Money & Young Jeezy); Needlz(Jadakiss); Kane Beats (Lil Wayne); Sonny Digital (Future); Shawty Redd(Snoop Dogg); Jon Boii (Future); and MANY MORE!
In 2013 as a company we are continuing to not only focus on your talent; but we have a strong focus on networking, educating, and placements.
Producers:
16 Producers will go head to head playing their hottest beats against an opponent. Your beats will play for 45 seconds and should intrigued and impress our panel of judges. The winner of the round will advance to the next round and the loser will cheer on the rest of the producers from the crowd! This is a bracket style beat battle and we brake the segments down by equal numbers.
Songwriters:
5 Songwriters will have the opportunity to present their style of music in front of our esteem panel of judges. This music or songs that you present should be for SALE and not for your own personal use. Songwriters write songs for other artist to use and that's the type of presentation we would like to see. As a songwriter you will be allowed to play 3 snippets and receive feedback on each song.
Networking:
Networking is defined as : the exchange of information or services among individuals, groups, or institutions; specifically : the cultivation of productive relationships for employment or business opportunities. I encourage guest, supporters, music lovers, producers, artist, managers, DJs, and others to bring business cards or promotional items with them to NETWORK.
Your Network=Networth!
OUR NEXT EVENT IS
THURSDAY, MAY 2, 2013
VENUE: LOVE HATE
423 Washington Ave Miami Beach, FL 33139
DOORS OPEN AT 7PM EVENT ENDS AT 11:00PM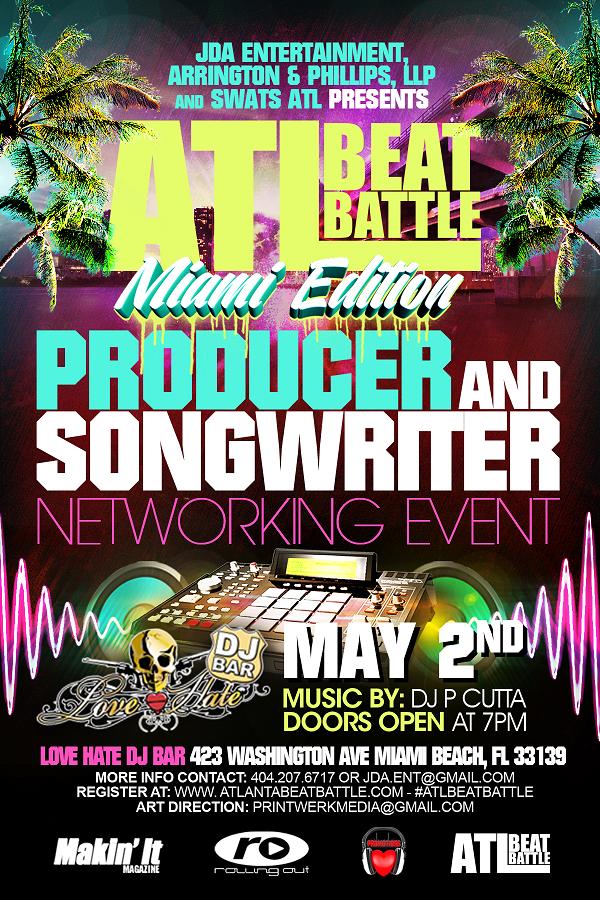 16 PRODUCERS
5 SONGWRITERS
HIT THE STAGE!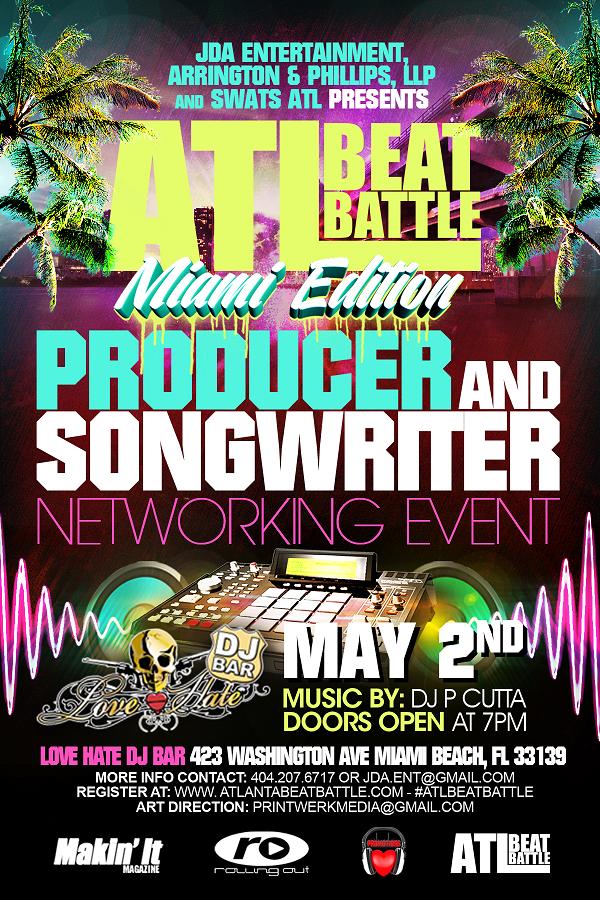 JUDGES WILL BE ANNOUNCED SOON
SOCIAL MEDIA LINKS
#ATLBEATBATTLE

WWW.FACEBOOK.COM/ATLBEATBATTLE
WWW.INSTAGRAM.COM/ATLBEATBATTLE