About this Event
ATIGS Advantage Seminar is a half-day event that brings together local business executives and government officials to learn about the upcoming prestigious Africa Trade and Investment Global Summit (ATIGS) on October 28 & 29, 2020 to be held in Dubai, United Arab Emirates.
During the event five (5) agendas are covered:
1) The upcoming Africa Trade & Investment Global Summit (ATIGS) 2020 to be held in Dubai, UAE
2) How companies can sponsor, speak, attend and/or exhibit at the ATIGS Dubai 2020
3) Delegation to ATIGS Dubai 2020
4) How ATIGS Group can drive Foreign Direct Investment and International Trade
5) How businesses can attract foreign investment
Africa Trade and Investment Global Summit (ATIGS) is a high-level, prestigious, biennial business conference and exhibition, designed specifically to promote and facilitate international trade and foreign direct investment in Africa. ATIGS is the leading Africa-global centric event with a well-structured format to facilitate deal making, co investments, strategic partnerships, and business networking all under one roof.
ATIGS Dubai 2020 is theme "Connecting Global Capital with Africa Investment and Trade Opportunities" with a sub-theme as "Better Africa, Better World". The event will be an exclusive high-level gathering for government officials, high-profile African business leaders, project developers, and international investors from Africa, Middle East, Asia, Europe, Caribbean, and America.
ATIGS Dubai 2020 will be held during the World Expo Dubai 2020, the first World Expo in MEASA (Middle East, Africa and South Asia Region) which will bring over 200 participating countries, and welcome millions of people all around the world.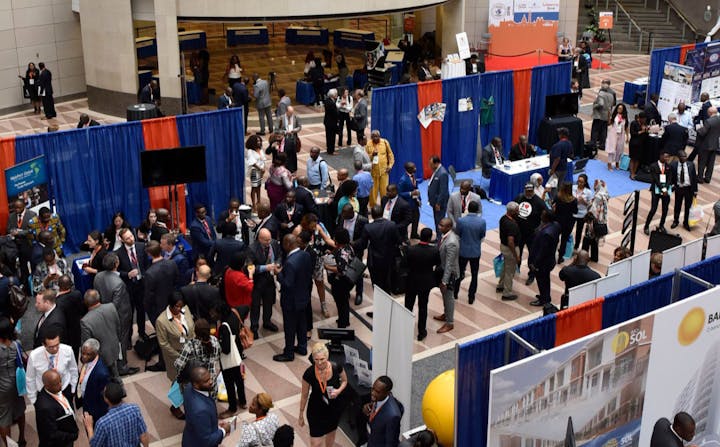 Last year, we hosted a highly successful ATIGS USA 2018 on June 24-26 in Washington DC at the Ronald Reagan Building and World Trade Center. with more than 2,300 delegates from 92 countries, and over one (1) billion U.S dollars' worth of deals were signed at the event. We occupied 48, 600 sq. ft. (Total ATIGS spaces), and celebrated the accomplishment of 10 pavilions, 186 Accredited Investor Groups, 87 Exhibitors, 2 Exhibition Halls, 150+ National Trade & Investment Agencies, 24 Country Presentations, and much more.