Athletic, Outdoor, and Life-Style Products B2B Net
Please join us for the upcoming A/O+LP B2B Online Networking. Come meet with innovative product companies from PNW and Japan!
By Prosper Portland / Japan Initiative
Date and time
Wednesday, May 18, 2022 · 5 - 7pm PDT
About this event
Advance your business through Regional & International Connections !!
<日本語での説明は英語の後にあります>
Prosper Portland will host Athletic, Outdoor, and Life-Style Products B2B Networking Zoom Program from 5:00 pm – 7:00 pm on Wednesday, May 18, 2022(PST).
The goal of this program is to connect regional A&O+LP product companies with buyers, investors, suppliers, and potential partners.
Our team consists of Prosper Portland staff with specialties in A&O+LP products, and manufacturing. We are joined by a team of Japanese consultants, who are part of Prosper Portland's Japan Initiative, with extensive connections throughout Japan in import-export, retail, supply chain, and governmental relations.
Participants can expect the following results:
Generate 25-30 new connections
Enhance company and product exposure
Discover new customers, suppliers, investors and partnerships
Improve company and product pitch
Benefit from peer learning from other A&O+LP companies
Learn about resources to help your business grow
Generate innovative ideas and new sales opportunity
We have conducted B2B programs twice annually in physical locations between 2012-2019, and six B2B programs by Zoom since May 2020. Our team has become experts at conducting B2B by Zoom and we are confident we will put your business in the best position to generate new sales. Participants can expect the following results:
Participating Regions:
To achieve our goals for this program, our team intends to put participants in front of as many viable buyers, investors, and suppliers as possible. Among the benefits of using Zoom is that our team can cast a wide net when recruiting participants from various regions of the world. Our focus for this program is on Oregon, Washington, Northern California, and Japan.
Event Flier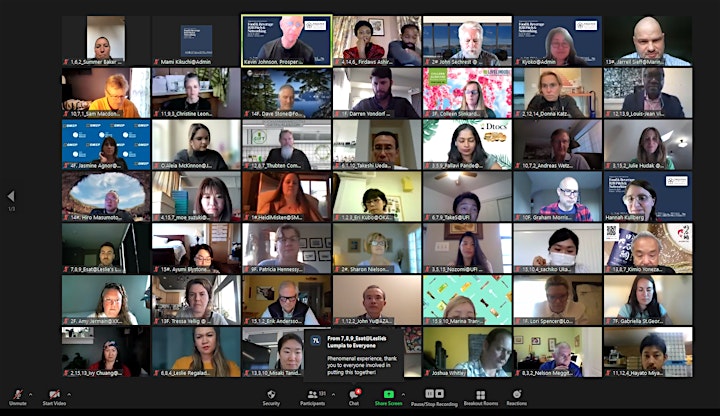 Who Should Attend This Program?
・ Athletic, Outdoor, and Life-Style Products companies – Apparel, Footwear, Gear, Bikes and Bike Accessories, Bags, Blankets, Worn Accessories, Handmade Goods, Knives and Multi tools, Camping tools, Cookware and more.
・ Suppliers – Raw materials including Fabrics, Leather, Textiles, Metals, Plastics, Rubber.
・ Retailers, Wholesalers, Distributors, Importers, Exporters, Online Platforms,Fulfillment Partners, Investors, VCs.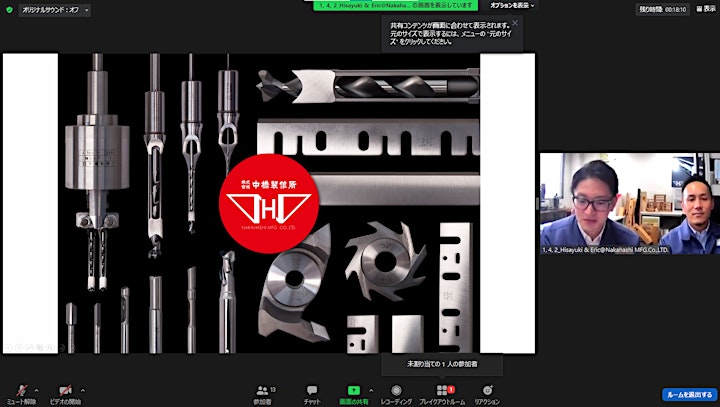 Zoom Program Format:
Our program format is the key to our continued success. We will be utilizing the Zoom meeting breakout session. We have implemented a new algorithm system that will ensure the participants are always meeting new people in each room.
- Video attendees will be separated into groups of 12-14 people.
- Attendees will participate in three 30-minute sessions.
- Each business conducts a 2-minute pitch using PPT or other.
- "Buyers and VCs" will provide a 30 second introduction.
- There will be Q&A opportunities for buyers and other participants to ask you questions.
To Help You Succeed:
PPT Template for 2-min pitch presentation - Guides you in covering all of the relevant information about your product and business during your 2-minute presentation. This presentation format will also be useful at trade shows, networking events, and during sales presentations.
Participants' list - All attendees who complete our post-program survey will be given the registration listing of all participants.
Programs conducted by Zoom to date include Food & Beverage (3), Metals & Machinery (2), and Clean Technology (1). We believe AO+LP manufacturers have the best opportunity for success with this format, given the ability to showcase their designs using models and other formats.
ポートランド市振興局(プロスパー・ポートランド)主催アウトドア、スポーツおよびライフスタイル関連産業オンラインB2Bネットワーキング
詳細は下記、参加登録は「Register」より、英語にてお願い致します。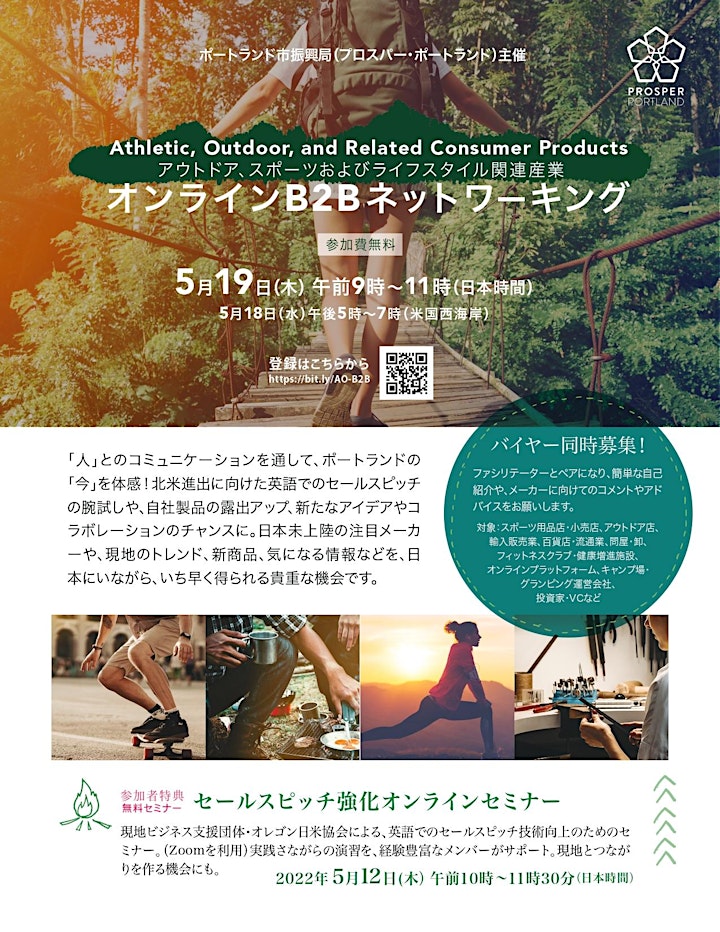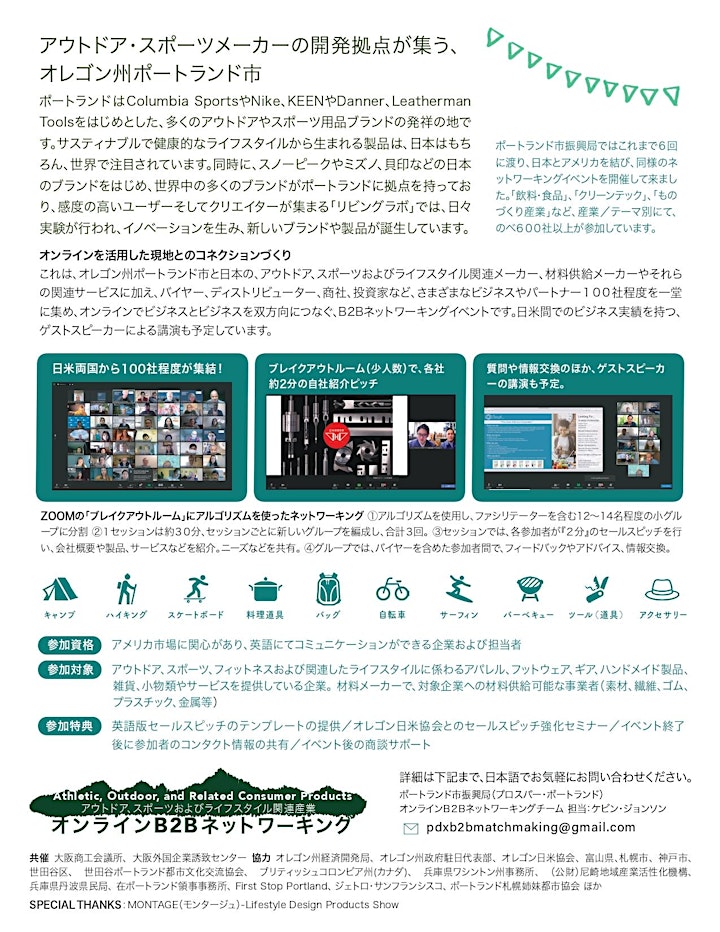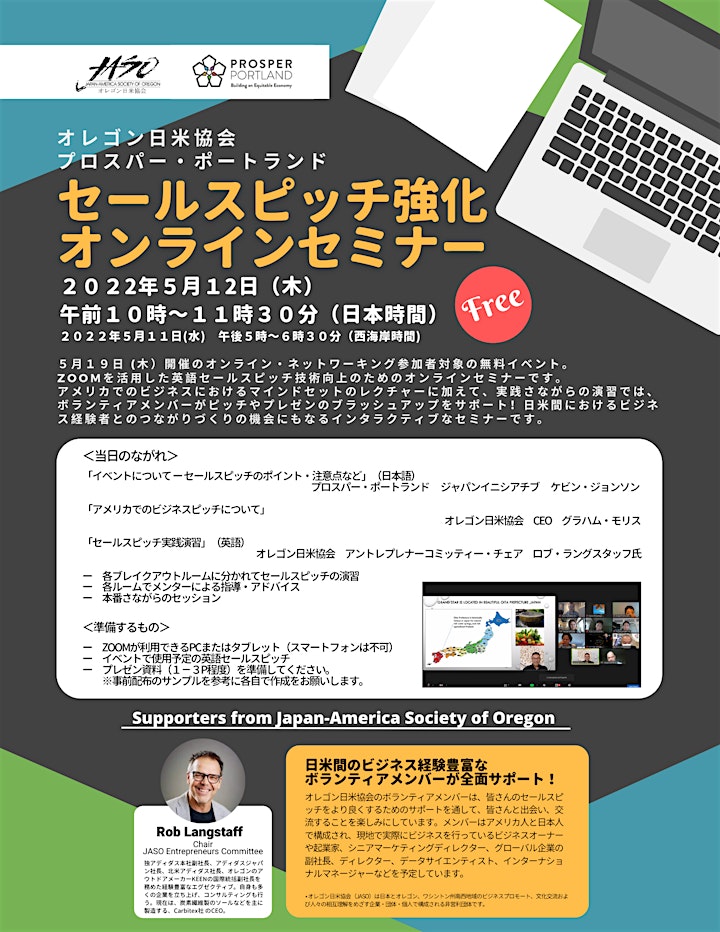 Questions?
pdxb2bmatchmaking@gmail.com