Athletes with DisAbilities Network Northeast SportsAbility Day

Sunday, August 12, 2018 from 9:00 AM to 6:00 PM (EDT)
Event Details
Come enjoy the Paralympic experience called
SportsAbility Day
Come out for a fun-filled day of kayaking, rowing, sitting volleyball, boccia ball, tennis, archery, wheelchair basketball and wheelchair tennis, adaptive cycling. All sports are open to all physical and cognitive disability levels in addition to all veterans. Due to limits on rowing, we can take 8 registrations, age 14 and up. We also encourage family members to come and participate with their loved one.
This event is free of charge and provides the opportunity for the community to meet the different organizations that work within the NJ, PA area that impacts our disabled community.
Date: Sunday, August 12th, 2018
Location/Registration Check-in: Camden County Boathouse
7050 North Park Blvd
Pennsauken, NJ
Time 8:30 am Registration
Event Start 9:00 am
SPORTS SCHEDULE
8:30 am-12 pm
Kayaking: Cooper River
Rowing Cooper River
Wheelchair basketball-Challenge Grove
Adaptive Cycling- Challenge Grove
12-1 Lunch Cherry Hill Racquet Club
Afternoon Sports Check-in location
1820 Old Cuthbert Rd,
Cherry Hill, NJ 08034
1:00 pm-3:30 pm Indoor Wheelchair Basketball
Cherry Hill Health and Racquet Club
1:30m-4:00pm Archery
Cherry Hill Health and Racquet Club
1:00m-4:00pm Sitting Volleyball and Boccia Cherry Hill West
2101 Chapel Ave, Cherry Hill, NJ 08002
4:00 pm 6:00 pm Tennis- Stand up and Wheelchair
1820 Old Cuthbert Rd, Cherry Hill, NJ 08034
Please go to the link below to register. If you would like to be a vendor at the event contact Executive Director Brandon Holiday, email  bholiday@adnnec.org, cell 267-242-4590 Meet the different local organizations, businesses that impact community programs and sports in your area.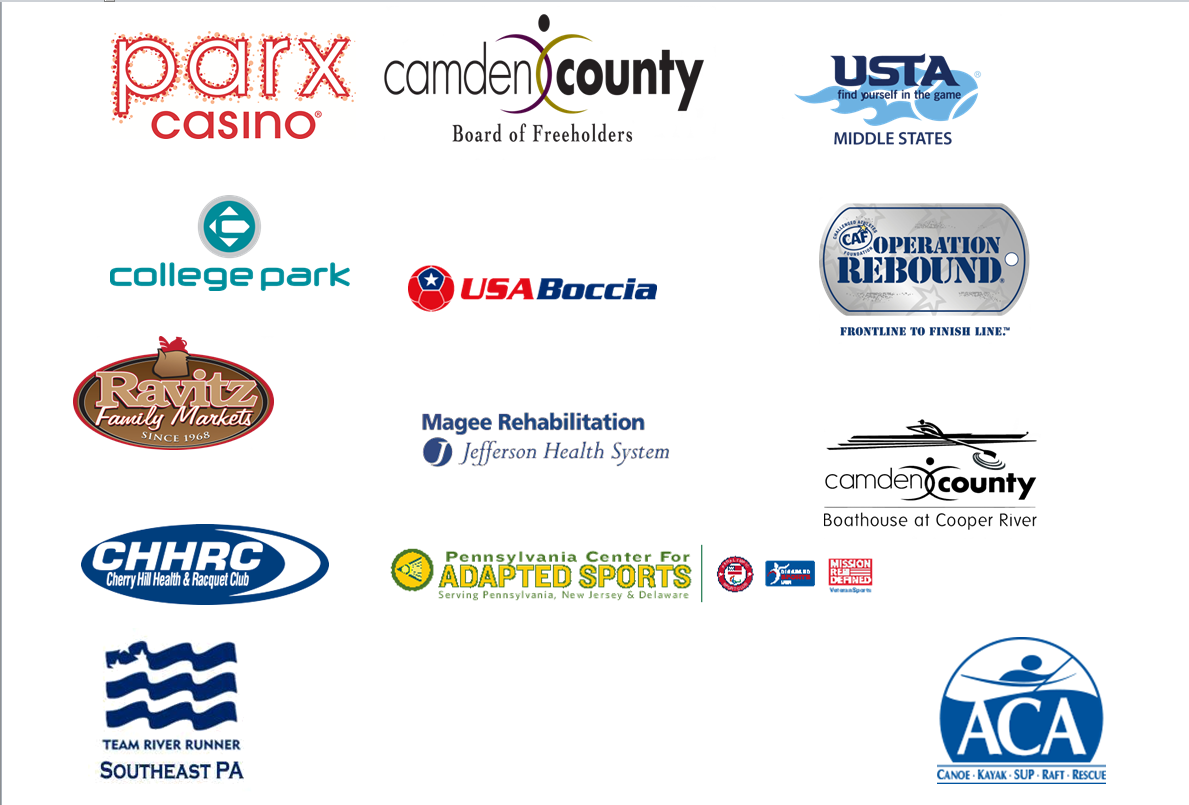 When & Where

Camden County Boathouse
7050 North Park Drive
Pennsauken Township, NJ 08109


Sunday, August 12, 2018 from 9:00 AM to 6:00 PM (EDT)
Add to my calendar
Organizer
Athletes with Disabilities Network North East Chapter Mission: To promote a better quality of life for people with physical disabilities, especially for veterans and first responders by mentoring and creating awareness and offering opportunities for local athletic, recreational and educational activities.
Programs:
Mentoring and Outreach Program
The Mentoring and Outreach program provides a critical need to the physically disabled and others affected by mental health barriers to healing such as PTSD. The onset of disabling illness, physical or sensory impairment is often accompanied by a grief processes, including depression and PTSD.
People who experience a traumatic disability or disabling disease may lose physical comfort, mobility, the ability to engage in certain activities, aspects of their previous lifestyles, privacy, a sense of dignity, control, efficacy/agency, a degree of independence, actual or perceived life roles, friends and other social supports, the ability to work, financial stability, their previous sense of identity and purpose, the ability to pursue previously established dreams, their previous body image, and, their previous sense of self.
Our mentors add a continuity of care for healthcare providers; give support and resources to individuals and families that assist with physical and emotional wellbeing. The mentor aids in coping with the many mental barriers like depression, PTSD, anger, anxiety, which may inhibit physical rehabilitation and transitioning through the traumatic life-changing event.
SportsAbility Adaptive Sports Program:
Our events create opportunities for interactions in social settings with other disabled members, their families and other mentors. This allows the newly injured person to see a better quality of life is possible and expand preconceived notions of disability and focuses on the abilities of what a person can achieve.
SportsAbility day is open to children and adults throughout the area with disabling or chronic conditions including spinal cord injury, brain injury, amputation, stroke, spina bifida, multiple sclerosis and muscular dystrophy and visual impairments to participate in multiple adaptive sports.
These sports include lower extremity running for amputees, swimming, rock climbing, rowing, white water and flatwater kayaking, and many other sports.
Adaptive Sports Coalition:
The Adaptive Sports Coalition brings together local organizations to enhance sports, recreational and leisure programs for people with physical disabilities and mental health barriers. Program goals include providing information, and resources to help newly injured patients and their families, raise awareness about the opportunities for the disabled community and develop partnerships that support member organizations and their programs.