Description
You're invited to Athletes Care – A Cocktails & Networking Event featuring Brian P. Propp (Former Philadelphia Flyer and Director of Strategic Relationships at WCRE) on March 21, 2017 from 5:30 – 7:30 p.m. at Benjamin's Desk Rittenhouse Square (1701 Walnut Street, 8th Floor, Philadelphia PA).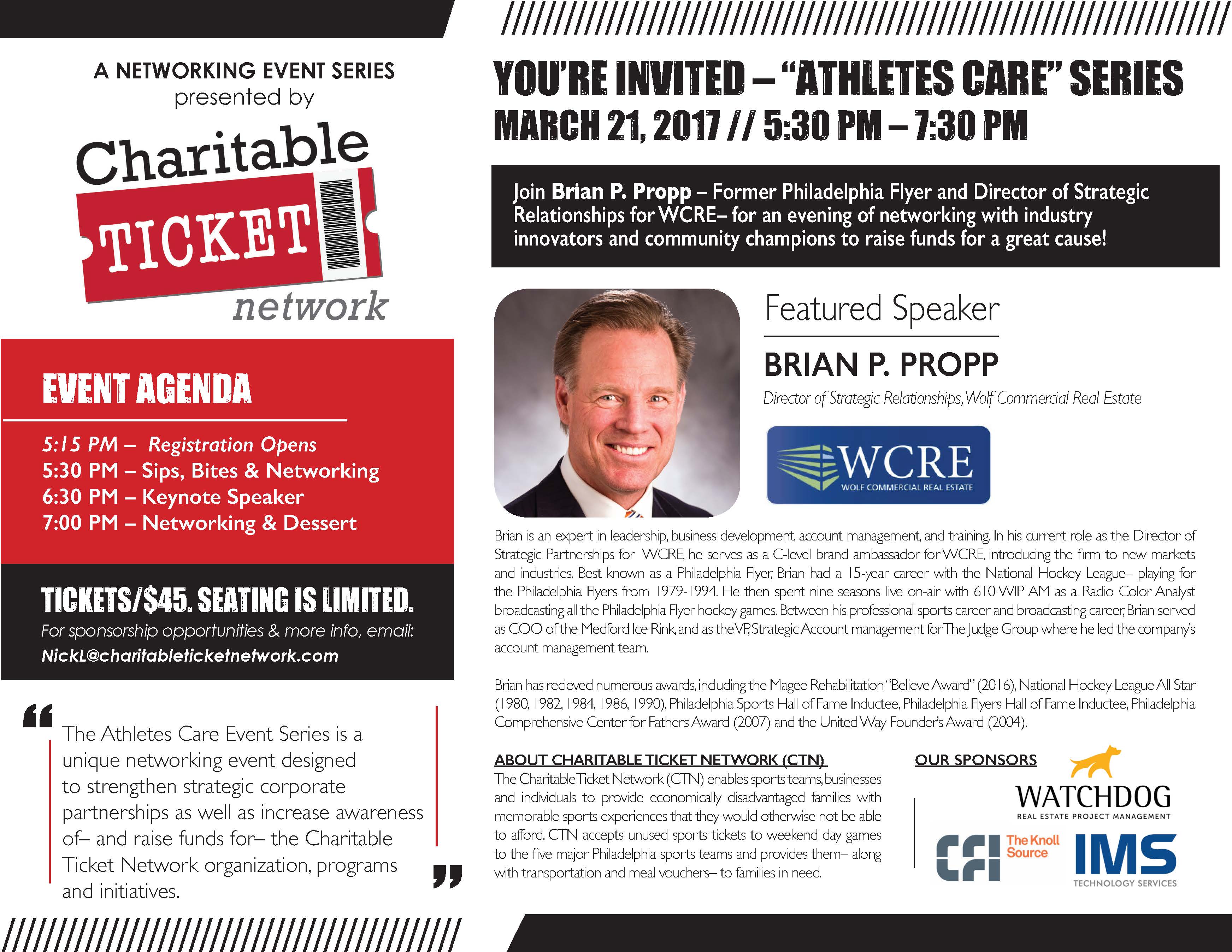 Brian is an expert in leadership, business development, account management, and training. In his current role as the Director of Strategic Partnerships for WCRE, he serves as a C-level brand ambassador for WCRE, introducing the firm to new markets and industries. Best known as a Philadelphia Flyer, Brian had a 15-year career with the National Hockey League– playing for the Philadelphia Flyers from 1979-1994. He then spent nine seasons live on-air with 610 WIP AM as a Radio Color Analyst broadcasting all the Philadelphia Flyer hockey games. Between his professional sports career and broadcasting career, Brian served as COO of the Medford Ice Rink, and as the VP, Strategic Account management for The Judge Group where he led the company's account management team.
Brian has recieved numerous awards, including the Magee Rehabilitation "Believe Award" (2016), National Hockey League All Star (1980, 1982, 1984, 1986, 1990), Philadelphia Sports Hall of Fame Inductee, Philadelphia Flyers Hall of Fame Inductee, Philadelphia Comprehensive Center for Fathers Award (2007) and the United Way Founder's Award (2004).
Date and Time
Location
Benjamin's Desk (The Innovation Loft)
1701 Walnut Street
8th Floor
Philadelphia, PA 19103