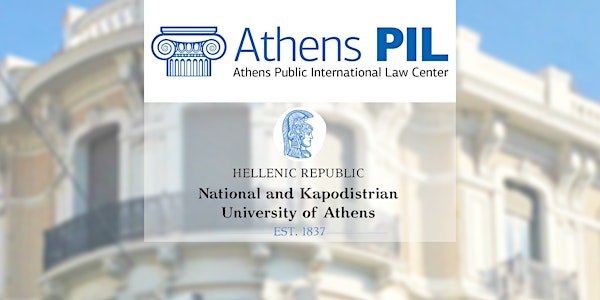 Athens PIL Discussion Group Event- Prof. Catherine Redgwell
Professor Catherine Redgwell: "What role for general principles in the international legal order?"
About this event
In this talk Professor Catherine Redgwell will explore perhaps the most controversial of the sources of public international law recognised in State and adjudicative practice: 'the general principles of law recognized by civilized nations'. Once seemingly relegated, general principles have recently become the subject of renewed interest and hot debate amongst international legal scholars, State officials, practitioners, and adjudicators. Renewed enthusiasm — and concern — have both been expressed over their potential place in international legal affairs. Professor Redgwell will explore the persistent challenges facing the identification and application of general principles and will consider whether they ought to play a role in the international legal order — and, if so, what that role should be. How we answer these questions has potentially far-reaching consequences for the maturation of international law and its capacities to respond to the world's most pressing challenges.
Catherine Redgwell is Chichele Professor of Public International Law and fellow of All Souls College. Her research interests lie in public international, including international energy law, international environmental law, and international law of the sea, areas in which she has published prolifically. Catherine is currently co-director of the Sustainable Oceans Programme funded by the Oxford Martin School (2016-) and by the Prince Albert II of Monaco Foundation (2018-). She is a member of the Academic Advisory Group of the Section on Energy, Environment, Natural Resources and Infrastructure Law of the International Bar Association. Catherine is joint general editor of the British Yearbook of International Law and joint editor of the Oxford Monographs in International Law series (OUP), having previously served as joint general editor and chair of the editorial board of the International and Comparative Law Quarterly (2006-2012). Catherine previously held the chair in Public International Law at University College London and positions at the Universities of Oxford, Nottingham, and Manchester, as well as being seconded to the UK Foreign & Commonwealth Office. Catherine was invited to give a Special Course at the Hague Academy of International Law in Summer 2022.
Moderator: Professor Photini Pazartzis
Convenors: Dr. Nikolaos Voulgaris, Dr. Efthymios Papastavridis
Research Coordinator: Ms. Matina Papadaki