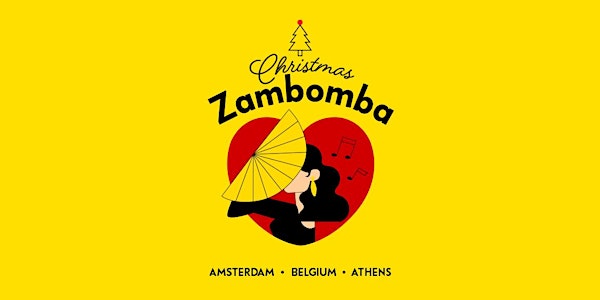 Athens / Christmas ZAMBOMBA Flamenca!
Μια flamenco Χριστουγεννιάτικη γιορτή με καλεσμένους πολλούς αξιόλογους καλλιτέχνες!
When and where
Location
Arroyo Nuevo - Flamenco School 128 Megalou Alexandrou 104 35 Athina Greece
Refund Policy
Contact the organizer to request a refund.
Eventbrite's fee is nonrefundable.
About this event
1 day 2 hours

Mobile eTicket
CHRISTMAS ZAMBOMBA FLAMENCA!
"Zambomba" λένε το μουσικό κρουστό όργανο στη λατινική Αμερική και την Ισπανία, με το οποίο συνοδεύουν τις οικογενειακές και φιλικές συγκεντρώσεις των Χριστουγέννων. Την ίδια λέξη χρησιμοποιούν για να περιγράψουν και την αυτή καθαυτή συνάθροιση για τη Χριστουγεννιάτικη γιορτή.
Σε αυτή τη γιορτή, τραγουδούν τα λεγόμενα «villancicos» (κάτι σαν χριστουγεννιάτικα κάλαντα).
Φέτος γιορτάζουμε τα 12 χρόνια από την πρώτη μας Zambomba στην Αθήνα και μαζευόμαστε ξανά για να στηρίξουμε το έργο του Χριστοδούλειου Ορφανοτροφείου στο Χαϊδάρι: www.xristodoulio.gr
Την Πέμπτη 22 Δεκεμβρίου στις 21.00!
Συμμετέχουν:
Χορός: Θέτις Μισίου, Τζέσικα Καϊμπαλή, Δέσποινα Καραγεώργου, Elena la Grulla
Κιθάρα: Σταύρος Πρέσσης
Τραγούδι: Βαλλασία Dodulu, Yota Baron
Guests: Abanicoro, Βανέσσα Κουρτέση
Sound: Αντρέας Ντρούλιας / Μάνος Παντελιάς
Φωτογραφία: Lulu Lightning / Μαρία Παπαγεωργίου
Video: Στέφανος Κοσμίδης
Graphics: Beat the Whites
Προπώληση 15€ - Ταμείο 17€
Παραγωγή: https://www.yotabaronproductions.com/production/zambomba-fiesta-flamenca/ www.yotabaronproductions.com