Description
Join Us!
Join Athena.LA and Managed by Q for an evening of networking, fun, and thought-provoking discussions around your career and your role in today's tech workplace. Get to know LA's leading people leaders from established tech companies including Shakira Butler from Fullscreen Media and Nicole Hopkins from PeerStreet, along with Saumya Bhatnagar, CTO/co-founder of Involvesoft, a corporate volunteer management platform. Our co-host for the evening, Megan Bowen, VP of Sales and Account Management at Managed by Q, will share her perspectives on tough leadership lessons learned through scaling sales teams at fast growing companies. From career transitions to negotiating a pay raise, no career topic will be off limits at this ask-me-anything style panel.
Want to know more about Managed by Q - check out their profile in the New York Times Magazine.
If you haven't been to an Athena.LA event before, you're in for a treat: expect plenty of rosé, yummy bites, and the company of wonderful, warm, and ambitious women and nonbinary individuals in tech. Whether you bring a friend or come solo, you'll find that Athena.LA is an inclusive, supportive community of women working in LA tech and start-ups.
And goes without saying, all humans are welcome at Athena.LA events!
Picutred: Athena.LA x Uber Evening - September 2018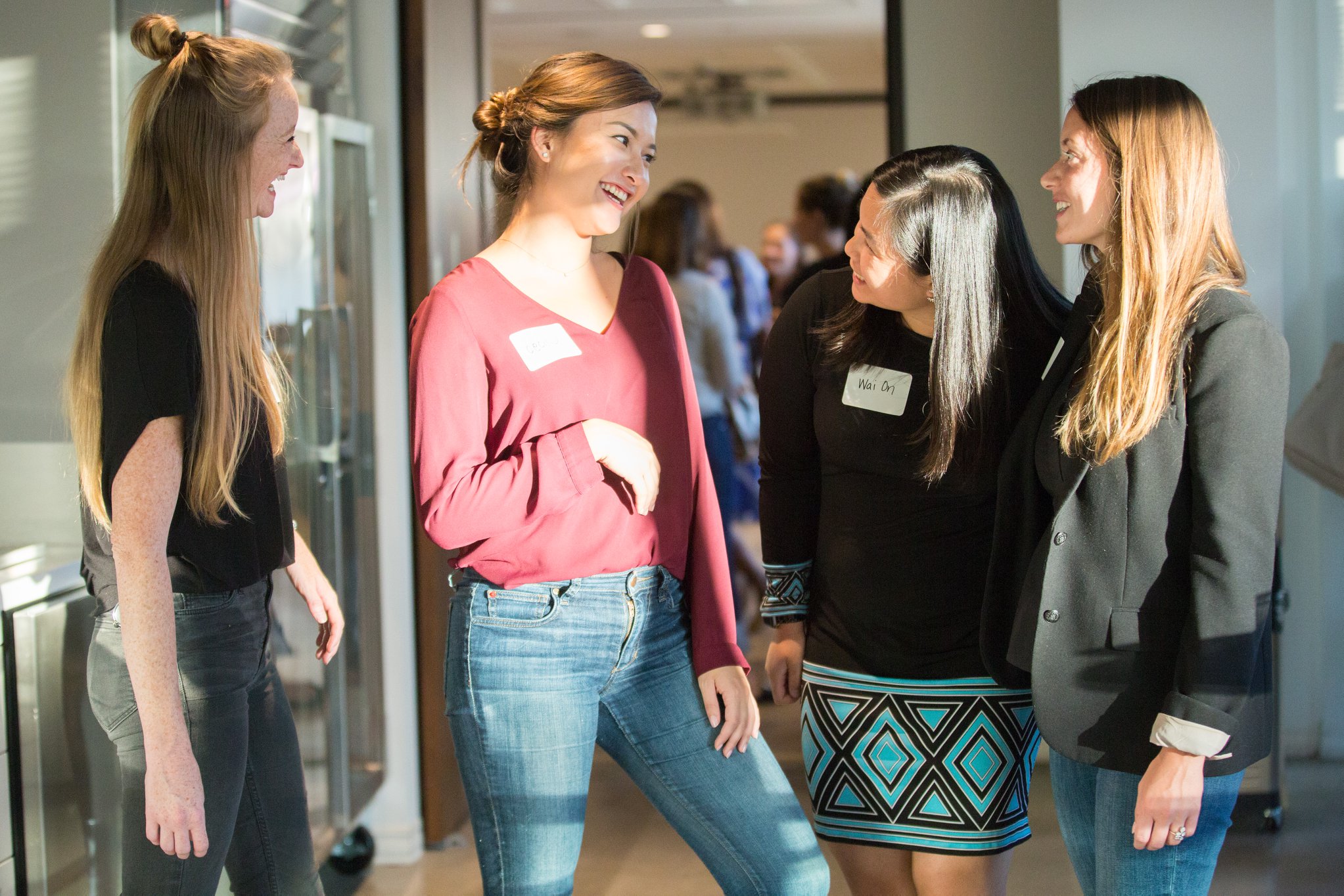 Quick disclaimer: By attending this event you are consenting to allow us the use of your photographic image for Athena.LA and co-host promotions on newsletter, website, etc.
---




About the Panelists
Megan Bowen
Megan Bowen has spent over a decade building and managing customer experience and sales teams for leading technology companies. She has worked with companies across the food, medical, and hospitality industries to create top-tier customer management functions, all focused on building long-term relationships with clients and generating more revenue for the company. Megan currently leads the sales, account management, marketing & client experience teams at Managed by Q, the platform for office management. Her team is responsible for selling business-critical office services to new and existing clients, and providing workplace advice to thousands of companies with complex needs in the janitorial and maintenance spaces. Prior to Q, Megan built the account management function for GrubHub/Seamless from scratch, and scaled the B2B client experience and account management structure for Seamless' 5,000+ business clients. She also built the post-sale client-facing teams at ZocDoc from the ground up. Megan graduated from Adelphi University with a degree in Business Management.

Shakira Butler
Shakira (Shak) Butler was born and raised in Los Angeles. She studied International Relations at the University of Southern California with a dream of facilitating change in unstable, war-torn countries. Instead of becoming a diplomat, she decided to teach and facilitate change in Inglewood, CA at Morningside High School. Passionate about poetry she created its first, Hip-Hop curriculum: part Langston Hughes, part Shakespeare and part Jay-Z + Eminem. She's also worked in Learning & Development at high growth companies that created or disrupted entire industries including ING Direct Mortgage, an online bank that changed the way we do banking. At Sky Zone, the first in-door wall-to-wall trampoline park, she helped franchise owners open stores in Canada, Saudi Arabia, Mexico and all over the U.S. Her approach to development may include rap lyrics, a YouTube video or Carol Dweck's best selling book, "Mindset". She's 1 part Creator, 1 part Learner, & 1 part Coach. She thrives on creating development experiences that inspire others to take action and max out their potential. Currently, she's the Head of People Development & Engagement at Fullscreen.
Nicole Hopkins
Nicole joined PeerStreet following their Series B funding this year to build and scale their People Operations. Prior to PeerStreet, Nicole held strategic HR Business Partner roles in Los Angeles at both Dollar Shave Club and TBWA\Chiat\Day Advertising. Nicole spent much of her early career working abroad in Sydney, Australia for Hilton Hotels as they expanded their Asia Pacific presence. She prides herself on partnering with leaders to build high performing teams and creating unparalleled employee experiences. In her free time, she enjoys taking on renovation and interior design projects, painting, traveling, and spending quality time with her husband Charlie and daughter Madeline.
Saumya Bhatnagar
Saumya is the CTO and Co-founder of InvolveSoft, a workplace community platform which helps employees volunteer in the community. Before starting InvolveSoft, Saumya co-founded a startup right out of high school in New Delhi which focussed on using technology to reduce gender-based abortions in India which was later acquired by the Indian Government. She went on to earn her Masters in Computer Science from the University of California, Santa Cruz with a focus on Natural Language Processing. Saumya is a strong advocate of more representation for women in tech and is the founder of a nonprofit in India for women empowerment. When not working, Saumya enjoys binge-watching Netflix, photography and is an avid coffee enthusiast.
Anna McMurphy
Anna joined SteelHouse in its first year. She is the heart and soul of SteelHouse; it is said the company would not have its rich culture without her. She leads the charge ensuring every team member forms a strong relationship with both their team and the company. Since then she has worn many hats ranging from finance to accounting and human resources. She started her career in music, touring internationally with her band who released a soundtrack album which became the all-time highest selling soundtrack in history in Japan. She then went into entertainment management and helped produce several documentaries before being drawn to the world of startups.
Saumya Bhatnagar

Involvesoft

CTO/Co-founder

Megan Bowen

Managed by Q

VP, Sales & Account Management

Shakira Butler

Fullscreen

Head of People Development & Engagement

Nicole Hopkins

PeerStreet

Sr. Director, People

Anna McMurphy

SteelHouse

VP, People & Culture

Morgan Sacco

Founder

Athena.LA