Aterciopelados with Elefante
Description
Twitter | Facebook | Instagram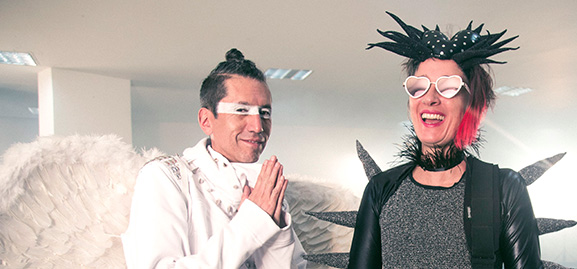 Aterciopelados, the pioneer Latin-American folk-rock group, returns after 8 years with their first long and live project entitled "Reluciente, Rechinante y Aterciopelado." This CD+DVD is a compilation of the most representative songs of their repertoire that celebrates over two decades of their existence as a band. It features the participation of big names, such as Macaco, León Larregui (vocals for the Mexican group Zoé), Goyo (Chocquibtown) and Catalina García (Monsieur Periné).
The group's members, Andrea Echeverri and Héctor Buitrago, founded Aterciopelados in 1992 and achieved great success, both locally and internationally, thanks to a sound that was absolutely unique and innovative, free of prejudices, mixing rock with the roots of Colombian folklore and even with salsa and bossa nova.
Aterciopelados have grown and evolved with each production, making history in Latin America and the rest of the world. They have released seven studio and one compilation album, selling over ten million copies of their records. Their album Río has been mentioned by Rolling Stone magazine as one of the 10 best Latin rock albums of all times.
They have earned two Latin Grammy awards and been nominated on multiple occasions for the Grammy. Aterciopelados are also Amnesty International ambassadors focusing on the fight against abuse of women and have been strong activists since the beginning of their journey as a group, as well as individually, with Andrea releasing three studio recordings ("Andrea Echeverri", "Dos" & "Ruiseñora") that reveal a very clear position regarding gender issues and the rights of women. The first one of said albums carries her name.
Furthermore, Hector, who is composer and producer for many up and coming artists, has always been interested in the environment and the legacy from ancestral indigenous people, and has actively participated in organizing "Canto al Agua," an intercultural network focusing on healing and caring for the water. His soloist discography consists of his albums "Conector", "Conector II" and "Niños Cristal".
Hector and Andrea are currently presenting "Reluciente, Rechinante y Aterciopelado", homage to all the songs that turned them into one of the greatest and most renowned rock bands in Colombia and worldwide. As a result of their getting together after a three-year recess and with the objective of presenting their greatest hits at the 20 years of Rock al Parque, they have created this CD+DVD. It includes songs that made the "50 most viral songs of Colombia"
This is an album filled with environmental-friendly elements, and all related videos of the group are already available on the Vevo channel on Youtube and available on all streaming and online purchasing websites. It is a summary of the greatest hits of a legendary band that has left its imprint on more than one generation for over two decades.
In the middle of their world tour "Reluciente, Rechinante 2017", in which they support the release of the live album that bears this name in different countries in Europe, Aterciopelados' pays tribute to Juan Gabriel, with its version of "He venido a pedirte Perdón".
According to Andrea and Héctor, this song is "Sound nu disco and plancha futurista", referring to the term 'iron music' that in Colombia encompasses the great songwriters of Latin music of the 70's and 80's.
---
Twitter | Facebook | Instagram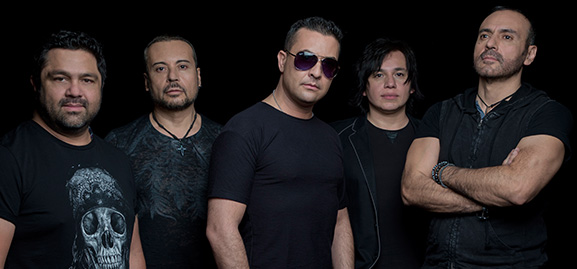 Elefante is a Latin Rock and Pop band formed in Mexico City. The group first came to prominence when they opened for Joaquín Sabina at a show at Mexico City's National Auditorium. The group has done several tours of the Americas, opening for likes of Shakira and Mana. Songwriter and guitarist Rafael "Rafa" López and Javi Cantero are the lead vocalist for the romantic rockeros.
Since the late 90s, Elefante has been making rockeros fall in love, dance, heal broken hearts and even cry with potent, soul-bearing lyrics fused with rock melodies that can blast speakers and light up a dance floor of a local dive bar or a global stage.
Elefante's wide-ranging music breaks the generation gap that often divides Latin Rock fans between the four areas of Rock Nacional, 90s Rock, Modern Rock, and Metal. Their diverse influences come from many South American countries, making them globally renown.
*****************************************************************************
Every Saturday Night, from July 13th to August 17th, enjoy the free concert series at Pershing Square, an outdoor venue in the heart of Downtown LA. The free six week Saturday night concert series features a carefully curated selection of legacy and contemporay live music, set against the Downtown LA skyline. Some of this years' artists include Best Coast, The Psychedelic Furs, Easy Star All-Stars, Smash Mouth, Pat Benatar & Neil Giraldo, and She Wants Revenge. Ten full service bars and food trucks are located inside the venue. A complete line-up of artists, venue rules, and other summer events taking place at Pershing Square can be found on the venue website: laparks.org/pershingsquare

Every eventbrite pass ensures access into the venue. Once the pass is downloaded, the patron is subject to all venue rules and regulations. Please keep in mind that at the request of the artist/performer, flash photography, professional camera or recording equipment (including cameras with detachable lenses and any form of camera stand) and laser pointers are prohibited at Pershing Square's Downtown Stage Saturday concerts. This policy will be strictly enforced due to a contractual agreement.
FAQs
Are there ID or minimum age requirements to enter the event?
YES the Pershing Square Downtown Stage is a 21 and over event with ID . If you wish to drink alcohol you must be 21 or over with a valid ID.
What are my transportation/parking options for getting to and from the event?
Pershing Square has underground gargage that has a weekend parking fee of $9. Pershing Square is located across the street from the Metro Red line on the corner of 5th and Hill.
What can I bring into the event?
Guests are welcome to bring low back soft beach chairs or blankets. All bags are subject to security check. No outside food, drinks, or containers of any kind may be brought into the Pershing Square venue. The less you bring, the quicker you enter the venue. A complete list of venue rules for Pershing Square can be found on the venue website: laparks.org/pershingsquare/summer-concert-rules-policies

Do I have to bring my printed ticket to the event?
Yes. Each printed or digital Eventbrite ticket ensures access into the venue. Once the ticket is downloaded, the patron is subject to all venue rules and regulations. Please remember to bring 21 and over proof of ID.
Can I update my registration information?
Yes, Go to Eventbrite confirmation and cancel a ticket and or transfer it to someone else.
Where is the main entrance located?
The Main Entrances to the venue are located on the corners of 6th and Olive.
ADA Accessible Entrance to the venue is up the east side escalator or elevator and through the east side breeze way, "Hill Street side".
Will I need a pass for each show I want to go to?
Yes, a ticket is required for each Saturday night concert. Pershing Square Downtown Stage is a 21 and over concert event with ID only.
What time should I arrive to the venue?
Although each Eventbrite pass ensures access into the venue, your place in line is on first come, first serve basis. Doors open at 7:00pm .
What is the is the re-entry policy?
Pershing Square has a "Re-Entry" policy for all events. Guest who leaves the venue for any reason may re-enter on the corner of 6th and Olive and go through the check-in procedure. Once capacity has been met there will be no re-entry into the venue. It is strongly suggested to stay until the end of the show.
Can I bring outside Food and Drinks ?
No outside food, drinks of any kind may be brought into the Pershing Square venue. Eight full-service bars and food trucks are located inside the venue for food and drink purchase. A complete list of venue rules for Pershing Square can be found on the venue website: laparks.org/pershingsquare/summer-concert-rules-policies