ATEN-Hou-Is your workspace giving you the BLUES? Colors. Pieces. Energy.
Description
Be Our Guest!!!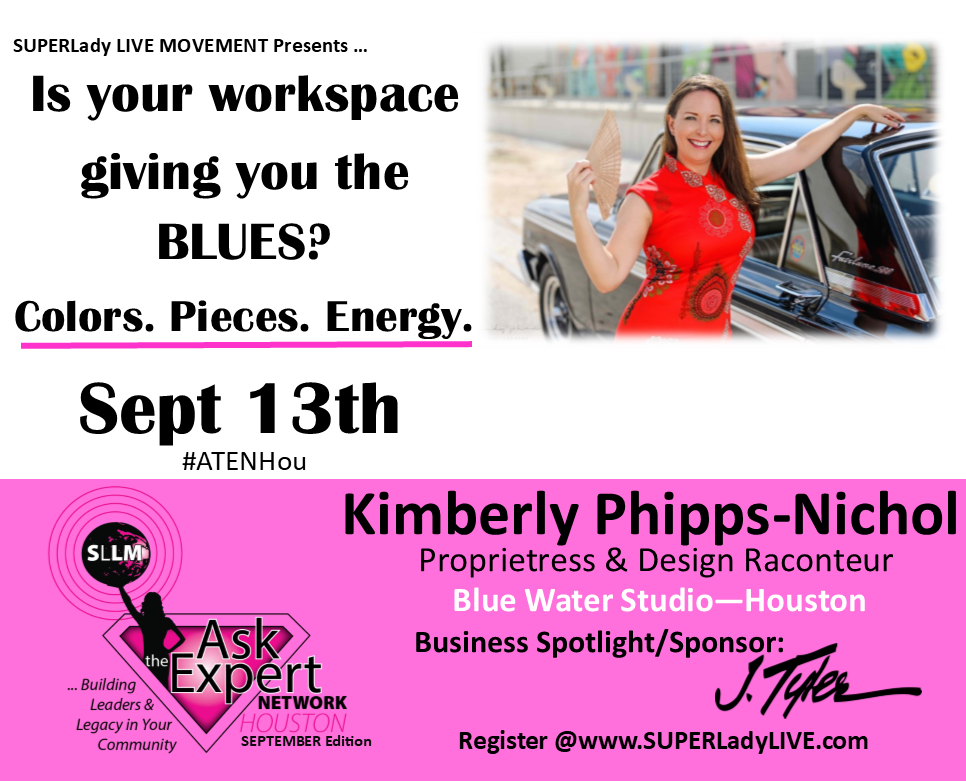 Come out and enjoy Networking on purpose with Men & Women in a Variety of Professional Industries.
LIVE conversation

with

Kimberly Phipps-Nichol - Proprietress & Design Raconteur of Blue Water Studios-Houston

sharing tips, samples and nuggets on removing the "BLUES" from your workspace so productivity, moral, good health and great vibes come through that engage teams, leaders and community for increased productivity, morale and profits.

Your host, Loretta Williams Gurnell, CEO & Managing Partner of SUPERLady LIVE Movement will guide the conversation on Best Practices as we all look for ways for building family, business and community.
Business Spotlight/Sponsor: J.Tyler - Commercial Furniture - Houston - WOMEN OWNED and operated! #YES For more than 36 years, this dynamic team has been a standing force for businesses across the Houston area. Hear how determination, family and priorities have set them apart to last as long as they have!
WHY?
#TOGETHERWeAreSTRONG
Great conversation for the working man, woman, decision maker, leader and entrepreneur.
"The problem is never how to get new, innovative thoughts into your mind, but how to get the old ones out." Dee Hock
NETWORK with men and women.

Get the 411.

Ask Questions.

Learn How to Team Up.

Position your Business.

Engage in Authentic Dialogue.

Be the Change.

Challenge with Integrity.

Build Momentum.

Create a Buzz.

Complete to COMPLETE.

Be Seen and Heard.

Strategies for Longevity.

Deliverables!
#ATENHOU Pre-register Now. #BestPractices