ATEN-Hou-CREATIVITY: The SKILL that increases productivity & profits!
Description
Be Our Guest!!!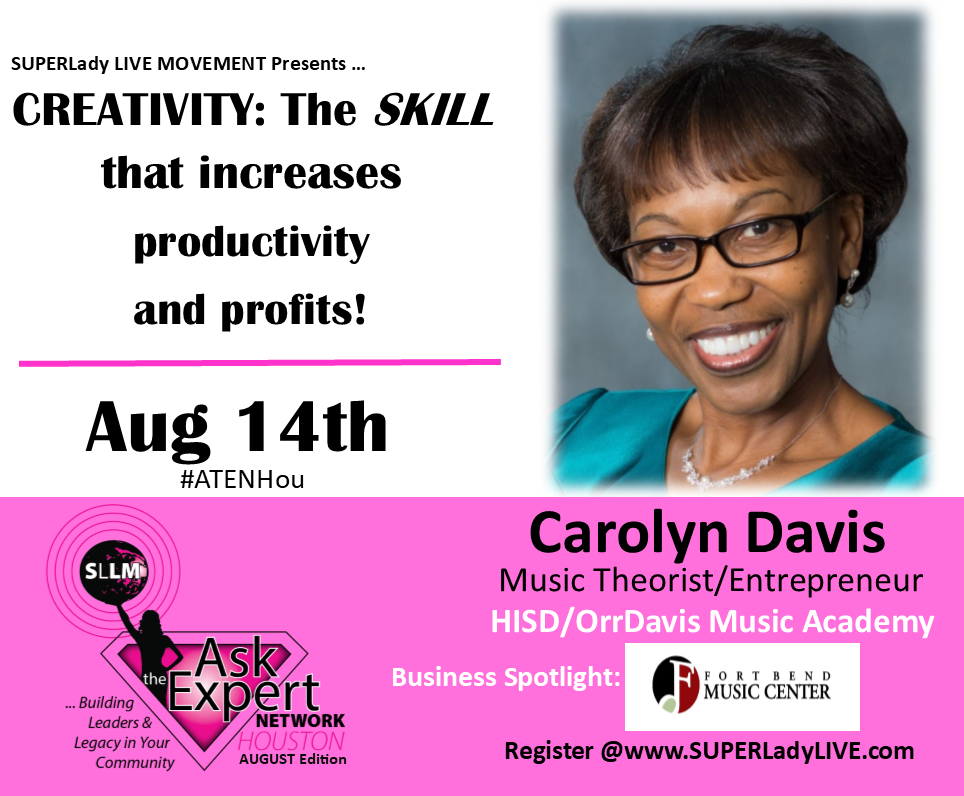 Come out and enjoy Networking on purpose with Men & Women in a Variety of Professional Industries.
LIVE conversation
with
Carolyn Davis, Music Theorist for HISD & Entrepreneur for OrrDavis Music Academy
will share tips, strategies & exercises that engage teams, leaders and community for increase productivity, morale and profits. Your host,
Loretta Williams Gurnell, CEO & Managing Partner of
SUPER
Lady
LIVE Movement will guide the conversation on Best Practices for building family, business and community.
WHY?
#TOGETHERWeAreSTRONG
Great conversation for the working man, woman, decision maker, leader and entrepreneur.
"The problem is never how to get new, innovative thoughts into your mind, but how to get the old ones out." — Dee Hock
NETWORK with men and women.
Get the 411.

Ask Questions.

Learn How to Team Up.

Position your Business.

Engage in Authentic Dialogue.

Be the Change.

Challenge with Integrity.

Build Momentum.

Create a Buzz.

Complete to COMPLETE.

Be Seen and Heard.

Strategies for Longevity.

Deliverables!
#ATENHOU Pre-register Now.