Atelier conçu par l'artiste Victoria Catherine Chan | Workshop guided by artist Victoria Catherine Chan
About this event
Atelier gratuit offert par MOMENTA et Victoria Catherine Chan, en collaboration avec Fondation PHI pour l'art contemporain.
DESCRIPTION DE L'ATELIER
Offert en collaboration avec l'artiste et cinéaste Victoria Catherine Chan, l'atelier invite les participant·x·e·s provenant de tous les horizons à découvrir les manières dont le corps ressent les ondes et les vibrations, amplifiées au moyen de dispositifs technologiques. L'activité fait écho à l'exposition de l'artiste Jamilah Sabur, La montagne fredonne sous l'océan, qui circule entre divers niveaux de perception explorant les liens entre l'espace géologique, les expériences individuelles et les forces de la nature. Bien qu'invisibles et inaudibles pour les humains, les oscillations des ondes concourent à plusieurs phénomènes météorologiques et climatiques. L'objectif de cet atelier est d'élargir nos manières de les percevoir dans un esprit d'inclusion, de dialogue et de partage.
*
Née à Tiohtià:ke (Montréal), Victoria Catherine Chan (elle/iel) est une artiste et cinéaste dont les œuvres se concentrent sur les sensibilités somatiques, les espaces liminaux et le corps comme site. Sa pratique aborde les voix et les espaces 'intermédiaires' en conjuguant le cinéma, l'installation, la performance et l'art sonore à travers des récits intersectionnels et intergénérationnels. Iel détient un baccalauréat de l'École de cinéma documentaire ZeLIG en Italie et une maîtrise en beaux-arts de l'Université Concordia.
INFORMATION
— Durée de 1 heure
— Gratuit et bilingue
— L'atelier est offert du 1-3 octobre de 10h à 18h.
— L'atelier comprend une visite guidée de l'exposition de Jamilah Sabur, La montagne fredonne sous l'océan
— Le point de rencontre est à l'entrée de la Fondation PHI, 465, rue Saint-Jean
— Les billets sont limités pour un nombre maximum de 4 participant·x·e·s par plages horaires
— Le port du masque est obligatoire (fourni par MOMENTA)
Veuillez lire cet avis important à tous·tes les participant·x·e·s :
- Pour optimiser l'écoute profonde, nous vous suggérons de porter des vêtements confortables.
- Veuillez surveiller votre santé pendant ces jours.
- Il est très important que nous respections en tout temps les protocoles de sécurité (port du masque, distance de 2 mètres, désinfection des mains).
- Si vous présentez des symptômes ou si vous avez été en contact avec une personne présentant des symptômes, veuillez nous en informer.
NOTE: La Fondation PHI est partiellement accessible aux personnes à mobilité réduite, une assistance pourrait être nécessaire.
Pour plus d'informations, veuillez contacter education@momentabiennale.com
Photo credit: Alexis Bellavance
-
Free workshop offered by MOMENTA and Victoria Catherine Chan, in collaboration with the PHI Foundation for Contemporary Art.
WORKSHOP DESCRIPTION
In this workshop, artist and filmmaker Victoria Catherine Chan invites participants from all walks of life to discover the ways in which the body feels waves and vibrations amplified by technological devices. The activity responds to Jamilah Sabur's exhibition The Mountain Sings Underwater, which travels among various levels of perception and explores the links among geological space, individual experiences, and the unseen forces of nature. Although invisible and inaudible to humans, vibrations contribute to many meteorological and climatic phenomena. This workshop aims to broaden how we perceive them in a spirit of inclusion, dialogue, and sharing.
*
Born in Tiohtià:ke (Montreal), Victoria Catherine Chan (she/they) is an artist and filmmaker whose work focuses on somatic sensibilities, liminal spaces and the body as a site. Her practice investigates the temporalities and spaces 'in-between', which combines cinema, installation, performance and sound art using intersectional and intergenerational narratives. They earned a BFA from ZeLIG School for Documentary in Italy and an MFA from Concordia University.
INFORMATION
— 1 hour
— Free and bilingual
— The workshop is offered from October 1 - 3 from 10 am to 6 pm.
— The workshop includes a guided tour of Jamilah Sabur's exhibition The Mountain Sings Underwater
— The meeting point is at the entrance of Fondation PHI, 465, rue Saint-Jean
— Tickets are limited for a maximum number of 4 participants per time slot.
— The use of a mask is mandatory (provided by MOMENTA)
Please read this important notice to all participants:
- For a better deep listening experience, we suggest you wear comfortable clothing.
- Please monitor your health during these days.
- It is very important that we comply with safety protocols at all times (use of mask, 2-meter distance, hand sanitizing).
- If you have any sort of symptoms or you were in contact with someone with symptoms, please let us know.
NOTE: Fondation PHI is partially accessible to people with reduced mobility, assistance may be required.
For more information please contact education@momentabiennale.com
Photo credit: Alexis Bellavance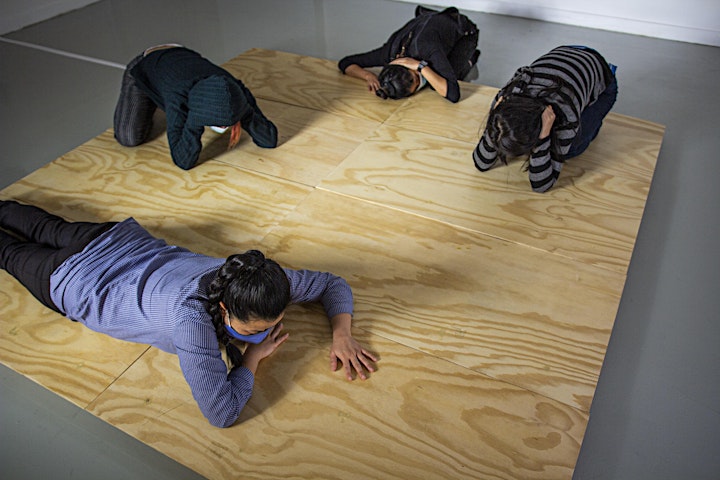 Organizer of Atelier Résonances corporelles | Embodied Resonance Workshop