Atelier Le pouvoir de l'imaginaire | Imagination and Other Powerful Futures
Atelier de création et de réflexion avec Never Was Average | Creative and reflective workshop with Never Was Average
About this event
Atelier gratuit et bilingue offert par MOMENTA et Never Was Average, en collaboration avec la Fonderie Darling
DESCRIPTION DE L'ATELIER
Prenez part à une discussion et à une création dans un environnement ouvert, positif et valorisant, sur le pouvoir de l'imaginaire. Ancré dans la découverte des œuvres de Tabita Rezaire et de Sandra Mujinga présentées à la Fonderie Darling, l'atelier est un espace de dialogue, d'apprentissage et de solidarité où les participant·e·s sont invité·e·s à partager leurs histoires et à réfléchir à l'importance de l'imagination pour concevoir des futurs où il est possible de rêver. Suite à une conversation animée par le collectif Never Was Average – transformateur·trice·s et facilitateur·trice·s culturel·le·s –, créez des collages qui éveillent et célèbrent vos héritages culturels et ancestraux.
Venez échanger dans un espace ouvert, positif et valorisant, et imaginez des personnages qui incarnent des forces et des pouvoirs (sur)naturels!
INFORMATIONS
— Durée de 2h
— Gratuit
— L'atelier est offert le samedi 9 octobre de 10h à 12h
— Le point de rencontre est à l'entrée de la Fonderie Darling, 745 rue Ottawa
— Nombre limité de participants, jusqu'à 20 personnes
— Le port du masque est obligatoire (fournis par MOMENTA)
~
Free bilingual workshop offered by MOMENTA and Never Was Average, in collaboration with the Fonderie Darling
WORKSHOP DESCRIPTION
Take part in an exchange on the power of imagination in an open, positive and empowering environment, through an exploration of the works of Tabita Rezaire and Sandra Mujinga presented at the Fonderie Darling. The workshop is a space for dialogue, learning and solidarity, where participants are invited to share their stories and to reflect on the importance of imagination in designing futures where it is possible to dream. Following a conversation led by Never Was Average collective - cultural transformers and facilitators -, create collages that awaken and celebrate your cultural and ancestral heritages.
Come and discuss in an open, positive and rewarding space, and imagine characters who embody (super)natural forces and powers!
INFORMATIONS
— 2 hours duration
— Free
— The workshop is offered on Saturday, October 9th, 10 am - 12 pm
— The meeting point is at the entrance of Fonderie Darling, 745 Ottawa Street
— Limited number of participants, up to 20 people
— The use of a mask is mandatory (provided by MOMENTA)
Photo : Jéssica Sofía López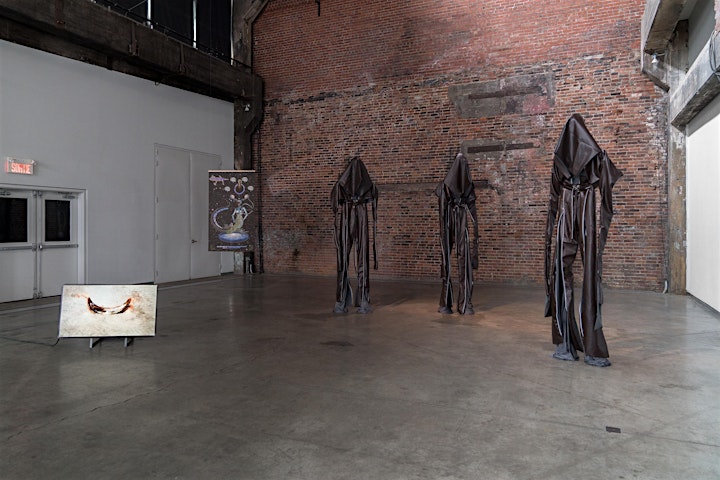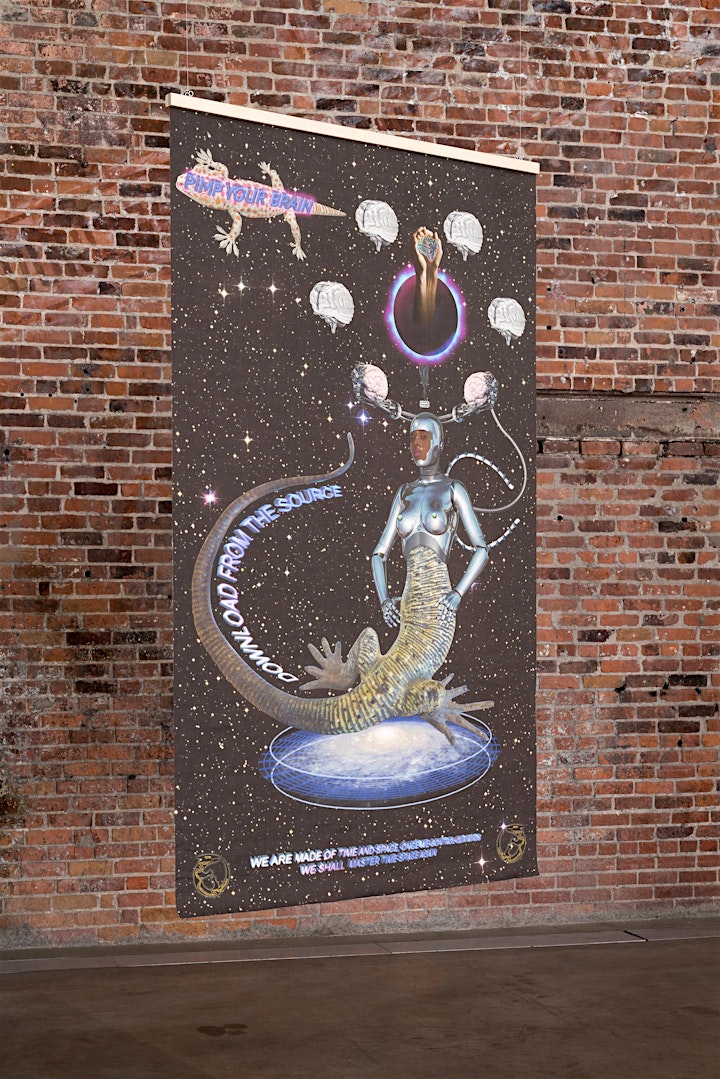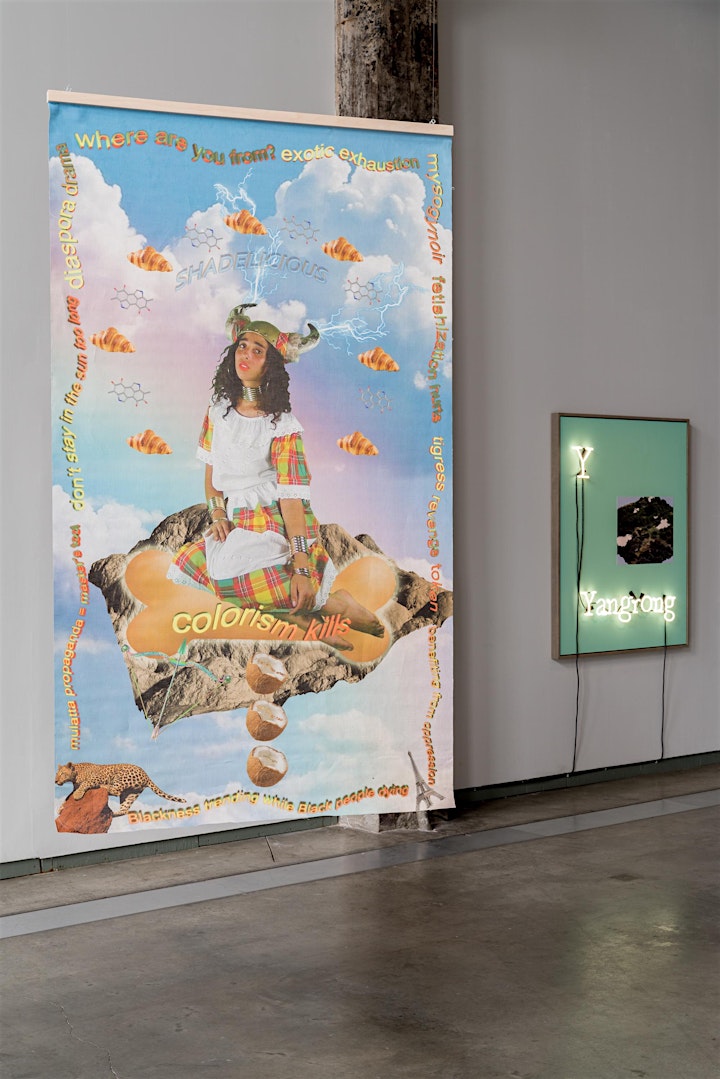 FR
Sandra Mujinga, Nocturnal Kinship 1-3, 2018, vue d'installation à la Fonderie Darling dans le cadre de MOMENTA 2021. Photo : Jean-Michael Seminaro
Tabita Rezaire, INNER FIRE: Pimp Your Brain, 2017, vue d'installation à la Fonderie Darling dans le cadre de MOMENTA 2021. Photo : Jean-Michael Seminaro
Tabita Rezaire, INNER FIRE: Shadelicious, 2017, vue d'installation à la Fonderie Darling dans le cadre de MOMENTA 2021. Photo : Jean-Michael Seminaro
EN
Sandra Mujinga, Nocturnal Kinship 1-3, 2018, installation view at the Fonderie Darling as part of MOMENTA 2021. Photo: Jean-Michael Seminaro
Tabita Rezaire, INNER FIRE: Pimp Your Brain, 2017, installation view at the Fonderie Darling as part of MOMENTA 2021. Photo: Jean-Michael Seminaro
Tabita Rezaire, INNER FIRE: Shadelicious, 2017, installation view at the Fonderie Darling as part of MOMENTA 2021. Photo: Jean-Michael Seminaro
Organizer of Atelier Le pouvoir de l'imaginaire | Imagination and Other Powerful Futures