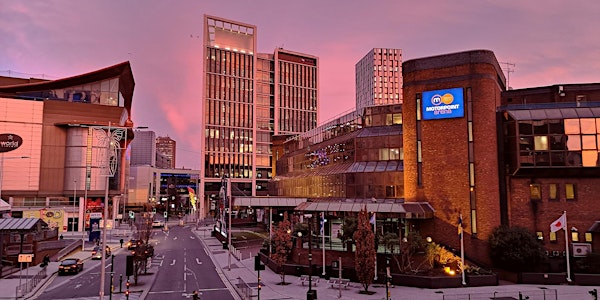 ATCM Summer School 2022: High Streets vs The Industrial Revolution
The flagship event of the Association of Town and City Management returns after three year hiatus.
By Association of Town & City Management
Date and time
June 21, 2022 · 9am - June 22, 2022 · 5pm BST
Location
Mercure Cardiff Holland House 24 26 Newport Road Cardiff CF24 0DD United Kingdom
Refund Policy
Refunds up to 30 days before event
Eventbrite's fee is nonrefundable.
About this event
High Streets vs The Industrial Revolution
The ATCM Summer School and Town and City Management Industry Awards Dinner 2022
High streets face double trouble.
Two global forces have come together to transform the way our local economies work, making our high streets unrecognisable to what they were at the turn of the Century.
The Pandemic
The first, a global pandemic which rewired the way we work, trade, play, travel and live. This has forced us to reconsider concepts such as agglomeration and density and could alter our economic geography for years to come.
The Industrial Revolution
The second might be even more profound. An industrial revolution, with digital at its heart, sits behind the pandemic fuelling the changes in the way the people and businesses engage. It has been slowly transforming our economy and society for years, with the COVID-19 lighting the blue touch paper.
We are witness to significant changes in high street business models, the flourishing of the urban logistics industry and a rewriting of the relationship between traditional employment hubs such as regional cities, and their neighbouring commuter towns.
Understanding Change, Predicting Change, and Shaping Change
The return of Summer School brings together leaders across the urban place management industry in the UK and Ireland with the protagonists of the industrial revolution to make sense of the changes that have already happened, to predict what change might come next, and most importantly of all, to consciously shape the future innovations for the benefit of our town city centres going forward.
The Return of the Town and City Management Industry Awards
ATCM Summer School 2022 will host the long-awaited return of the Town and City Management Industry Awards. In recognition of the work of members over the past two years, and our need to highlight how the industry can reach new heights of economic and social contribution in the middle of a crisis, we will be undertaking a special awards programme, honouring best practice in pandemic response.
Bookings are now closed!
MONDAY 20TH JUNE 2022
6.30pm: Welcome Drinks Reception (with Discussion on 21st Century Banking)
Hosted by Metro Bank Cardiff (at 40 to 44 Queen Street, Cardiff, Wales, CF10 2BX)
7.30pm: Informal Networking Dinner (costs not covered by ATCM)
TUESDAY 21ST JUNE 2022
9am-9.45am: ATCM Annual General Meeting
Lisa Carlson, CEO of Canterbury BID and Chair of the ATCM Board of Directors
Ojay McDonald, CEO, ATCM
SESSION 1: THE VIRUS AND THE REVOLUTION
10am: High Streets Vs the Industrial Revolution: Welcome and Introductions
Ojay McDonald, CEO, ATCM
10.15am: Double Trouble! The Virus and the Revolution
Kathy Nothstine, Head of Future Cities, Nesta
10.45am: High Street Evolution
Gemma Aitken, Manager, LUSH Cardiff
11.15am: Refreshments
11.45am: How COVID Changed the High Street: Panel Debate
Meryl Hall, Managing Director, Booksellers Association of the UK and Ireland
Sally Henley, Town Development Manager, Newton Abbot Town Council
Sabri Marsaoui, Asset Director, Crosstree Real Estate Partners LLP
Chair ed by Amy Taylor, Team Manager Regeneration Opportunities, Blaenau Gwent County Borough Council (and Chair of ATCM Wales)
12.45pm: Lunch
1.45pm-2.45pm: A Logistical Nightmare? Panel Debate on Urban Logistics, Hospitality and the High Street
Anthie Zachariou, Senior Regional Public Affairs Manager, Deliveroo
Garry Mortimer Cook, Economic Development, Horsham Council
Paul Shaw, CEO & Founder, The Restaurant Collective
Chaired by Lisa Carlson, CEO of Canterbury BID and Chair of the ATCM Board of Directors
SESSION 2: INTERACTIVE WORKSHOPS
3pm-4pm Sessions
Confronting the L-Commerce Revolution (In Caernarfon Room)
Led by Bubltown
Increasing Footfall with Digital Trails: Learnings from Lego (In Pembroke Room)
Led by LoyalFree in partnership with Harrogate BID
Liverpool Without Walls (In Brecon Room)
Led by Meristem, in partnership with Liverpool City Council
4pm-5pm Sessions
How Post-Pandemic Life is Impacting High Streets: The Impact of Hybrid Working and Current Economic Challenges on the Performance of High Streets and their Road to Recovery (In Caernarfon Room)
Led by Springboard
How to Generate Footfall and Spend: Supporting Businesses to Adapt (In Pembroke Room)
Led by ShopAppy in partnership with Barnsley Metropolitan Borough Council
Purple Flag: The Cardiff Experience (In Brecon Room)
Led by FOR Cardiff
5pm: Day One Sessions End
SESSION 3: CELEBRATING BEST PRACTICE
The Town and City Management Industry Awards Dinner (Sponsored by Wild in Art)
Please Note: This is a black-tie event.
6.30pm: Drinks Reception
7.10pm: Celebrating Best Practice: Welcome to the Town and City Management Awards
Ojay McDonald, CEO, ATCM
7.15pm Address from Wild in Art
Charlie Langhorne, Co-Founder and Managing Director, Wild in Art
7.30pm: Dinner and Awards Presentation
10.15pm: Dinner Close and Informal Networking
WEDNESDAY 22ND JUNE 2022
SESSION 4: OVERCOMING THE REVOLUTION THROUGH PLACE VALUES
9am: Welcome Back: Introductions to Summer School Day 2
Ojay McDonald, CEO, ATCM
9.15am: The Green Urban Revolution
Julie James MS, Minister for Climate Change, Welsh Government
9.45am: Thinking Global, Acting Local: Brixton's International Approach to Place Values
Gianluca Rizzo, Placemaking Specialist, Brixton BID and Stratford Original
10.15am: Refreshments
SESSION 5: DISLOCATED WORKFORCE
10.45am: Separating Fact from Fiction: Economic Decentralisation and WFH
Andy Nuttall, Practice Director for Insights & Analytics, GHD
Tulsi Parida, Global Director, Data Solutions, Visa Government Solutions
11.15am: City's End?: Panel Debate on the Long-Term Implications of WFH
Panel
Huw Llewellyn, Head of Property and Facilities Management, Admiral
Roddy Smith, CEO, Essential Edinburgh
Christine Reeves, Director, Reeves Retail Planning Consultancy Ltd
Chaired by Melanie Palmer, CEO, Solihull BID
12.15pm: Closing Thoughts and Study Tour Information
12.30pm: Lunch
SESSION 6: PLACE MANAGEMENT IN ACTION
1.30pm: Cardiff City Centre and Cardiff Bay Study Tours
Coordinated by FOR Cardiff
4pm: SUMMER SCHOOL ENDS