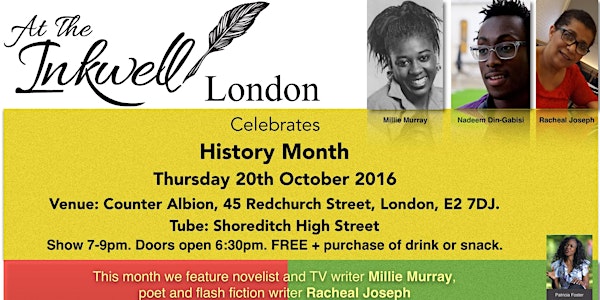 At The Inkwell London Celebrates Black History Month. Ft Millie Murray & Racheal Joseph
When and where
Location
COUNTER ALBION 45 Redchurch Street Shoreditch London E2 7DJ United Kingdom
Description
Our next At The Inkwell London is Thursday 20th October, where we'll celebrate and acknowledge Black History Month; the rich and varied accounts of migration, belonging, culture and family.
Our featured writers will be
Millie Murray, Racheal Joseph and Nadeem Din-Gabisi.

Please find below a weblink to our official website for this month's event.
http://attheinkwell.com/readings/black-history-month-london/
Your hosts will be writers Gemma Weekes, Patricia Foster and Rachel Rigby.
We also have an open mic for anyone who would love to share their work. Doors open 6:30pm for sign up, snacks and drinks.
At The Inkwell London and the At The Inkwell Reading Series have been created to be a warm, welcoming, encouraging and engaging environment for writers to share and promote their work. I hope this event will provide a positive space for you to hear great work, as well as participate!
Please contact us on inkwellreadings.london@gmail.com if you would like further information, to sign up for the open mic, or read at future events.
Warmest regards,
Patricia Foster
--
Best,
Patricia Foster, Gemma Weekes & Rachel Rigby
At The Inkwell London Co-hosts
inkwellreadings.london@gmail.com
www.attheinkwell.com