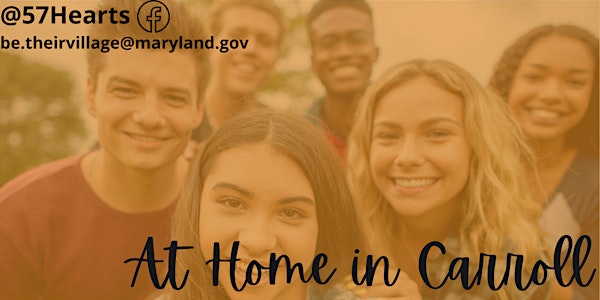 At Home in Carroll: A Community Panel on Families, Resources, and CfE
Join us for a virtual community-based panel to discuss how we can better serve families and children in Carroll County.
About this event
Did you know 55% of the children in foster care in Carroll County are placed out of county? This number is a decrease from the past, but there is still work to be done and changes to be made. We want to keep children At Home in Carroll.
In 2021, the Carroll County Department of Social Services was selected as one of five jurisdictions to pilot a program by the Center for Excellence (CfE). The purpose of CfE is to shorten the length of time children are in care, increase necessary services to families of origin and resource families, and reduce the likelihood of a child reentering foster care after reunification.
We can't do it alone. It takes a village to care for the children and families in our community. During this virtual panel discussion, we will have a former foster youth, Lindsay Chiavacci of the Boys and Girls Club, a birth parent, and a former foster parent to share our experiences and learn from one another. Together, we can be their village and spread awareness to keep children At Home in Carroll.
We encourage you to invite your colleagues, your family members, your neighbors. If you do, we would love to share a t-shirt, mug, tumbler, water bottle, or sweatshirt with you and your plus one to show your support for the Department of Social Services. Contact Emily at be.theirvillage@maryland.gov for more information!