About this Event
Come join us for some networking and a discussion on how to go about with your professional life, whether it is going to work (full-time or flexible) or starting your own gig and being an entrepreneur.
The panelists include lovely folks from Back to Work, Pivot, Wise at Work, Hong Kong Momtrepreneurs and Marriage Maestros. More about what the panel offers below.
Schedule
10:15 -10-30: Registration
10:30 -10:35: Introduction by MUMZ
10:35 -10:45: Introduction by Paperclip Entrepreneur Campus
10:45 -11:45: Panel Discussion
11:45 -12:00: Q & A
12:00 - 12:30 Followed by Networking
12:30 Onwards - You are most welcome to continue with the networking by joining Mumz for lunch at Oolaa's. We will be joined by :
-- Nerice Gietel ( Back2Work)
-- Lena Wong ( Hong Kong Momtrepreneurs)
— Evelyn Mills ( Marriage Maestros)
*Tickets Fees: The Ticket Price is to cover just the basic cost of the Event!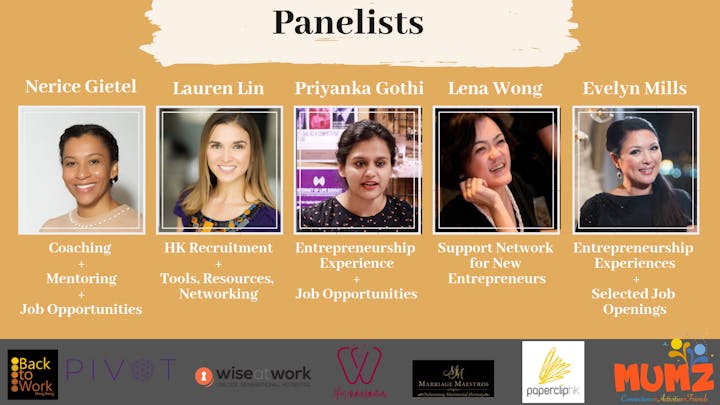 VENUE SPONSOR - Paperclip Entrepreneur Campus
Paperclip Entrepreneur Campus is a co-working space with regular Mentoring and Digital Marketing events, located in Sheung Wan, very close to the MTR and Tram stops. It is known for its intimate events and community, beautiful space and affordable pricing.
Attendees Special Offer - Sign up and receive HKD 200 off 1st month pricing for Hot Desk or Dedicated Desk. *Offer valid only for 3 days after event.
ABOUT THE PANELISTS
Back to Work- Nerice Gietel
Who They Are - Hong Kong's return to work experts provide coaching, information, training, support and practical advice to individuals seeking to return to work from a career break. They also offer consultancy services to companies on retaining staff on parental leave and on running return to work programs.
What They Offer - Coaching Opportunities. 10% off the Back To Work programs and CV & LinkedIn support to all who attend the Mumz event on 11 April.
Nerice Gietel - Currently a Director at "Back to Work Hong Kong", Nerice's career included being an HR Business Partner at a Global Policy consultancy firm and leading a pan-London Domestic & Sexual Violence Advice Service. Her evidence-based work is grounded in postgraduate qualifications in HR Development and Consultancy, Law and Social Sciences.
Pivot - Lauren Lin
Who They Are - PIVOT is a Hong Kong- based recruitment platform that connects top tier female talent with dynamic companies across a variety of industries. Their mission began with a focus on connecting clients with an untapped pool of talent that were primarily interested in project, contract and flexible job opportunities. Since that time their scope has broadened.
What They Offer - Tools and resources for networking opportunities in Hong Kong, LinkedIn and CV tips and advice, confidence to re-enter and career advice along with connecting right candidates with the companies!
Lauren Lin - Co-Founder of PIVOT, she has over ten years of experience in partner marketing, PR and marketing management. After moving to Hong Kong in 2015 she wanted to follow her passion for connecting people and entrepreneurship resulting in PIVOT.
Wise at Work - Priyanka Gothi
Who They Are - An online platform to re-imagine the potential of a rapidly ageing world. Since 2017, Retired Not Out( now Wise At Work), has built a community of over 1000 seasoned professionals across all levels and successfully placed over 45 with Corporates, SMEs and Startups.
What They Offer - Selected Job Openings
Priyanka Gothi - She is the founder of Wise at Work with tie ups with major Companies across Hong Kong and has been featured on CNBC
Hong Kong Momtrepreneurs- Lena Wong
Who They Are - The first non profit organisation in Hong Kong to support moms continue pursuing their dreams, empower women to engage for self fulfilment and be the mentors of our children to #makethemproud
What They Offer - Support network for new entrepreneurs.
Lena Wong - A marketer, an entrepreneur, an advocate and a mother, Lena has a strong calling to push forward workplace diversity and flexibility. She believes there should be no boundary to how works should be done.
Marriage Maestros- Evelyn Mills
Who They Are - Hong Kong's First Luxury Wedding Planning & Design Specialists with Destination Weddings.
What They Offer - Entrepreneur Experience with Selected Job Openings
Evelyn Mills - Founder of Marriage Maestros and Wedding Maestros, Evelyn has collaborated with leading hotels on exclusive multi-million dollar wedding experiences, and has been commissioned to design and style weddings. She is a known face in large conferences for her ideation and journey!