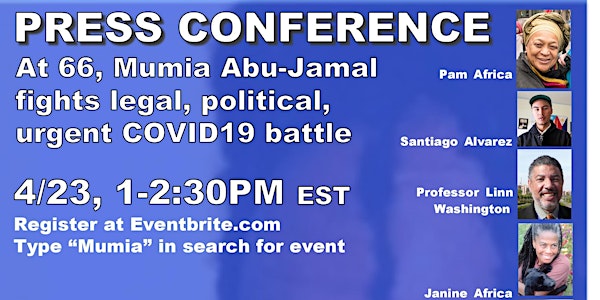 At 66, Mumia Fights Legal, Political, Urgent COVID-19 Battle
Launch of a weekend of resistance as we celebrate Mumia Abu-Jamal's birthday
About this event
Join us for a Press Conference organized by the Campaign to Bring Mumia Home, Mobilization4Mumia, Uncompromising International Concerned Family and Friends of Mumia Abu-Jamal.
We will inform the public about the fight for Mumia's legal, political, and urgent health care issues amidst the COVID-19 pandemic.
Registrants will be able to view the live stream at 1pm EDT on Eventbrite and on YouTube.
Speakers:
Pam Africa
Danny Glover
Charles Barron
Janine Africa
Mireille Fanon (daughter of Frantz Fanon)
Linn Washington
Suzanne Ross
Blak Rapp Madusa
Gregory Muhammad
Michael Schiffman
Razakhan Shaheed
Santiago Alvarez
For more info, email: bringmumiahome@gmail.com
RISE UP AND RESIST: Celebrate Mumia Abu Jamal's 66th Birthday
#FREEMUMIA, #FREEPOLITICALPRISONERS, #FREEEMALL, #66SITESOFRESISTANCE