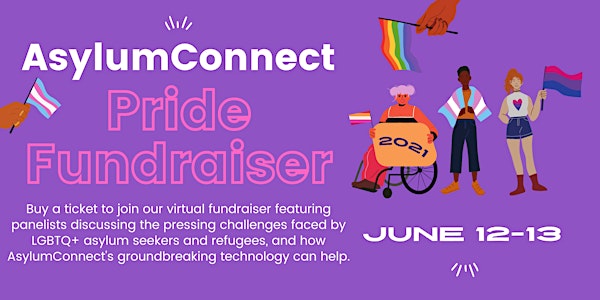 AsylumConnect Virtual 2021 Pride Fundraiser
Hear from panelists about the pressing challenges faced by LGBTQ+ asylum seekers/refugees, and AsylumConnect's groundbreaking technology
Refund Policy
Contact the organizer to request a refund.
Eventbrite's fee is nonrefundable.
About this event
In 80+ countries it is still illegal or fundamentally unsafe to live openly as a LGBTQ+ person. As a result, thousands of queer and trans people seek asylum or refugee status in a safer country every year.
AsylumConnect is a 501(c)(3) nonprofit organization providing the world's first web and mobile platform designed to facilitate the safe navigation of LGBTQ+ people fleeing persecution. Our free technology instantly matches vulnerable LGBTQ+ people with the verified safe legal, medical, mental health and social services that can help. Since launching in 2016, our web and mobile platform has made over 75,000 matches between LGBTQ+ people fleeing persecution and vetted, safe and affirming services providers.
**Funds raised by this event will be matched up to $12K by the AsylumConnect Junior Board.**
Shop our partners' Pride Collections for your Pride Month merchandise to help persecuted LGBTQ+ people find safety!
EVENT AGENDA:
Saturday, June 12th (2pm-3:30pm EST / 11am-12:30pm PST): "The Double Marginalization of LGBTQ+ People Fleeing Persecution"
2pm-2:10pm EST: Welcome
Event MC/Host: Janae SaisQuoi, Drag Queen, Storyteller, Activist
2:10-2:15pm EST: Corporate Spotlight - Jones Day LLP, Laredo Project & Pro Bono work with LGBTQ+ Asylum Seekers
Representative: Glenn McGillivray, Associate at Jones Day and AsylumConnect Junior Board member
2:20pm-3:20pm EST: LGBTQ+ Asylum Panel Featuring Representatives from AsylumConnect & Legal Nonprofit Partners:
Moderator: Hans How, Advisor & Former Volunteer Vice President at AsylumConnect
Ari Jones, Staff Attorney & Outreach Coordinator at Oasis Legal Services
Jonathan Goldman, Founder & Executive Director at Student Clinic for Immigrant Justice (SCIJ)
Nishan Bhaumik, Staff Attorney, Pro Bono Program at Immigration Equality
Norjmoo Battulga, Legal Services Funders Network Fellow at The LGBT Asylum Project
Julian Sanjivan, Co-President at InterPride & Governing Board Member at AsylumConnect
Jeremy Gray, Partner, Business & Tort Litigation at Jones Day
3:25pm-3:30pm EST: Thank You & See You Tomorrow
Sunday, June 13th (1:30pm-3:45pm EST / 10:30am-12:45pm PST): "The Way Forward"
1:30pm-1:45pm EST: Welcome Back
Event MC/Host: Janae SaisQuoi, Drag Queen, Storyteller, Activist
1:50pm-2:20pm EST: AsylumConnect Leadership Interview
Speakers: Jamie Sgarro, AsylumConnect Co-Founder, Former Executive Director & Board Member; Sean Buckley, AsylumConnect Board Chair; Shalawn James, AsylumConnect's new Executive Director
2:25pm-2:40pm EST: Brief Intermission
2:40pm-2:55pm EST: Corporate Sponsor Spotlight
3:00pm-3:30pm EST: Featured Keynote Address
Keynote Speaker: Jupiter Peraza, an undocumented trans woman, activist, organizer, DACA recipient, & Director of Social Justice Initiatives at the world's first Transgender Cultural District
3:35pm-3:45pm EST: Closing & Thank You
**VIP Breakout Room:
Those who purchase a VIP ticket will be granted exclusive access to an interactive Question & Answer (Q&A) session via Zoom:
4pm-4:30pm EST: Exclusive Q&A Zoom session with AsylumConnect leadership (*open to VIP Rainbow Pass Holders)
Together, we can ensure millions more LGBTQ+ people fleeing persecution are successful in rebuilding their new lives.