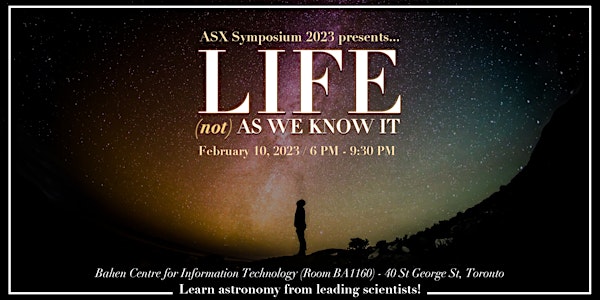 ASX 19th Annual Symposium: Life (Not) As We Know It
Are aliens real? What are UFOs? Are there planets that can support life? Get your answers and more at our symposium on extraterrestrial life
By Astronomy and Space Exploration Association
Date and time
Fri, Feb 10, 2023 6:00 PM - 9:30 PM EST
Location
Bahen Centre for Information Technology 40 St George St Toronto, ON M5S 2E4 Canada
Refund Policy
Contact the organizer to request a refund.
Eventbrite's fee is nonrefundable.
About this event
Are aliens real? What are UFOs? Is there another planet that can support life? Get your answers and more at our19th annual symposium on extraterrestrial life! We are back with our first in-person symposium in 2 years! Come and learn from leading researchers and experts about Life (Not) As We Know It. Topics include search for a second Earth, UFOs, signs of extraterrestrial life, and much more! Refreshments will be served and prizes to be won! Hosted by the University of Toronto's Astronomy and Space Exploration Association (ASX).
Date: February 10th, 2023
Location: *New Location* BA1160 (Adel Sedra Auditorium) - 40 St. George St., Toronto
Time: 6:00 pm - 9:30 pm
Admission:
Free for students with valid student ID (secondary, post-secondary)
Free for everyone 13 years old and under
$10 for general admission, online tickets
$15 for general admission, at the door
Prizes: Every ticket purchased will include a prize entry. Additional prize tickets are available for $3 each.
Celestron ExploraScope 114AZ Refractor Telescope
$50 USD STARtorialist Gift Card
Chocolate Gift Bundle
Dr. Sara Seager - Exoplanets, Venus, and the Search for Signs of Life Beyond Earth
For thousands of years, inspired by the star-filled dark night sky, people have wondered what lies beyond Earth. Today, the search for signs of life is a key motivator in modern-day planetary exploration. The newly launched James Webb Space Telescope will enable us to study gases in rocky exoplanet atmospheres, possibly including "biosignature" gases that might be attributed to life. Closer to home, a now controversial detection of phosphine gas in the Venus atmosphere has reignited interest in Venus, from re-investigation of decades' old atmosphere anomalies to new laboratory investigations of organic molecules' stability and chemistry in sulfuric acid (the composition of Venus' cloud particles). New exoplanet atmosphere discoveries as well as intriguing evidence for Venus as a potentially habitable planet give us hope towards making progress on answering the ancient questions about the possibility of life beyond Earth.
Professor Sara Seager from the Massachusetts Institute of Technology hails from Toronto, Canada. She earned her BSc from the University of Toronto and her PhD from Harvard University. She has been a pioneer in the search for and characterization of exoplanets. Her research ranges from the detection of exoplanet atmospheres to innovative theories about life on other worlds to development of novel space mission concepts. She was the Deputy Science Director of the MIT-led NASA Explorer-class mission TESS; PI of the JPL-MIT CubeSat ASTERIA; and a lead of the Starshade concepts. She now focuses on missions to Venus. Among other accolades, Professor Seager's research earned her a MacArthur Fellowship, the Royal Canadian Geographical Society Gold Medal, an appointment as an Officer of the Order of Canada, and she has Asteroid 9729 named in her honor. Professor Seager is the author of, "The Smallest Lights in the Universe: A Memoir".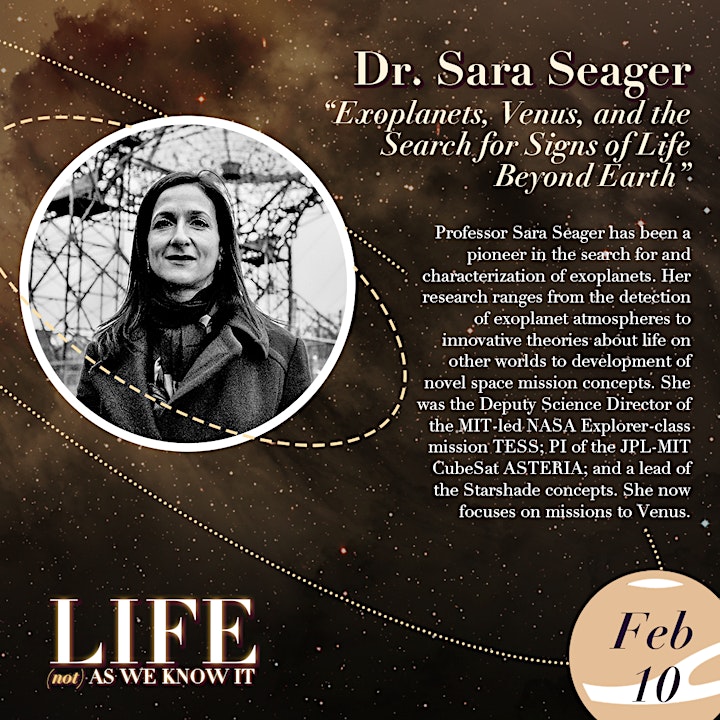 Dr. Lynn Rothschild - Could it happen again? Relaying the tape
The origin and evolution of life on earth seemsc apricious, based on the quirks of contingency. Celebrated by Stephen Jay Gould, 'evolution by contingency' lacks the predictive. Not necessarily so, replied Simon Conway Morris, for convergence reassures us that certain evolutionary responses are replicable suggesting evolutionary ease for terrestrial life. The outcome of this debate is critical to Astrobiology. How can we understand the evolutionary trajectories on Earth without guidelines? Critically, we cannot design a strategy for the search for life elsewhere – or to hypothesize what the future will hold for life on Earth and beyond and thus act on this knowledge – without assuming that evolution has predictable components. Yet our primary source of data is historical rather than experimental, and biology is a statistical proposition so predictions will never have the deterministic certainty of Newtonian physics. I hypothesize that there are biological patterns likely to be universal based on the prevalence of organic chemistry in comets, meteorites and the interstellar medium, the widespread occurrence of water, and the universality of the laws of chemistry and physics. Evolution is subject to natural selection, the constraints of an ancestry, genetics, and developmental biology. This amalgam creates a surprising amount of predictive power in the broad outline. From these we hypothesize that life is always carbon-based, and broadly similar to that on Earth. Based on what we know about the origin and evolution of life on Earth, there are certain tendencies, if not 'laws', that provide predictive power.
Lynn Rothschild, a research scientist at NASA Ames and Adjunct Professor at Brown University, is passionate astrobiologist focusing on the origin and evolution of life on Earth and elsewhere, while at the same time pioneering the use of synthetic biology to enable space exploration. Her research focuses on how life, particularly microbes, has evolved in the context of the physical environment, both here and potentially elsewhere. She has brought her imagination and creativity to the burgeoning field of synthetic biology, articulating a vision for the future of synthetic biology as an enabling technology for NASA's missions, including human space exploration and astrobiology. From 2011 until 2020 she served as the faculty advisor of the Stanford-Brown iGEM team. Her lab tested these plans in space on in the PowerCell secondary payload on the DLR EuCROPIS satellite. A past-president of the Society of Protozoologists, she is a fellow of the Linnean Society of London, The California Academy of Sciences and the Explorer's Club. She was awarded the Isaac Asimov Award from the American Humanist Association, and the Horace Mann Award from Brown University. She has been a NASA Innovative Advanced Concepts (NIAC) fellow five times. Lynn was formerly Professor (Adjunct) at Stanford where she taught "Astrobiology and Space Exploration" for a decade.
Dr. Rizwan Virk - UFOs: From Science Fiction to Legitimate Science, Again
Unidentified objects in the sky have been reported for millenia, but in the modern area, since World War II these objects have taken on the form of craft that move in implausible ways, and have been most often been associated with aliens visiting the Earth in popular media and science fiction (the Extraterrestrial Hypothesis). The existence of UFOs (Unidentified Flying Objects) has been alternatively seriously investigated and dismissed as a fringe topic and pseudoscience by organizations ranging from the United States Air Force to the U.S. Navy to some of America's best known scientists for decades. In this talk, we'll explore the history of this topic in science and science fiction, not just in terms of what it means for potential alien visitors, but also for science and our understanding of reality. Contrary to what the Pentagon has been saying for years, in 2017, the New York Times published a bombshell report of a secret program that was investigating these phenomena, along with a set of videos that catalyzed the media. The flurry of activity has led to a new acronym (UAP, or Unidentified Anomalous Phenomenon), a new investigative office, and the first public U.S. congressional hearing on UFOs in 50 years. This activity has begun to legitimize the study of UFOs as a serious topic of scientific discovery, with scientists, private groups (such as the Galileo Project and UAPx, among others), as well as DOD and NASA openly investigating. This talk explores a range of possibilities related to non-human visitations, but also how a topic that has been stigmatized for decades can move in and out of the boundaries of "legitimate science". In the end, the UFO/UAP topic can teach us about revolutionary science and our ability to investigate true unknowns that don't fit into existing theories or paradigms.
A graduate of MIT and Stanford, Rizwan Virk is a successful entrepreneur, video game pioneer, film producer, venture capitalist, computer scientist and bestselling author. Virk is currently doing doctoral research and teaching about the Metaverse, Sci Fi, and Innovation at the College of Global Futures and the Fulton Schools of Engineering at Arizona State University.
His books, which have been translated into many languages, include The Simulated Multiverse, The Simulation Hypothesis, Startup Myths & Models: What You Won't Learn in Business School, Treasure Hunt and Zen Entrepreneurship.
Virk founded Play Labs @ MIT, a startup accelerator held at the MIT Game Lab, and invested in many successful startups including Discord, Theta Labs, Upland and Tapjoy. His startups created video games played by millions, including Tap Fish and adaptations of Game of Thrones, Star Trek, The Walking Dead, Grimm and Penny Dreadful. His indie film/TV projects have been viewed by millions, including The Outpost, Knights of Badassdom, Thrive, Sirius and sci fi adaptations of works of Philip K. Dick and Ursula K. Le Guin.
Virk and his books have been featured in Forbes, The Telegraph, NBC News, vox.com, Techcrunch, Inc., VentureBeat, Digital Trends, BBC Science Focus, and Scientific American. He has been on CBS, the CBC, Fox News Radio, Coast to Coast AM, NPR and The History Channel. He has spoken at MIT, Google, 500 Startups, TedX, GamesBeat and Contact in the Desert,.
Virk is currently a venture partner at Griffin Gaming Partners, one of the leading video game VC funds in the world, Manager at Bayview Capital, and a board member at North Bay Solutions, a leading Amazon AWS partner. Follow him @rizstanford, and at zenentrepreneur.com.
MC
Taylor Kutra - Taylor is a PhD Candidate in the Department of Astronomy and Astrophysics at the University of Toronto. She is a theoretical astrophysicist who studies the ways that the birthplace of planets, the proto-planetary disk, can affect the planets that eventually form. Taylor also works on various outreach and community initiatives and is a strong advocate for creating inclusive spaces within astronomy. When she isn't doing astronomy, she loves to spend her time outside with her rescue dog, Shanty.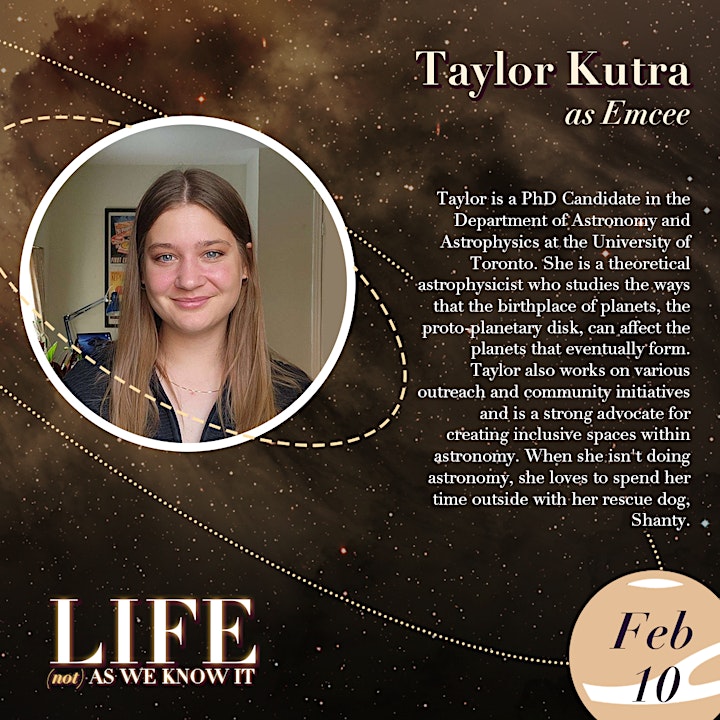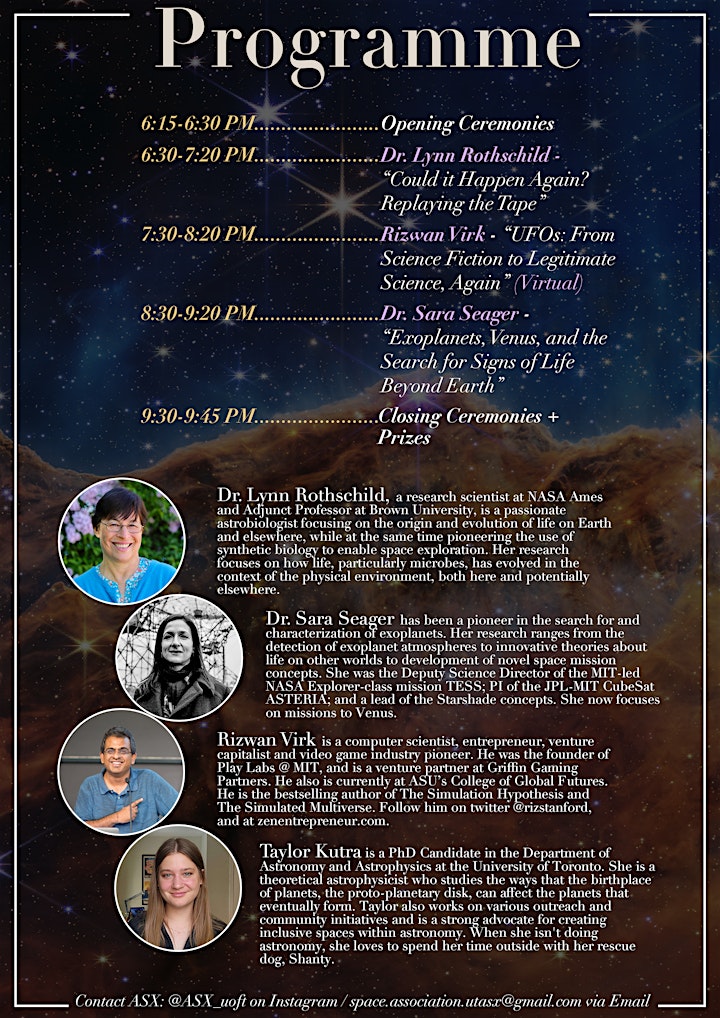 Agenda
6:15 PM - 6:30 PM
Opening Ceremonies
6:30 PM - 7:20 PM
Dr. Lynn Rothschild - Could it happen again? Relaying the tape
7:30 PM - 8:20 PM
Dr. Rizwan Virk - UFOs: From Science Fiction to Legitimate Science, Again
8:30 PM - 9:20 PM
Dr. Sara Seager - Exoplanets, Venus, and the Search for Signs of Life Beyond
9:30 PM - 9:45 PM
Closing Ceremonies + Raffles
About the organizer
We are a student-ran club at the University of Toronto for all space and astronomy enthusiasts. We host public events featuring the latest developments in astronomy and space. Follow us on our Instagram @asx_uoft to keep up with our new events!