ASWAD Special Event | Closing Reception at Congos de Villa Mella

Saturday, November 2, 2013 from 5:00 PM to 7:30 PM (EDT)
Event Details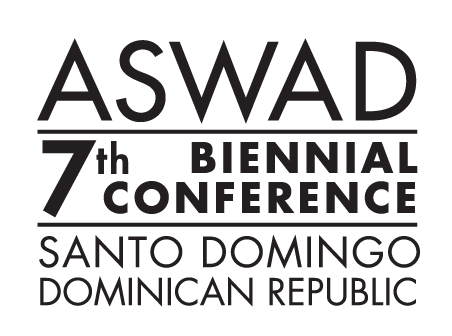 October 30th - November 2, 2013
| Special Event |
Closing Reception at Congos de Villa Mella 
The Brotherhood of the Congos of the Holy Spirit in Villa Mella, featuring percussionists who play the congos, stands out amongst most Dominican music, dance, and other cultural performances. The congos are believed to originate from a personal connection to the Holy Spirit and are played with bare hands. The Brotherhood was formed in the 16th century by enslaved Africans and mestizos.
The conference's closing reception will take place at the Brotherhood's locale in Villa Mella, where expert congo players will perform a special musical repertoire. Drinks and light refreshments will be served.  
Requirements
This event is FREE of charge, but registration is required due to space limitations.   
Notes
Chartered buses are leaving from the Instituto  Tecnológico de Santo Domingo (INTEC) on Saturday, November 2, 2013 at 4:30pm SHARP. Attendees to this excursion must meet at the bus location 30 minutes prior to departure.    
Meeting Point
Bus location, Instituto Tecnológico de Santo Domingo (INTEC)
Los Próceres Avenue, Los Jardines del Norte,
Santo Domingo, 10602.  
| Evento Especial |
Evento de Clausura en los Congos de Villa Mella 
La Cofradía de los Congos del Espíritu Santo en Villa Mella, formada por músicos percusionistas que tocan los congos, se distingue entre la mayoría de las expresiones culturales, musicales, y danzantes de la República Dominicana. El origen de los congos se cree ser divino y posible solo a través de una conexión personal con el Espíritu Santo. La Cofradía fue formada en el siglo XVI por Africanos esclavos y mestizos. 
El Evento de Clausura de la conferencia de ASWAD será realizado en la sede de la Cofradía en Villa Mella, donde expertos musicos de congo tocarán un repertorio musical especial. Durante el evento se servirán bebidas y canapés ligeros.
Requerimientos
Este evento es GRATIS, pero requerimos inscripción previa debido a limitaciones de espacio.   
Notas
Los autobuses alquilados para la excursión partirán del Instituto Tecnológico de Santo Domingo (INTEC) el sábado 2 de noviembre del 2013 a las 4:30pm EN PUNTO. Los participantes de esta excursión deberán reunirse frente a los autobuses 30 minutos antes de partir.  
Autobuses, Instituto Tecnológico de Santo Domingo (INTEC)
Avenida de Los Próceres, Los Jardines del Norte,
Santo Domingo, 10602.  
When & Where

Villa Mella

Villa Mella, Santo Domingo
Dominican Republic

Saturday, November 2, 2013 from 5:00 PM to 7:30 PM (EDT)
Add to my calendar
Organizer
The Association for the Study of the Worldwide African Diaspora (ASWAD) is a not-for-profit, tax deductible organization of international scholars seeking to further our understanding of the African Diaspora, that is, the dispersal of people of African descent throughout the world. Through the examination of history, dance, anthropology, literature, women's studies, education, geology, political science, sociology, language, art, music, film, theater, biology, photography, etc., we seek to share the most recent research both within and across disciplinary and other conventional boundaries. We seek to do this by way of conferences and symposia held periodically, as well as through publications. In addition, we look for ways to share our work with students and the general community. All who share such interests are welcome to join ASWAD.