ASU Tour - "Taking Private Partnerships into Outer Space" - AZ Chapter

Thursday, April 13, 2017 from 7:30 AM to 9:15 AM (MST)
Event Details
"Taking Private Partnerships into Outer Space"
Tour of ASU Interdisciplinary Science and
Technology Building IV


With ASU NewSpace and ASU Interplanetary Initiative
Associate Professor Hongbin Yu
Assistant Professor Yuji Zhao
Professor Marc Mignolet 

Arizona State University (ASU) researchers are changing
how we explore the universe.
ASU NewSpace, the Space Technology and Science Initiative, is defining and transforming the future of academic-private space partnerships. These partnerships with space exploration science and technology companies, from small start-ups working on technology projects out of someone's garage to companies with thousands of employees designing and building new rockets, enable new avenues of research and development in space science, planetary science, and engineering at ASU.


Distinguished presenters will provide insights on a few campus-wide initiative level projects that demonstrate and highlight the goals, processes, interests, challenges and successes of creative and innovative partnerships. Attendees will have a firsthand opportunity to learn how small, agile, entrepreneurial companies and small, inexpensive devices are successfully shaping how we think, build, design and operate space-related projects and applications.
Agenda:


7:00 - 7:30am: Breakfast and Networking
7:30 - 7:45 am: ASU NewSpace 
7:45 - 8:00 am: ASU Interplanetary Initiative
8:00 - 8:15 am: Associate Professor Hongbin Yu
8:15 - 8:30 am: Assistant Professor Yuji Zhao
8:30 - 8:45 am: Professor Marc Mignolet


8:45 - 9:00 am: Tour of 1st floor lab and mission operations center
=========================================================
Scott Smas is the Program Manager for ASU NewSpace (Space Technology and Science Initiative). ASU NewSpace was established to engage the commercial space industry in Arizona and beyond with faculty, students and facilities across all of ASU.  ASU NewSpace is led by Professor Jim Bell with the School of Earth and Space Exploration





Ms. Tess Calvert
is the Project Manager for the Interplanetary Initiative. This initiative is university-wide and seeks to become the thought leaders on the societal, educational, and technical aspects of humans in space. The Interplanetary Initiative is led by the director of the School of Earth and Space Exploration Lindy Elkins-Tanton and ASU President Michael Crow.  Tess is also the Project Manager for the NASA Discovery Mission, Psyche led by PI Lindy Elkins-Tanton that was selected in January.
Dr. Hongbin Yu
is Associate Professor of Electrical Engineering at Arizona State University. He received his PhD in condensed matter physics from University of Texas at Austin in 2002, and was a postdoc at UCLA and Caltech from 2003-2005. He joined the ASU faculty in 2005, and ASU site director of newly awarded NSF Center for Efficient Vehicles and Sustainable Transportation Systems. He is currently ASU Site Director of NSF I/U-CRC Center for Efficient Vehicles and Sustainable Transportation Systems (EV-STS). His expertise is on nanostructure and nano device fabrication and characterization; flexible, transparent and wearable electronics; wide bandgap semiconductor electronic and optoelectronics; quantum size effect in metallic and semiconducting nanostructures; integrated microwave and power devices. 
Dr. Yuji Zhao
is an Assistant Professor of Electrical Engineering at Arizona State University (ASU). He received the Ph.D degree from University of California Santa Barbara (UCSB) in 2012 after Nobel Laureate Professor Shuji Nakamura. Dr. Zhao's research focuses on GaN-based wide bandgap semiconductor devices for power and energy applications, including LEDs, solar cells, and power transistors. Dr. Zhao has more than 70 journal and conference publications, 2 book chapter, and over 10 patents. He has received 2016 DoD DTRA Young Investigator Award, 2015 NASA Early Career Faculty Award, 2015 Bisgrove Scholar Career Faculty Award, and several best paper awards. His work was supported by NASA, DoD, and SFAz for space and power applications.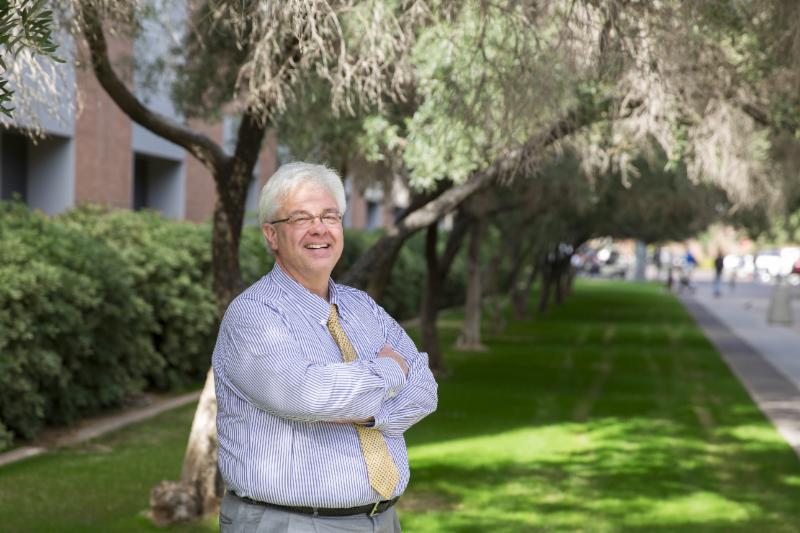 Dr. Marc Mignolet
is in the School of Engineering Matter, Transport and Energy.  He received his Engineer's degree in Aerospace Engineering from the Universite de Liege, Belgium, in 1983 and his Ph.D. in mechanical engineering from Rice University in 1987. Since then, he has been at ASU where he currently is Professor in the SEMTE Faculties of Mechanical and Aerospace Engineering. His area of research and teaching is structural dynamics and uncertainty modeling and propagation. 
When & Where

Arizona State University
781 Terrace Road
ISTB4 - 3rd Floor Crater Carpet
Tempe, AZ 85287


Thursday, April 13, 2017 from 7:30 AM to 9:15 AM (MST)
Add to my calendar
Organizer
The Aerospace & Defense Forum is a global aerospace and defense leadership community of over 2000 with seven chapters providing opportunities for sharing of information, current events, and analysis, mutual support and encouragement, partnering, innovation, and performance breakthroughs.
Website: AerospaceDefenseForum.org