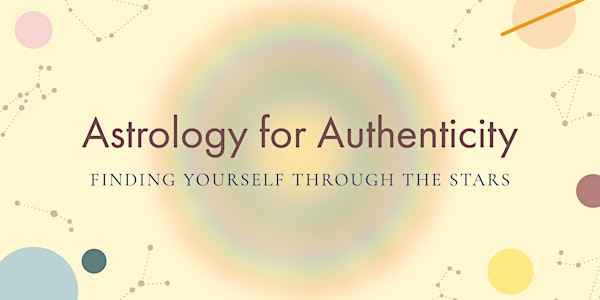 Astrology for Authenticity: Finding Yourself Through The Stars—Cleveland
Astrology offers insight into who you are and your purpose. Discover how to deepen your connection to your authentic self through the stars.
By Danielle Krey | Authenticity Coach
Date and time
Thursday, June 22 · 2 - 3:30pm EDT
Location
Online via Zoom Online via Zoom Cleveland, OH 44101
About this event
1 hour 30 minutes

Mobile eTicket
A FREE 2-day Interactive Workshop For The Astrologically Curious
There is a ton of information out there about Astrology. For anyone interested in learning more about this modality, it's easy to become overwhelmed and hard to know where to begin! For one, Astrology at its very nature is cryptic. It often isn't shared in a way that makes it easy to digest and practical…which prevents most from ever pursuing it far enough to discover the wisdom waiting on the other side of the cosmic learning curve—and there's a lot of wisdom on the other side!
Live in The Power of Your Authenticity
Authenticity has become quite the buzzword recently, especially in the self-development arena, but what does it truly mean to be authentic? What does it look like? Why does it matter to "just be yourself?" And how do you do that? It may not always feel easy and clear to show up in our authenticity, but this work holds the key to your purpose, success, joy, meaningful relationships, passion and so much more. You were born to be you — and no one else knows how to be you besides YOU!
⭐️ If you desire to live an awesome & amazing life that's aligned with your true talents, skills, and passions, then authenticity is your path to creating that life, and Astrology lights the way.
Take a Look in The Cosmic Mirror
Astrology at its core is a practice of knowing yourself. It's the ancient language of the stars that's enriched with history, symbolism, and mysticism. It asks us to explore the possibilities in the vast unknown, both in the cosmos and in ourselves. Astrology, particularly the natal chart, goes deep into who you are, where you've come from, and where you're going. It shares information about your relationships, career, sense of self, karmic wounding, and so much more in a way that's spiritually connected to your soul. When you take a look in the cosmic mirror, you meet yourself at a deeper level, a level that transcends the logical mind and instead is infused with spiritual messages. I like to say the natal chart is a bridge from Soul to Spirit.
⭐️ The better you know yourself, the easier it is to create a life that is in alignment with your authentic goals, passions, and skills
Make Astrology Useful with Psychology and Quantum Physics
Astrology goes much deeper than just a character assessment. It's a dynamic, powerful guide that you can incorporate in your everyday life to find more alignment with your truth. Astrology can be made useful when coupled with Psychology and Quantum Physics. The latest research through the fields of Quantum Physics and Cosmology reveals that we do not live in a separate Universe. Everything is connected. As a powerful, energetic being, your thoughts & feelings truly create your reality and I'll show you how. In this workshop, I introduce principles and practices from new Quantum science and Psychology to support you in practically applying the information you learn from your natal chart. These practices have truly changed my life and I use them every single day.
⭐️ Your chart can be used like a guiding map to your life if you know how and in this workshop I show you!
Ready to Elevate Your Astrology Knowledge and Practice?
Check out what I've got in store for this 2 day workshop!
Day 1: Thursday at 11am PST
Introduction to Astrology: Learn key facts about this ancient modality and why it's useful.
Authenticity: What is is, why it matters, and how to cultivate it in your life.
Reality Check: Discover the role you play in creating your reality.
Astrology Supports: Learn why & how Astrology helps us develop authenticity.
Day 2: Friday at 11am PST
Quantum Physics & Cosmology: Discover the latest science that supports Astrology.
Evolutionary Astrology: Explore the Zodiac signs through this branch of Astrology.
Natal Chart Foundations: Learn your way around the Natal Chart & all that it reveals.
Ascendent Interpretive Exercise: Apply your Ascendent sign to everyday life!
Hi, I'm Danielle
BS in Forensic Psychology, Professional Astrologer & Life Coach
As a recovering people-pleaser, co-dependent, and doormat, I spent many years of my life letting other people write the rules that I lived by. Putting others first all the time seems like the right thing to do. It's what I was taught.
For a large part of my life, knowing myself wasn't really important to me. What was more important was other people's happiness, even at my own expense.
Astrology guided me back to my truth, and it was here that I realized that the patterns of selfless martyrdom that I carried for years were actually a huge disservice to not only myself, but everyone around me.
The truth is you serve this world to your greatest capacity when you become the biggest and truest version of who you are — not by playing by other peoples rules.
You are the author of your story, so why give other people the pen? The work I do is entirely around developing the relationship we have with ourself. The lives we live are a bi-product of this relationship. If you truly want to serve the world, prioritize your authenticity. You make the greatest impact when you are YOU. Not when you are being what you think you should be.
Frequently asked questions
How do I join the Zoom when it's time?
Do I need to know anything about Astrology?
Will there be a replay if I can't make it?
About the organizer
I help soul-searchers who are struggling with feelings of misalignment and disconnection in their life by facilitating a journey to deepen self-awareness so that they can find the meaning and purpose in being their true self.