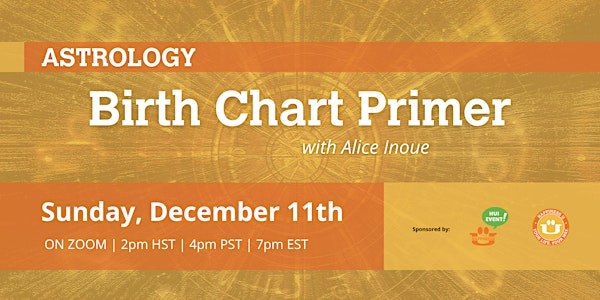 Astrology Birth Chart Primer
Join Alice for a basic astrology chart primer.
Refund Policy
Contact the organizer to request a refund.
Eventbrite's fee is nonrefundable.
About this event
This is a PAID EVENT.
If you miss it, access to the recording is limited to Happiness U Hui members only.
If you are a Happiness U Hui member, there is no charge for this event. Please RSVP (or join the Hui) at HappinessUHui.com.
If you are not a member, and want to learn about all the Hui has to offer (and have access to many events like this), click here.
Astrology Birth Chart Primer
Join Alice Inoue, astrologer and founder of Happiness U, for a basic astrology chart primer. In this session Alice will go over the basics of how to read and understand your birth chart for the purpose of helping you to not only "see" yourself in your chart, but how to apply what you know about yourself to Alice's monthly astrology forecasts for greater insight. You will learn the sign of your moon and ascendant, house emphasis, associated archetypes, as well as other important factors that will demystify this discipline.
To participate, we need your birthday, birth time (found on your birth certificate), and your birth location, at least 24 hours prior to the class. Please email it to Erin at erin@yourhappinessu.com. Class is limited to 8 people.
About Alice
Nationally award-winning author and life expert, Alice Inoue, has dedicated her life to helping others find answers to life's challenges. As Hawaii's thought leader and celebrated expert, hundreds of organizations and thousands of individuals have found clarity over the past 20+ years through her work. Her unique brand of life wisdom is featured in her nine books on self-growth and happiness, as well as in her long-running column in MidWeek, Hawaii's largest publication. Combining her vast set of skills and talents with her entrepreneurial drive, she opened Happiness U, a business with a purpose to help both organizations and individuals find unprecedented clarity.