Astro Pop Mural + Music Festival at The Chamber by Wooden Robot in NoDa
About this event
Astro Pop Mural + Music Festival, a FREE event, presented by Wooden Robot Brewery and TWOKAT.
Date: Saturday, September 25
Time: 12-11 pm
Location: The Chamber by Wooden Robot in NoDa
FREE - no tickets needed
This FREE art and music extravaganza will have live painted murals, live music, food trucks, vendors, and more throughout the patio and rooftop beer garden. We will be following CDC guidelines and Charlotte's mask mandate.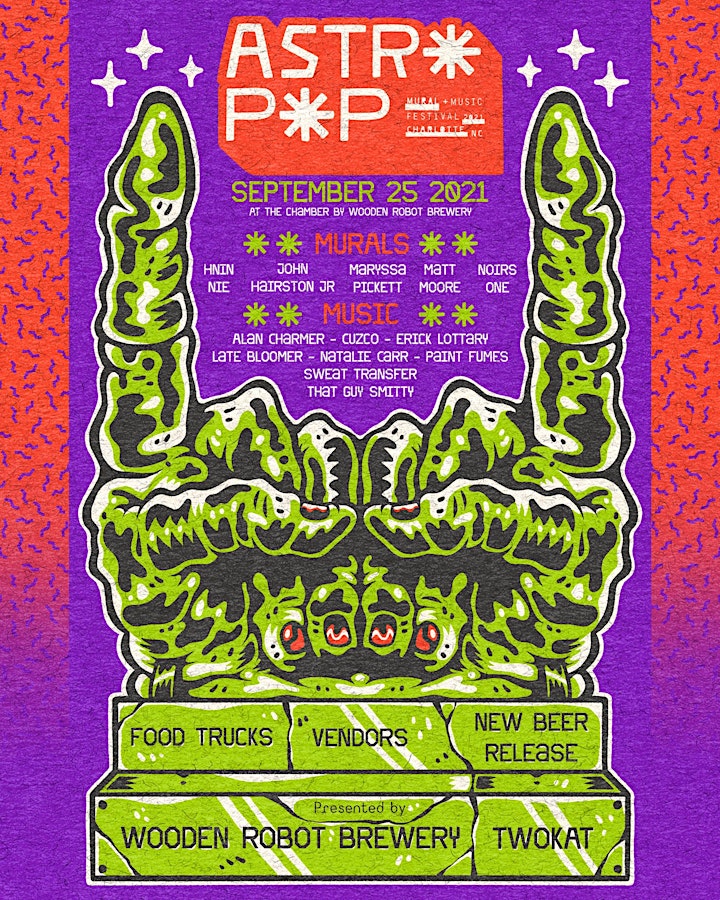 PRESENTED by: @woodenrobotbrewery, @woodenrobotchamber, & @b_twokat
MURALISTS
@hninstagram
@john_hairston_jr
@spud.cowboy
@puckmcgruff
@noirsone
MUSICIANS
@alancharmer
@cuzcoband
@ericklottary
@latebloomernc
@nataliecarrmusic
@paintfumesnc
@sweat_transfer
@thatguysmitty
VENDORS
@110degrees
@cosmicpropaganda
@grandmavibesbaking
@sisstash
@stencilspray
@summitcoffee
@zs_woodwork
FOOD
@atanafoodtruck
@bayoubettycajunexpress
@fullcirclefoodcart
@tastemooresoul