Sales Have Ended
Registrations are closed
See you on October 30th!
Sales Have Ended
Registrations are closed
See you on October 30th!
Description
Astro Pak invites you join in the celebration of the opening of our new AS9100 / ISO Certified Cleanroom Facility.
Come for refreshments, ribbon cutting, a tour of the facility and hear from former Astronaut, Story Musgrave.
First 50 registrants receive an Astro Pak swag bag!
---


BACKGROUND
Astro Pak's new 38,000 square foot facility opened it's doors for business in July of this year. The opening of the new Titusville location marks the completion of the process that began when Astro Pak acquired Chemko Technical Services in 2016. Chemko had a well established local presence, servicing the Space Coast since 1972. Astro Pak continues that tradition by supporting on-site work at KSC on projects such as the ongoing work at the Mobile Launch Platform (MLP) in support of NASA's upcoming Space Launch System (SLS), as well as meeting the needs for component cleaning at it's new state-of-the-art cleanroom facility.
"The new facility offers greatly expanded capabilities enabling more services to be offered to our local and regional customers," says General Manager Jonathan Hopkins, "We have combined our world class precision cleaning services and our industry-leading field operations teams under the same roof. As a result, we are now able to support our customers both on the Space Coast and throughout the southeast region with an unmatched level of efficiency and value."
The facility's signature feature is a 15'x15' tower with a 70' vertical rise that allows the processing of hoses up to 60' in length.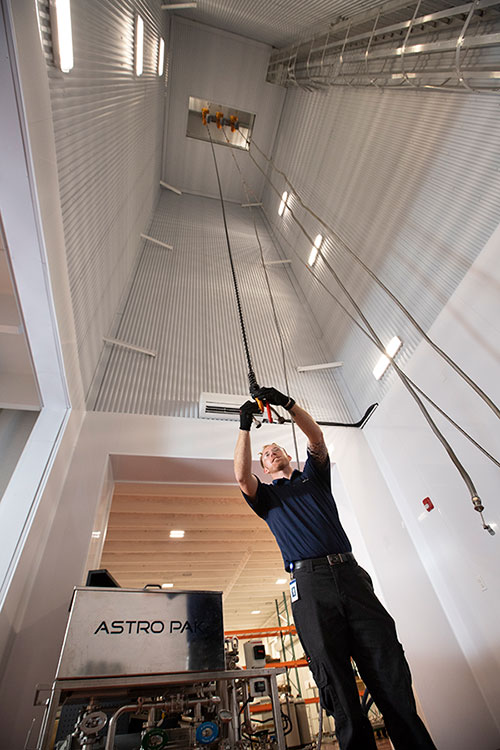 The facility also houses an ISO 7 cleanroom and accompanying ISO 6 analysis lab joined by a spacious shop area with a 2 ton bridge crane.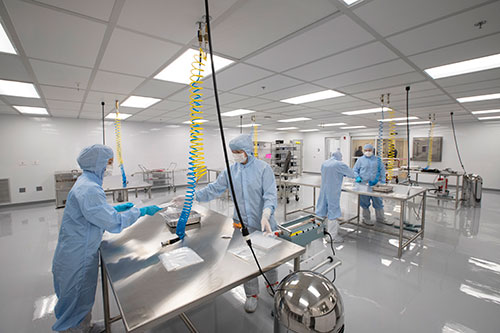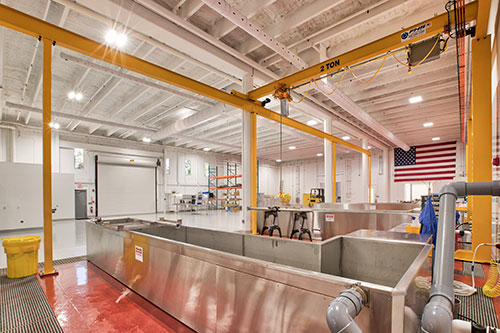 These facilities are further augmented by large aqueous processing tanks, a pre-clean area with multiple work stations, ultrasonic units, as well as hydrostatic, hydraulic, and pneumatic testing capabilities.
Astro Pak made its name with precision cleaning services back in the 1960's and the addition of the Titusville facility ensures that it will remain at the forefront of the industry. Processing in a controlled environment, cleanliness verification for particle count, TFS, NVR, vacuum sealed packaging, cold shock, and pressure testing are just a few of the cleaning, packaging and testing services available. Additionally, the Astro Pak team is able to meet numerous industry specifications including KSC-C-123J, CGA G-4.1-2009, ASTM G-93-03, IEST-STD-CC 1246E, and numerous industry and aerospace cleaning specifications.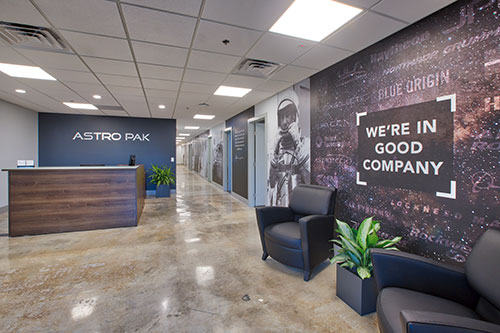 ABOUT ASTRO PAK
Astro Pak has been the leading provider of passivation, high purity and precision cleaning services in North America since 1959. Astro Pak meets the critical cleaning and surface conditioning requirements for a myriad of industries such as biopharmaceutical and aerospace via our on-site services, as well as our state-of-the-art cleanroom and shop facilities. Astro Pak is privately held with headquarters in Costa Mesa, CA. For more information, please visit www.astropak.com.
---
KEYNOTE SPEAKER, STORY MUSGRAVE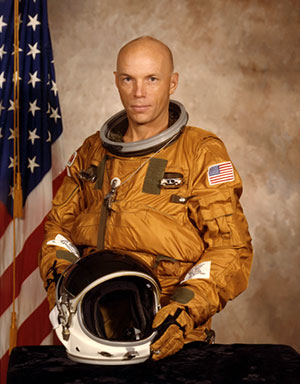 Story Musgrave was born in 1935 on a dairy farm in Stockbridge, MA. He was in the forests alone at age 3 and by age 5 floated his homebuilt rafts on the rivers. He rode combines at age 5, drove trucks and tractors at age 10 and when alone in remote fields, repaired them by age 13.
Story never finished school, ran off to Korea with the U.S. Marines where he was an aircraft electrician and an engine mechanic. He started flying with the Marines and over the next 55 years accumulated 18,000 hours in over 160 aircraft. He is a parachutist with over 800 freefalls. He has 7 graduate degrees in math, computers, chemistry, medicine, physiology, literature and psychology. He has been awarded 20 honorary doctorates. He was a part-time trauma surgeon during his 30 year astronaut career.
Story was an NASA astronaut for over 30 years and flew on six spaceflights. He performed the first shuttle spacewalk on Challenger's first flight, was a pilot on an astronomy mission, conducted two classified DOD missions, was the lead spacewalker on the Hubble Telescope repair mission and on his last flight, he operated an electronic chip manufacturing satellite on Columbia.
Today he operates a palm farm in Orlando, FL, a production company in Sydney and a sculpture company in Burbank, CA. He is also a landscape architect, a concept artist with Walt Disney Imagineering, an innovator with Applied Minds Inc. and a professor of design at Art Center College of Design in Pasadena, CA. Story also performs multimedia presentations on topics such as vision, leadership, motivation, safety, quality, innovation, creativity, design, simplicity, beauty and ecology. He has 7 beautiful children: Lorelei, Scott, Holly, Todd, Jeff, Lane and Story, ranging from age 48 to 2 years; 3 beautiful grandchildren, and a beautiful wife Amanda.