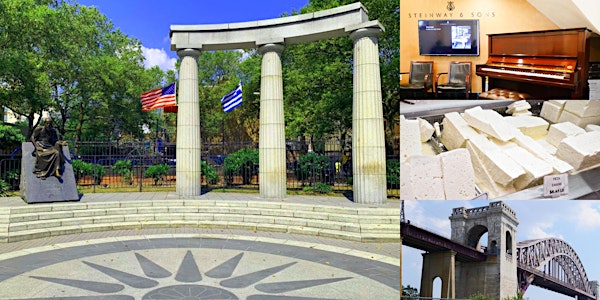 'Astoria, Queens: Melting Pot of NYC Cuisine, Community, & Culture' Webinar
Can't make it live? Register and get access to the full replay for one week! New York Adventure Club | www.AdventureClub.com
About this event
What's so special about the neighborhood of Astoria, Queens, you ask? Not only is it one of the most diverse neighborhoods in all of New York City, but it's also one of the most eclectic, thanks to hosting some of the best eateries and cultural institutions around town. How did this neighborhood come to be, and how has it changed throughout the decades? It's time to uncover the unique story of Astoria and its rise from a company neighborhood to being recently ranked as one of the world's coolest neighborhoods.
Join New York Adventure Club as we explore the history and highlights of Astoria, Queens, a neighborhood in New York City known for its extremely diverse population, food, and institutions.
Led by Susan Mills Birnbaum — licensed NYC tour guide, food lover, and history buff — our digital showcase of Astoria will include:
A historical overview of the Astoria, including a look at its early history
The story of the neighborhood's most famous businesses such as Steinway & Sons, D'addario, Haloids, and others
A discussion surrounding Astoria's culinary diversity, ranging from Greek to Egyptian, and everything in between
A look at the different immigrant populations that make Astoria one of New York's most diverse neighborhoods
A virtual visit to notable sites throughout the neighborhood, including Athena's square, Kaufman Studios, and the Museum of Moving Image
Afterward, we'll have a Q&A with Susan — any and all questions about Astoria are welcomed and encouraged!
Can't make it live? Don't worry, you'll have access to the full replay for one week!
See you there, virtually!
*Immediately upon registering, you will receive a separate, automated email containing the link to join this webinar
**For the best possible viewing experience, please ensure you're using the latest version of your internet browser — Google Chrome is the most compatible. Exact technical requirements and a webinar user guide will be shared in the automated confirmation email upon registration.
***A full replay of the experience will be available to all registered guests for up to a week
About Susan
Susan Mills Birnbaum, owner and operator of SusanSez NYC Walkabouts, is a native New Yorker obsessed with its history and food. Since 2002, Susan has been a licensed NYC Sightseeing Guide. She is also a member of the Guides Association of New York City (GANYC).
She's had a lifelong interest in history (earning her Bachelors in History from Hunter College), is a member of many NYC historical societies, and volunteers as a docent at the Museum of the City of New York.
Along with history, Susan has a true passion for people (earning her Masters of Social Work from Rutgers University) and loves nothing more than to share with tourists and natives alike the best food, shopping, art, and architecture of her "hometown."
Susan's love for New York is infectious and her tours surprise even native New Yorkers who find themselves discovering its untold history. Taking a tour with this quirky and witty New Yorker is a sure way to explore the little-known treasures that make her "backyard" the most vibrant city in the world.
Testimonials
"It was well presented and held your interest throughout. The pictures and explanations were easily seen and explained so that you want to visit the area and it's diverse population. I look forward to the next tour with Susan." -Dorothy
"I liked learning about the major commercial players (e.g., Steinway & Kaufman), as well as the smaller businesses that were and are a part of Queens." -Aleisa
"My husband grew up in LIC and it was fun to see all the changes." -Claire
"Fascinating, informative, fun. Thanks" -Elizabeth
"Wonderful photos and interesting details!" -Shawna
"I liked the history of places I've been to before and many new places." -Carol
Disclaimer
By attending a New York Adventure Club experience, you accept our terms of service.
Photo Credit: Main - Foursquare
Categories: Virtual, Neighborhoods