Event Information
Location
Virtual Meeting
Webex: https://cisco.webex.com/cisco/j.php?J=203148799&PW=NZGExZTRiNDY0
Meeting Password ----- 2614 Meeting Number ----- 203 148 799
Description
Join Astia Angels: A global team of investors committed to the success of women-led startups
a Virtual Meeting for Prospective Astia Angels Members
Monday March 24th
4pm PT / 7pm ET
With Introductory Keynote by
Bradley Horowitz, VP of Product, Google+
Hosted by Astia Angels Member Robert Schneider
Via Webex(login information provided to registrants)
You're invited to attend a virtual meeting to learn more about Astia Angels and why you should join this dynamic group of men and women investing side by side in women-led, high-growth ventures.
Astia Angels, launched in early 2013, is an international network of male and female angel investors that puts capital to work in women-led, high-growth ventures. All Astia members are highly involved throughout the investment process and make independent decisions. Astia Angels hold regular in-person pitch meetings in Silicon Valley, New York City, Boston and coming in 2015: London. Astia Angels also participate on virtual meetings and national phone calls. Astia Angels is a program of Astia.
Members of Astia Angels:
•Get early exposure to community-screened, high potential companies
•Participate in an organized process that ensures the wise and effective use of their time
•Profit from Astia's proven, proprietary process that produces high-quality deal flow
•Engage in post-investment programs that contribute to the success of the portfolio companies
•Network with the Global Astia Community, including invitation-only events and programs
•Join a growing movement to increase the funding for women-led, high-growth companies
About Astia
Astia is a curated, global community of experts committed to the success of world class women-led, high-growth startups. For over 14 years the 4000+ members of Astia's connected community have provided startups with access to capital, business networks, and opportunities to become dominant market players. The organization is a non-profit with distinct focus and mission: to propel women's full participation as entrepreneurs and leaders in high-growth businesses, fueling innovation and driving economic growth.
www.astia.org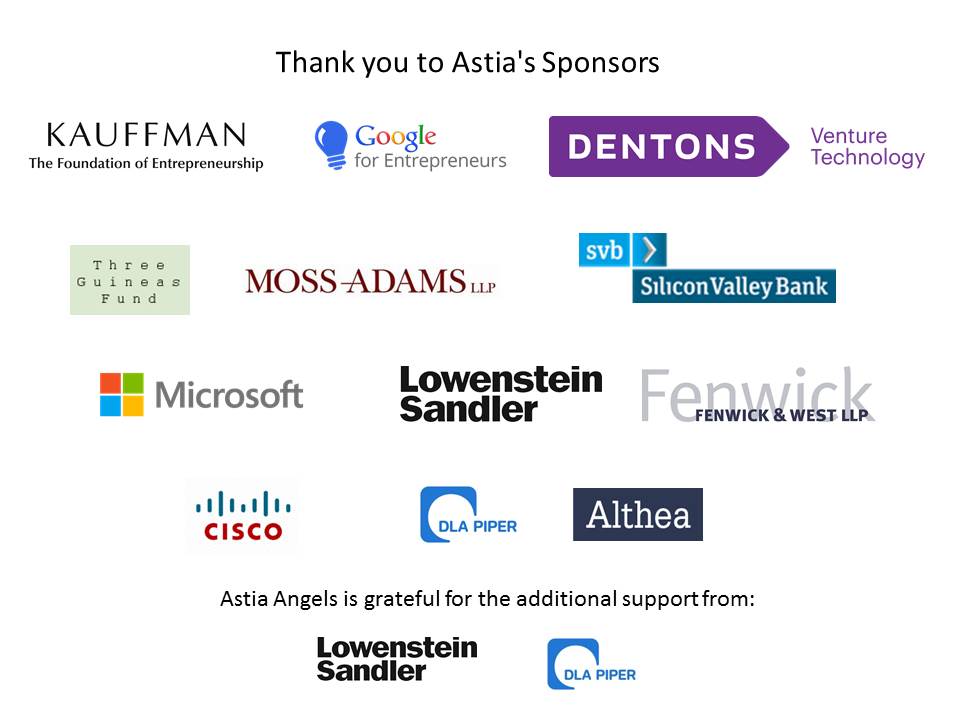 Date and time
Location
Virtual Meeting
Webex: https://cisco.webex.com/cisco/j.php?J=203148799&PW=NZGExZTRiNDY0
Meeting Password ----- 2614 Meeting Number ----- 203 148 799
Organizer of Astia Angels Virtual Informational, Keynote by Google's Bradley Horowitz
 Leveling the investment playing field for teams that include women leaders
Astia is a community of experts committed to leveling the playing field for women entrepreneurs by providing access to capital and networks for the companies they lead.
The Astia programs include:
Astia Access - Programs that provide access to investment, expertise and networks
Astia Investments: Astia Angels - a global investor network of men, women, and family offices, and Astia Fund - a venture capital fund investing in the companies that apply to Astia.
Astia Think - Thought leadership grounded in 20 years of experience provided to the market in the form of speaches, writings and shared learnings.