Association of Bridal Consultants Midwest Retreat - Hosted by Indiana Branch

Friday, February 22, 2013 at 6:30 PM

-

Saturday, February 23, 2013 at 5:00 PM (EST)
Event Details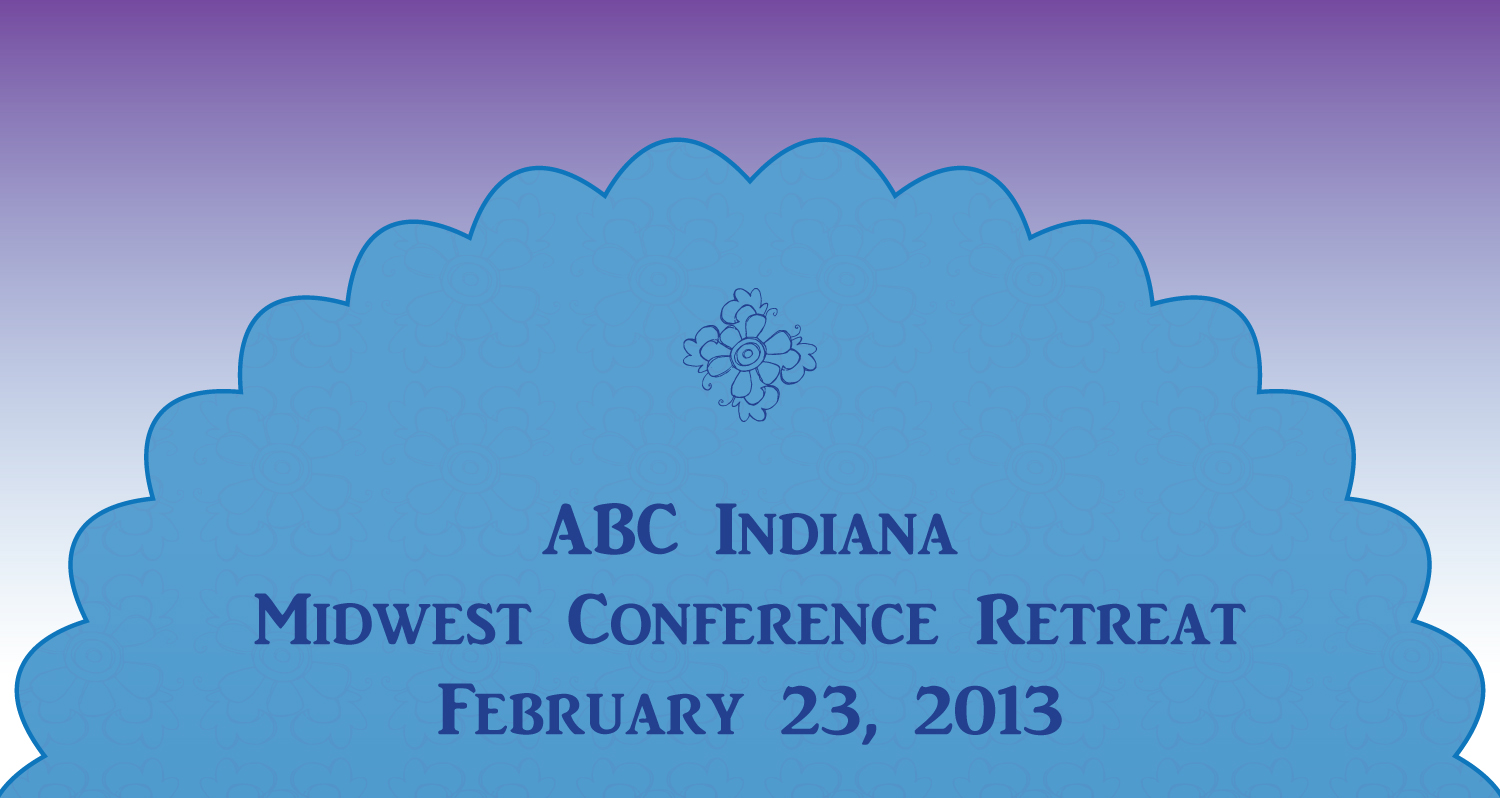 Retreat to the opulent West Baden Springs Hotel in French Lick, Indiana for a weekend of Education, Networking and Fun.
Friday Dinner (Cocktails 6:30pm ET)
Saturday Education Begins (9:00am ET)

Education on many topics including nationally renowned speaker
"Get Real Sales Coach" - Saundra Hadley and the "2013 Manifesto and the Wedding Industry"

"I Could Write a Book" - Gloria Boyden, MBC
"Dissolving Wedding Dress Disasters" - Jane Skarosi, MBC, MWV
"Business Brand Check Up" - Heather Lapham Kuhn

Just Announced - our afternoon keynote speaker discussing decor -
"I DO - Flowers"- Alan Thompson, AIFD
Alan will explore, discuss & design spectacular flowers for a dream wedding...

Make a weekend of it and stay at the West Baden Springs Hotel at a discounted Room Rate of $149
Friday hotel room $149 rate will be waived for attendees of the ABC conference with paid Saturday room.
Call 1-888-936-9360 and ask for the Association of Bridal Consultants Block Rate. 
Note - the comp room Friday rate will be adjusted at Sunday check out
Friday night dinner (cocktails begin at 6:30pm ET, dinner to follow) also included with paid conference fee and guestroom.
(additional Friday dinner guests $75)
(Note - Friday's meal is during the Lenten Season - note any dietary concerns on your registration)


Conference includes breakfast voucher good for Saturday breakfast in Cafe Sinclair

Education Conference Saturday 2/23

Lunch

Breaks
Plan to stay for on Sunday for a relaxing day at the opulents West Baden Springs Hotel and enjoy the French Lick Resort's offerings including Casino, Spa and Golf options. 
As a gift to all Conference Attendees ~ The West Baden Hotel will offer all attendees with 2 night West Baden Springs Hotel reservations, a spa treatment!  (list of services to be given closer to the event by the resort)  Please plan on arriving Friday before the event or staying Sunday for this complimentary service!  Spa Reservations will be confirmed by resort staff and emailed prior to arrival.


"2013 Manifesto and the Wedding Industry"
Saudra Hadley  - previous speaking engagements include:
2012 The Special Event, 2012 ABC Southeastern Conference, 2011 WedSmith, 2011 Wedding 101, 2011 My Big Day Planner, 2011 Eventology, 2010 The Simple Plan, 2010 WedSmith, 2010 We Wed, 2010 NACE Baltimore, 2010 Eventology, 2010 Deaconess Women's Conference, 2009 ABC Lexington, 2009 Eventology and various GET REAL Sales Workshops throughout the country.
  Saundra's Blog on the Wedding Industry her 2013 Manifesto 
Gloria Boyden - "I Could Write a Book" – Mastering the Challenges
                In her 25th year of business, Gloria Boyden, Master Bridal ConsultantTM has probably seen it all and then some.
                No wedding, no matter how well planned or what price point, is free of a few glitches.  The big question is can you master each and every challenge or know the right person to call. With examples from real life weddings that Gloria has done, everyone will learn something about the challenges and what to do.
"Business Brand Check Up" - Heather Lapham Kuhn

Come prepared to give your own company a Business Brand Check Up!  Take your own temperature in this workwhop as you explore your company branding (and what really is Branding?) and discover some areas to strengthen your business's image in the marketplace!
Make sure to bring samples of ALL of your current marketing materials! 

Dissolving Wedding Dress Disasters - Jane Skarosi, MBC, MWV
After owning a bridal salon for over 2 decades, Jane Skarosi, MBC, MWV, and Illinois ABC State Coordinator tells tricks of the trade to calm any planner, officiant and photographer for wedding day disasters.

Alan Thompson, AIFD - "I DO - Flowers" - Alan will explore, discuss & design spectacular flowers for a dream wedding...
 A native of Ohio, Alan has worked in the greenhouse, wholesale and retail facets of the floral industry following graduation from The Ohio State University.  After several years in Cincinnati he made the move to Indianapolis and McNamara Florist, where he manages their retail location in Carmel, Indiana.  Alan has been privileged to participate and design for two Presidential Inaugurations, The World Figure Skating Championships, New Member Induction Ceremony
at the American Institute of Floral Designers  (AIFD) National Symposium, National FFA Convention, the AIFD and McNamara Florist feature Gardens at the Indiana Flower and Patio show as well as many social functions and major sporting events in Indianapolis. Alan has been asked by his clients to take his talents to the air and create weddings on Saint John, United States Virgin Islands,  Whidbey Island, Washington and holiday decor in Colorado. 
We're in for an enjoyable afternoon keynote address from a colleague, an artist - a friend. 
Have questions about Association of Bridal Consultants Midwest Retreat - Hosted by Indiana Branch?
Contact the organizer
When & Where

West Baden Springs Hotel
8538 West Baden Avenue
47423


Friday, February 22, 2013 at 6:30 PM

-

Saturday, February 23, 2013 at 5:00 PM (EST)
Add to my calendar