Description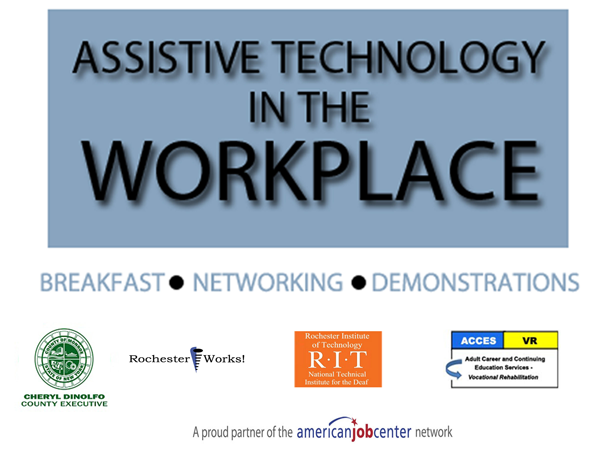 RochesterWorks!, Monroe County's largest employment and training initiative, in collaboration with Monroe County, ACCES-VR and the Center on Employment, National Technical Institute for the Deaf Rochester Institute of Technology present: Assistive Technology in the Workplace. The event will take place on June 29th, 2017 at the Center on Employment, National Technical Institute for the Deaf, Rochester Institute of Technology.

Assistive Technology in the Workplace is the latest in RochesterWorks!'s long history of innovative events, workshops, conferences, and job fairs dedicated to equipping our community's job seekers and businesses to interact with each other. The event is designed to show businesses that customizing the workplace to suit every worker is easier and more cost effective than ever before. Large print and tactile keyboards, screen magnifiers, navigation assistance, are just a few common assistive technologies used in the workplace.

The admission is $10. Breakfast will be served. Checks can be accepted. Please contact James Brown at jbrown@rochesterworks.org for details.

Technology Presentations:

Employing People who are Deaf and Hard of Hearing
John Macko, Director of the NTID Center on Employment

Vendor Presentation
Principles of Accommodation and Compensation
Dan Higgins, Assistive Technology Professional, Poplar Hill Technology, Fairport, NY

Factors Affecting the Use of Technology
Terry A. Martin, Assistive Technology Specialist, Voila Technology, Inc., Rochester, NY

Video Relay Services and Video Remote Interpreting
Joe Riggio, Sales Manager, Enterprise Video Solutions for ZVRS, Indianapolis, IN
Captioned Telephone
Kassey Granger, Educator and Installer for OEI - Outreach, Education, and Installations, Albany, NY

Employer Testimonial
FedEx

Directions to the venue: http://www.ntid.rit.edu/visiting/directions

Biographies
Dan Higgins
Dan Higgins is an Assistive Technology professional who with his wife, Sharon Higgins, operates Poplar Hill Technology. In 1991 after completing a course of graduate study in Interactive Media Design at Rochester Institute of Technology, Dan formed the Office of Assistive Technology Services at Monroe #1 BOCES to help children with disabilities identify, obtain, and use technology to improve their access to education. With his friend and colleague from OATS, Harry Karpinski, he extended his services to adults with disabilities in 1992. After Harry's premature death in 2007, Dan left BOCES to devote his energies to the service of the adult community. Dan has broad experience with impairments of mobility, communication, learning, perception, and social integration. His primary area of professional interest is cognitive compensation through technology. In addition to a Certificate of Advanced Graduate Study from RIT Dan holds a Master of Education Degree from Nazareth College of Rochester and a bachelor's degree in Speech Language Pathology from St. John Fisher College.

Terry A. Martin
Terry A. Martin is president and owner of voilà technology Incorporated. He is a legally blind/visually impaired assistive technology specialist. He has worked in this capacity for 30 years. Terry is currently on New York State contract with ACCES-VR- of the New York State education Department as an assistive technology specialist. He Has a Bachelor's degree in communications studies and A Master's of Science in Education with a concentration in Career and Technical Education. He worked in public and commercial broadcasting during the 80s. Near the end of the 80s he started Voilà Technology Inc. he has worked in all aspects in the assistive technology field. He has sold, supported, and even worked as a developer. In 1993 he released the first voice input voice output interface for Windows-based PCs. This interface allowed people who are blind and learning disabled to take advantage of voice recognition technology. He is a guest lecturer at the State University of New York College at Oswego in the education department lecturing on the benefits of assistive technology. He is also now an international lecturer. His most recent lecture was to an international education conference in Brazil where he spoke on how students with disabilities can benefit from assistive technology. His special interests include "universal design for learning" and equal access to instructional materials for all disabled students so that they can achieve their educational and occupational goals.

John Macko
John R. Macko is director of the Center on Employment (NCE) at Rochester Institute of Technology's (RIT) National Technical Institute for the Deaf (NTID). In this capacity, he is responsible for developing and enhancing employment opportunities for deaf and hard-of-hearing students and graduates of RIT. Mr. Macko is responsible for a staff of nine employees and with that team works with students and employers to prepare students to find co-ops and full-time jobs and to assist employers in feeling comfortable working with deaf and hard-of-hearing employees. As part of this effort, Mr. Macko has presented hundreds of workshops to federal agencies, large and small companies, and non-profit organizations. The workshop entitled "Working Together: Deaf and Hearing People" gives employers the experience of being deaf and hard-of-hearing and the opportunity to learn various communication strategies they can apply in the workplace.During his 23-year career at RIT, he has taught job search classes, been an employment advisor for students seeking co-ops and permanent jobs, and appeared as an expert guest on radio, TV, and Webinar programs. Mr. Macko, who is a member of the National Association of Colleges and Employers, holds a bachelor's degree in Finance and a master's degree in Human Resources, both from Rochester Institute of Technology. After working in finance at The Prudential Financial Asset Management Company and Merrill Lynch, Mr. Macko returned to RIT for a graduate degree in human resources which fulfilled his desire to contribute to the career and life success of young deaf and hard-of-hearing people.
Joe Riggio
Joe Riggio was born and raised in Parma, a suburb of Cleveland, Ohio where he attended mainstreamed classes in the Lakewood School System. Joe currently is employed, for six years, with the ZVRS as the Sales Manager with the Enterprise Video Solutions. Previously, he was employed at Wisconsin Telecommunications Relay System as the Customer Service Manager. Joe served as the Resident Director and Institute Judicial Officer for three years at Rochester Institute of Technology, where he also taught deaf and hard of hearing students and at the University of Wisconsin - Milwaukee as an Adjunct Faculty member. Since 2012, Joe sits on the Board of Directors for NTID Alumni Association (NTIDAA) and currently serves as a President of NTIDAA in July of 2015. Since 2016, Joe also serves on NTID's National Advisory Group. He is a member of Indiana Association of the Deaf and National Association of the Deaf. Joe was a Past-President of Wisconsin Association of the Deaf (2005-2007) where he successfully pushed for licensure of interpreters in the State of Wisconsin. He graduated from National Technical Institute for the Deaf with an Associate Degree in Printing Production Technology in 1992 and Rochester Institute of Technology with a Bachelor of Science degree in Applied Arts Technology in 2001. Residing in Fishers (Indianapolis), Indiana. During his spare time, Joe enjoys traveling around the country and if possible, to Italy. He is the proud father of a Deaf son, Gino (age 15), a prospective RIT/NTID student.

Kassey Granger
Kassey Granger is an outreach representative for Captioned Telephones (CapTel). Having lost her hearing in first grade, she grew up using CapTel, and it has been her life. She has been working for OEI – Outreach, Education and Installations for four years, installing CapTel phones and educating people about their use, in New York and Vermont. Based in the Albany, NY area, she is a past president of her local Lions Club. In her spare time, she teaches sign language songs to a group of twenty-one children aged 7-18, called the Lions Club Flying Fingers. The group has performed all around the community and has been featured in regional newspapers. She also started a support group for Cochlear Americas in Albany, for recipients of their cochlear implants.