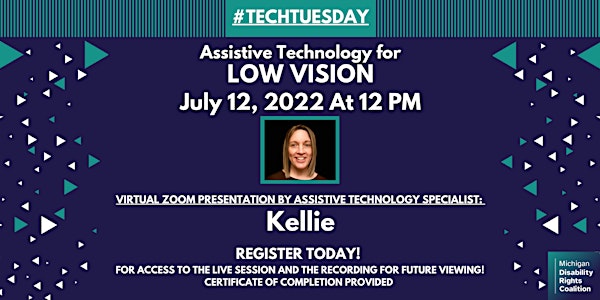 Assistive Technology (AT) for LOW VISION
Join the MI Assistive Technology Program as we highlight the many AT devices in our inventory for Low Vision
About this event
Assistive Technology for Low Vision
Join us to learn how you can use assistive technology if you are a person with low vision or vision loss.
Presenter: Kellie Blackwell
Tuesday, July 12th, 2022, Noon to 1 PM
CART captioning and ASL Interpreting will be provided. This training is free.
Register in advance for access to the live session and the recording for future viewing.
Must Register Using the following link: https://us06web.zoom.us/meeting/register/tZUtceqvqDgtHN2omvaMiqRz-DnZbg1S1hmD?fbclid=IwAR05BO58ICwzFDw3qM39x3KzSY-rIddfUxmIsmJP0ID68C1DPMLFd6tYzpQ
The Michigan Assistive Technology Program (MATP) is a program of Michigan Disability Rights Coalition (MDRC); our work is by people with disabilities for people with disabilities and their allies. Our following mission is woven into everything we do: "MDRC cultivates disability pride and strengthens the disability movement by recognizing disability as a natural and beautiful part of human diversity while collaborating to dismantle all forms of oppression." For more information about MDRC, please visit our website: https://mymdrc.org
[Image Description: A graphic flyer with a light bulb and small floating triangles. Text that reads: " Assistive Technology for Low Vision Nothing about Us Without Us. At the bottom of the graphic is a square image of a logo that includes text "Michigan Disability Rights Coalition". End Image Description]
#AssistiveTech #AssistiveTechnology #AssistiveDevice #AT #Tech #TechTuesday #Technology #MATP #DisabilityInclusion #Disability #DisabilitySupport #DisabilityRights #LowVision #VisionLoss