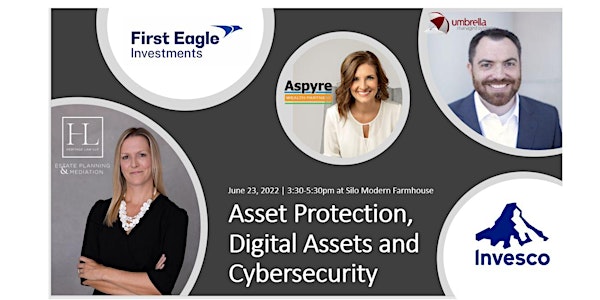 Asset Protection, Digital Assets and Cybersecurity
Location
Silo Modern Farmhouse
17501 W 87th Street
Lenexa, KS 66219
Identity theft, elder fraud, scams. These situations cost precious time and money. Learn how to shield your family from potential disasters.
About this event
Come alone or bring a friend or family member. Either way you will walk away with actionable insights. We will share what you can do right now to protect yourself and your family from these time-consuming, frustrating, and invasive crimes perpetrated against SMART PEOPLE every day. Sometimes it's what you don't know that gets you.
- Understand the threats
- Get the right legal documents in place
- How to navigate the risks and landmines along the way
This seminar is offered to clients and friends of Aspyre Wealth Partners, Heritage Law LLC, and Umbrella Managed Systems. You are welcome to bring a friend to learn, network, and enjoy food and beverages courtesy of First Eagle Investments and Invesco.
Learn about the speakers and access additional resources.
Agenda | Thursday, June 23
3:30-4:00pm - Registration, Networking and Beverage Service
4:00-5:00pm - Panel Discussion
5:00-5:30pm - Networking, Appetizers and Beverage Service