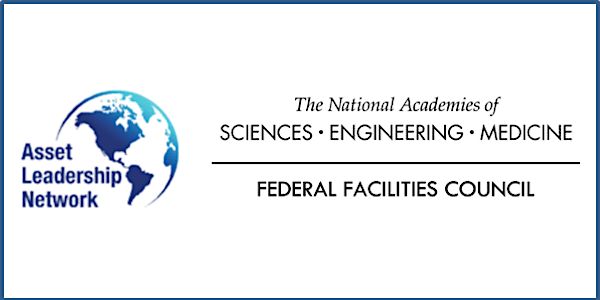 Asset Management of Federal Facilities
By Federal Facilities Council and Asset Leadership Network
When and where
Date and time
Tuesday, November 14, 2017 · 8:30am - 3:30pm EST
Location
National Academy of Sciences 2101 Constitution Avenue Northwest Lecture Room Washington, DC 20418
Description
Asset Management of Federal Facilities
National Academy of Sciences | 2101 Constitution Avenue Northwest | Lecture Room | Washington, DC 20418
Tuesday, November 14, 2017 from 8:30 AM to 3:30 PM (EST)
As part of the 4th Federal Asset Leadership Week, the Federal Facilities Council and the Assset Leadership Network will host a forum on Tuesday, November 14, 2017 entitled: Asset Management of Federal Facilities. This forum will focus on challenges that are affecting federal facility asset management and what federal employees and service providers can do to improve the use, efficiency and effectiveness of the federal government's facility and infrastructure portfolios.
This event is free, but space is limited. Lunch will be provided.

The 4th Federal Asset Leadership Week, is a series of Keynote speeches, panel discussions, case studies, interactive demonstrations and networking events will allow federal executives to learn how the U.S. Federal Government is already using the ISO 55000 asset management system and how its expanded use can dramatically improve asset management for all agencies.For more information on all all th events for the week visit: http://federalassetleadershipweek.weebly.com/.

About the organizer
The Federal Facilities Council (FFC) mission is to identify and advance technologies, processes, and management practices that improve the performance of federal facilities over their entire life-cycle, from planning to disposal. 
The Asset Leadership Network is an organization focused on impacting asset management across all industries, markets and sectors that are dependent on physical assets to achieve strategic organizational objectives. Simply, asset management helps organizations realize greater value from their assets, and impacts the financial and operational performance of the enterprise.
The ALN's primary objective is to help organizations identify and utilize the best practices most suited to the organization's needs. The ALN recognizes asset management as a distinct professional discipline complementary to other professional disciplines involved in managing assets, and provides a broad network where leaders quickly find the help and solutions they are looking for, including best practices, use cases, systems, doctrine, business processes, strategies, services, professional organizations, or people.
For more information about ALN, please visit: http://assetleadership.net/