Location
Assawoman Wildlife Area
32877 Warbler Ct.
Frankford, DE
Description
Volunteer with the Delaware Center for the Inland Bays to plant 3,500 seedlings in the Assawoman Wildlife Area Muddy Neck Tract! Come dressed warm in comfortable footwear. Bring gloves and shovels (if you have them) and reusable water bottle.
Planting will occur on Friday, March 29th, and Saturday, March 30th.
Two shifts are available each day:
You're invited! Schell Brothers has opened up their beautiful model home inside The Preserve at Jefferson Creek development to host breakfast and happy hour for our volunteers! Coffee, donuts and fruit will be offered on Friday and Saturday starting at 9am followed by beer, wine, and finger sandwiches at 3pm on Saturday. Parking for the planting event will be inside the development entrance along Sanderling Drive, follow signs.
Model home address: 32877 Warbler Ct, Frankford, DE 19945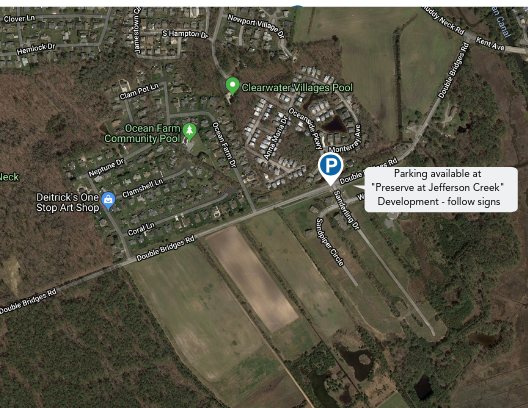 Please arrive promptly at the start of your shift to sign in, complete waiver and hear instructions on how to plant. No previous planting experience required. Paricipants under 18 must have an adult present.
No rain date.
Additional information will be provided via email closer to planting date. Any pressing questions, please email vspice@inlandbays.org