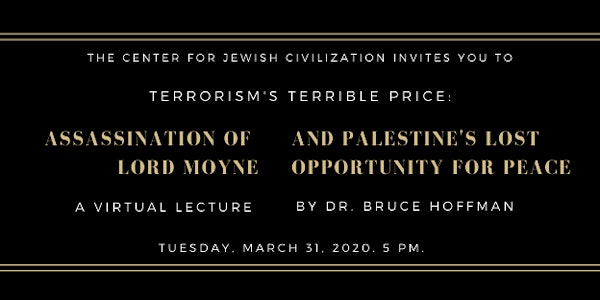 Assassination of Lord Moyne and Palestine's Lost Opportunity for Peace
The Center for Jewish Civilization invites you to (virtually) join us for a lecture on "Terrorism's Terrible Price" with Dr. Bruce Hoffman.
About this event
**This event is online only.
Zoom link: https://georgetown.zoom.us/j/949388193
About the event: Lord Moyne was the senior British official responsible for the Middle East during World War II. A member of Prime Minister Winston Churchill's cabinet, he was also one of Churchill's oldest friends and closest political allies. On November 6, 1944 he was assassinated by two gunmen. Moyne's murder remains mostly forgotten or ignored. But, it had far-reaching consequences: extinguishing a key opportunity to resolve Palestine's political future at an especially opportune moment and consigning a region and its people to seemingly perennial conflict.
Professor Bruce Hoffman has been studying terrorism and insurgency for over four decades. He is a tenured professor in Georgetown University's Walsh School of Foreign Service and until recently was director of its Center for Security Studies and Security Studies Program. Hoffman is also visiting Professor of Terrorism Studies at St Andrews University, Scotland. He previously held the Corporate Chair in Counterterrorism and Counterinsurgency at the RAND Corporation, where he was also director of RAND's Washington Office and vice president for external affairs. Hoffman was appointed by the U.S. Congress as a commissioner on the 9/11 Review Commission and has been Scholar-in-Residence for Counterterrorism at the Central Intelligence Agency; adviser on counterterrorism to the Coalition Provisional Authority, Baghdad, Iraq; and, an adviser on counterinsurgency to Multi-National Forces-Iraq Headquarters, Baghdad, Iraq. Hoffman's most recent books include The Evolution of the Global Terrorist Threat (2014); Anonymous Soldiers (2015); and, Inside Terrorism (3rd edition, 2017). Hoffman is currently a Wilson Center Global Fellow, a visiting senior fellow at the Council on Foreign Relations and a senior fellow at the U.S. Military Academy's Combating Terrorism Center.
Please email any questions or concerns to cjcinfo@georgetown.edu