ASQ Philadelphia, Certified Manager of Quality & Organizational Excellence - CP 350-1, OnLine & Classroom at MCCC &Gotomeeting

Thursday, January 7, 2016 at 6:00 PM

-

Thursday, February 25, 2016 at 9:00 PM (EST)
Event Details
ASQ Philadelphia - Certified Manager of Quality/Organizational Excellence (CMQ/OE) Preparation/ Refresher,   CP350, OnLine and/or Classroom
Cost: $850, Register on Eventbrite ASAP
Instructor: Jay Armstrong, CMQ/OE
ASQ RU: 1.8
Register: https://cp350-1cmqoe2016.eventbrite.com
HOW WILL THIS WORKS:
Thursdays, Jan 7 to Feb 25, from 6 to 9 PM via Gotomeeting (classes will be recorded so you can review them via Dropbox.
Montgomery County Community College (MCCC) room TBD
A minimum of 5 students are required to hold this course. If interested, please register as soon as possible.
Prerequisites:
There are no prerequisites for this preparation/refresher class; however, 10 years of on-the-job experience is required in applying for the certification examinations. More precise information is found in the ASQ Brochure at:
http://asq.org/certification/resource/pdf/certification/inserts/CMQ-OE%20Insert.pdf
Proposed Benefits of ASQ CMQ/OE Certification:
Value Proposition:
Certification from ASQ is considered a mark of quality excellence in many industries-- not just through mastery of the body of knowledge in quality systems and tools, but also through ability to build alliances across functions.
Having the CMQ/OE certifications in company resumes might very well differentiate you and your company.
Content:
The seven broad topics of the CMQ/OE Body of Knowledge include:
1.         Leadership
2.         Strategic Plan Development and Deployment
3.         Management Elements and Methods
4.         Quality Management Tools
5.         Customer-Focused Organization
6.         Supply Chain Management
7.         Training and Development
What you will learn and apply:
Managing Quality in or outside the quality functional organization

Leveraging the quality organization and management systems

Motivating and evaluating staff

Managing projects and human resources

Leading teams in monitoring, measuring, and improving performance with customers/suppliers

Champion process-improvement initiatives—everywhere

Building alliances – strengthening relationships

Understanding company cultures and personalities,

Contributing to the strategic planning and deployment initiatives

Analyzing financial situations,

Determining and evaluating risk

Integrating quality systems and tools into the fiber of assorted management systems
Class Details:
            Be part of a local study group. Be part of a facilitated, small, study group of local professionals doing a page-turn of the ASQ body of knowledge textbook. Your instructor is experienced in CMQ/OE group study and has tact in mind to repeat. Don't study by yourself. Join us!
            Familiarize yourself with the exam. This course is presented in a way that reinforces current knowledge, re-introduces applications that may not be used every day, explains the rationale for use and highlights sample questions, both multiple-choice and constructed responses.
            Pace your self-study over eight sessions. As facilitator, the instructor will enable the group to see the fully body of knowledge and zero in on areas in need of self-study or brush up on your own before the exam. The study group will be paced through eight sessions outlined above as presented the Quality Council of Indiana CMQ/OE Promer.  Participants will be asked to pre-read each section each class, so the page-turn in class can be fairly fast. The instructor will plan and encourage stopping points to discuss rational for and/or likelihood of examination questions.
            Practice and receive critiques. As facilitator, the instructor will allow time at each session to practice multiple choice questions, and practice constructed response questions. The instructor will also provide individualized critiques via email between classes. If you are preparing for a retest to maintain/renew your certification, your input and participation is welcome. Time spent in-class will not only be fun but give you confidence entering the re-examination.
            Timing of the Class. This classed aligns with the ASQ Philly offering of a proctored certificate exam on Saturday March 5th 2016 at MCCC.
          You must purchase the printed Quality Council of Indiana CMQ/OE Primer, Certified Manager of Quality/Organizational Excellence ($80). Additional course material will be provided via Dropbox. 
http://www.qualitycouncil.com/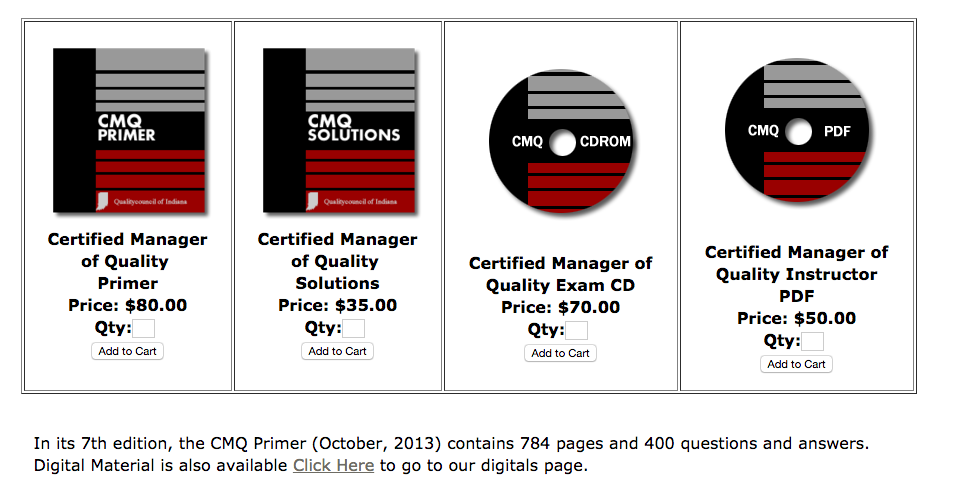 Not included in the fee is the ASQ certification exam fee. Class registration fee does not cover exam registration and fee. To take the ASQ CMQ/OE Certification Examination, go to ASQ.org https://asq.org/cert/dates to find "Manager of Quality/ Organizational Excellence" exam dates and path. 
Class Availability
•           Must have a minimum registration of 5 students to hold the course
Class Fee - $850.00 per person. A group rate of $765.00 per person when 3 or more register from the same company at the same time
Questions?
Class information & Emergency Contact: - Chris Connors, chrisconnors811@gmail.com

Check payments only: -  Chris Connors, chrisconnors811@gmail.com, 610-864-8637
General information
If the course is held during the day, except where noted, lunch and morning and afternoon breaks are included in the fee. Emergency cancellation notification is to the mobile phone number you provided at registration.
AttendaReference Material, Registration, Refund, and Payment Details:
Section reserves the right to cancel the course if the minimum enrollment is not met.
Email from Eventbrite.com addressed to you will be used for important course information. Please open immediately and take appropriate action.
Refunds provided if class is not held.
Payment for the course is due by the first class session unless prior arrangements are made with the Section Education Chair or Section Treasurer.
Payme  Payment Options:
PayPal: Follow instructions on Eventbrite registration page
Pay by Check: Make payable to ASQ Philadelphia Section 0505
            Mail to:            ASQ Section 0505, Treasurer
                                     C/O Dr. Chris Connors, 811 Williamsburg Blvd., Downingtown, PA 19335
When & Where

Montgomery County Community College, Room TBD
340 Dekalb Pike,
Blue Bell, PA 19422


Thursday, January 7, 2016 at 6:00 PM

-

Thursday, February 25, 2016 at 9:00 PM (EST)
Add to my calendar
Organizer
Philadelphia Section - American Society for Quality
ASQ Philadelphia, Certified Manager of Quality & Organizational Excellence - CP 350-1, OnLine & Classroom at MCCC &Gotomeeting