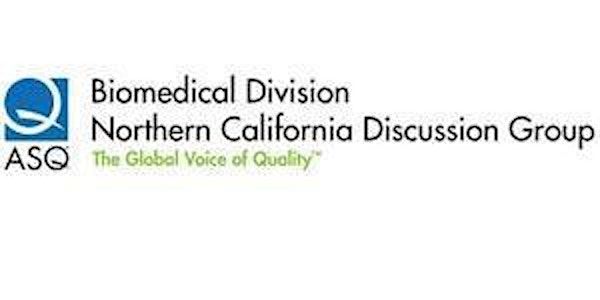 ASQ NCDG February 2019 Roundtable Back to Basics – Risk Management 'What i...
Description
---



Back to Basics – Risk Management
What is so basic about Risk Management? It is Everywhere!
Wednesday, February 27, 2019 7:00 - 9:00 PM


Topic: Back to Basics - Risk Management
ASQ NCDG will be discussing Risk Management 21 CFR 820.30(g), ISO 13485:2016, 14971:2012 (EU), and 14971:2007(R)2016 (US) cited in many other standards with focus on its basics, post-market and internal best clinical, engineering and quality system practices. Tom Shoup will discuss basic steps to build a risk management file and Barry Craner will discuss taking credit for what we already practice or should practice in good risk management.
During the presentation, Tom Shoup will cover the following topics:
Systematic creation of a Risk Management File

Learn & use the language of the standard

Getting the most out of Annexes C & H

Identifying hazardous situations (not just hazards)

Risk assessment = risk analysis + risk evaluation

What if the probability is unknowable?

ALARP

Safety assurance cases: how is it safe vs. what is the risk?

Risk Management Report: did we follow the process?
And Barry Craner will discuss helpful aspects of the following topics:
What can I get out of Fault Trees?

What's Strange about RPN's?

Software Risk Thoughts

Life-Cycle Risk Thinking

Human Factors as risk management – HE75, 62366, etc.

What about the "Z-Annexes"? (+ NBMed 2014 Report)

Day-to-day stuff we do to manage risk!

Thick skinned PM Surveillance early / late (FDA/EU thoughts).
Featured Speakers:
Tom Shoup, Ph.D. in Physics: Ultrasonic Imaging, has 30+ years of experience in engineering design and executive management in medical devices. He has worked with well-known companies in the Bay Area and outside such as Hewlett-Packard, Agilent, Siemens, Advanced Medical Optics, and Pelikan Technologies. Tom is the Principal Member of Foxburg LLC and completed executive education for General Managers at the University of Michigan Ross Business School. He created the coursework for Design Control for Medical Devices at UC Silicon Valley Extension and taught the course for 6 yrs. Tom recently wrote Premarket Risk Management for New Medical Device Companies (AAMI 2017). He has 13 US patents and expertise in 60601, 61010, 14971, 62304, 62366, plus other device standards.
Barry Craner, MS+ (Cardiac Physiology), MBA (Computer Information Systems), EE minor, CQE, CRE, CQA, CBA, RAC(US): has 40+ years' experience in managing engineering, quality assurance, regulatory, with 12 years teaching at California State University (MSQA – Professor), and UC Santa Cruz Graduate Extension in Medical Device and Regulatory certificate programs. Barry is past Chair, ASQ Biomedical Division (2007-2008), thrice Chair NCDG (2006, 2014, 2016), and been with the NCDG since 1993. He currently consults free-lance or in conjunction with ASQ, and has taught at several Fortune 500 companies, the FDA at FDA Headquarters, on topics such as General cGMP compliance, Risk Management, Design Control, and Auditing.
Moderator: Gary Seeger, Vice President, Stellartech Research Corporation, BSME, and ASQ CRE, CQE.
Location: Stellartech Research Corporation, 560 Cottonwood Dr., Milpitas, CA 95035
Food: Snacks equivalent to a light meal and beverages are provided at each event at no additional cost.
Email: To be added to or removed from our email list, contact George Marcel (gjmarcel@gmail.com).
ONLY Credit Card accepted at door
via Eventbrite
Questions: For information about this session, contact Anesh Tilwani (Anesh.tilwani@gmail.com).
Formal discussion and questions will end between 8:30 - 8:40 pm to allow time for networking.
Materials: Presentation & workshop sheets provided for onsite attendees only. Please limit distribution to attendees: personal professional use only.
Webinar Remote Access (no cost):
Organizer of ASQ NCDG February 2019 Roundtable Back to Basics – Risk Management 'What is so basic about Risk Management? It is Everywhere!'
§The Northern California Discussion Group (NCDG) is the regional ASQ Biomedical Discussion Group.  The Biomedical Division is an industry specific Division of ASQ §  Our Vision  To be the leading authority on quality issues related to the Biomedical Community   Our Mission  To promote the awareness and the use of quality principles, concepts and technologies in the Biomedical Community   www.asq.org/biomed   The local discussion group has a Linked In group (https://www.linkedin.com/groups/1804635) and mailing list as noted above.