Description
This registration site is for SPONSORS, ATTENDEES, SPEAKERS and COMMITTEE.
Type SPONSOR into the Enter Promotional Code
section of the registration selection and the Sponsor's opportunities will display.

Reduced Prices on

Course Offerings after BOSCON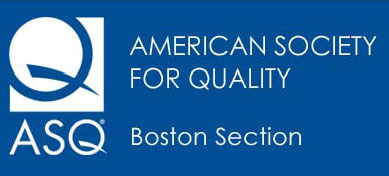 BOSCON 2020
39th Annual Quality Conference
#BOSCON2020
Performance Excellence -Your Competitive Edge
March 30-31, 2020, Hilton Boston Logan Airport, Boston, MA 02128
Special $229/night rate for ASQ Boscon- click on Hilton or enter ASQ into the Group Code on the hotel's reservations and rooms page.
BOSCON is an annual quality conference hosted by ASQ Boston. BOSCON is the section's signature event where national and international quality professionals hear speakers discuss different quality topics and network with them. The conference focus for 2020 is
Performance Excellence -Your Competitive Edge
to excel in the decade ahead.
Don't miss the chance to give your company the extra exposure of having enhanced visibility by listing in the program and becoming a sponsor. Type SPONSOR into the Enter Promotional Code section of the registration seection and the Sponsor and Listing opportunities will display.
All conference (2-day) registration fees include lunch on both Monday and Tuesday.
On-line registration ends Friday, March 27. At the door pricing is $750
Early bird registrants receive one free day of parking!
Day Pass registration fees include lunch on the day you are attending (i.e., you have registered for Monday only, you will receive a Monday lunch ticket)
A Taste of Topics to Date
Kaizen – Journey Towards Excellence
How Effective Project Risk Management Improves Quality.
Application of Lean Six Sigma Approach to Improve Performance of Gas Turbine Power Plant: A Case Study
Falling Forward: an Agile Story about Tragedy, Transference, and Total Happiness.
Write the Right User Stories Right
Write Right Agile User Story Acceptance Tests Right
Don't Let 'Quality Requirements' Reduce Quality
Agile Transformation: Leading People Through Agile Lenses
Getting a Grip on Your Business
Get Lean with Henry Ford's Four Wastes
Advancing Safety Technologies for Autonomous Vehicles; Perspective of Regulators, manufacturers, and Society
Quality Auditing – Medical Device Regulation
Build Trust. Tell the Stories Strategic Partners and Clients Really Need to Hear.
Document Control for the 21st Century
Questions?
BOSCON 2020 co-Chair- Donnalynn Dispirito, Dispwise@comcast.net
BOSCON 2020 co-Chair- Michelle St.George-Coyle, mcoyle@regions.asq.org
---
Need additional or more focused Quality information?
Reduced Prices on Special Course Offerings after BOSCON
Click on the course for more information and registration
Certified Reliability Engineer, April 1-2, 2020.
Click on url for details and registration
https://boscon2020-cre_prep.eventbrite.com/
OR https://tinyurl.com/CRE-BOSCON2020

Certified Supplier Quality Professional, April 1-3, 2020
Click on url for details and registration
https://www.eventbrite.com/e/certified-supplier-quality-professional-csqp-exam-preparation-tickets-85682399363 OR https://tinyurl.com/CSQP-BOSCON2020
Medical Device Auditor, April 1-3, 2020.
Click on url for details and registration
https://www.eventbrite.com/e/certified-biomedical-auditor-cba-exam-preparation-tickets-85676543849
OR https://tinyurl.com/CBA-BOSCON2020


Questions or feedback on courses -Carmel Denis dcarrmell@gmail.com
---