Description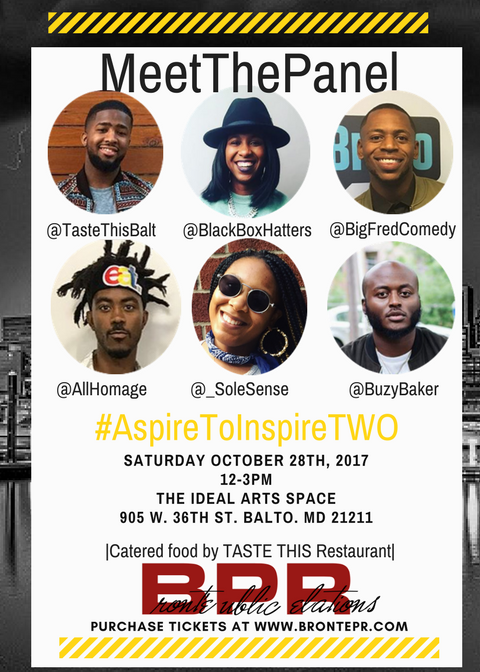 #AspireToInspire is a Panel discussion and networking event with some of Baltimore's and D.C.'s most influential Millennials. This event will spotlight these cities in a positive way to show that there is more to see than the negativity you see on the news. These Millennials have proven that if you have a dream and are willing to put in the work, you can achieve anything you put your mind to! Join us as we discuss everything from what inspires them to current events and get the chance to mix and mingle with other millennials and aspiring entrepreneurs in the area.
MEET THE PANEL:
CRAIG "ARTPUSHA" CURBEAN - CHEF & OWNER OF TASTE THIS RESTAURANT

MORGAN K. - DESIGNER & OWNER OF BLACK BOX HATTERS

BIG FRED - COMEDIAN AND PHILANTHROPIST

MALIK "ALLHOMAGE" JARRETT - OWNER OF "EAT" & PHILANTHROPIST

B. WILL - BUYER & OWNER OF SOLE SENSE
JUST ADDED - * BUZY BAKER* INFLUENCER, RADIO PERSONALITY AND CREATOR OF "FOR THE CULTURE" ON DASH RADIO
*MORE SPECIAL GUESTS TO BE ANNOUNCED*
REFRESHMENTS & FOOD CATERED BY TASTE THIS RESTAURANT
GIFT BAGS WILL BE GIVEN TO ALL ATTENDEES.
KIDS ARE FREE
ADVERTISING & SPONSORSHIP OPPORTUNITIES AVAILABLE - PLEASE EMAIL US AT INFO@BRONTEPR.COM