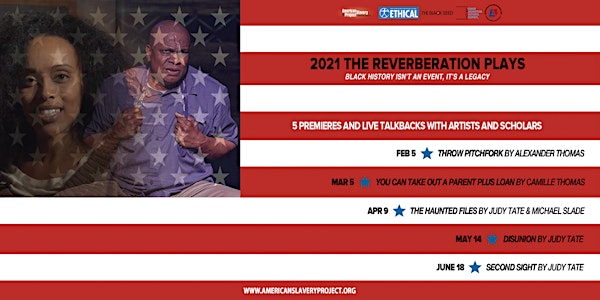 ASP The Reverberation Plays: The Haunted Files Premiere & Live Talkback
American Slavery Project: The Reverberation Plays | Premiere 4/9 at 7:30pm EST | On demand until 5/13
About this event
*THF Premiere 4/9 at 7:30pm EST | On demand until 5/13
The Reverberation Plays | Audio drama premieres with soundscapes and minimal visuals that dramatize how Black History isn't an event, it's a legacy. Audio drama & post-show conversation will be available to watch on demand until May 13th on ASP's homepage. After you RSVP (Eventbrite), you will be emailed a unique password to watch the show on our homepage.
FEBRUARY 5: "Throw Pitchfork" by Alexander Thomas
MARCH 5: "You Can Take Out a Parent Plus Loan" by Camille Thomas
*APRIL 9: "The Haunted Files and H.S. Monologue Mission" by Judy Tate, Michael Slade and H.S. Students
MAY 14: "Disunion" by Judy Tate
JUNE 18: "Second Sight" by Judy Tate
*April 9, 2021 at 7:30pm (EST) | The Haunted Files and H.S. Monologue Mission Premiere & Live Talkback
Directed By Melissa Maxwell
H.S. Monologue Challenge Co-Commissioner: International Theatre Project
Summary: In 1904, a young black infant named Hazel is left on a doorstep. She is taken in by a family from whom she later runs away. Thus begins an odyssey of arrests, institutionalization, and medical intervention — all in an effort to cure her of "immorality." Characters are real people from the files of the Eugenics Records Office in Cold Spring Harbor.
Cast: Antu Yacob & Stina Nielsen (Audio Drama) / J.D. Mollison & Kyla Garcia (Monologue)
Monologue Winners: Elliot Babilonia & Nicaulis Mercedes (Fordham H.S. of the Arts in the Bronx, NY)
Conversation: "Good Genes" & America's Quest for Racial Purity with Jack Tchen & Leora Fuller the original curators of The Haunted Files exhibition
www.americanslaveryproject.org
#Reverberations is made possible by grants from The Black Seed as well as Upper Manhattan Empowerment Zone and Creative Communities, made possible by NY Dept. of Cultural Affairs, New York State Council on the Arts and distributed by Lower Manhattan Cultural Council. The New York Society for Ethical Culture (Partner).
*When you register for ticket(s), you will be emailed a special password to view the show on ASP's homepage. Please be sure that the email associated with your Eventbrite registration is correct as the PASSWORD/URL will be sent to this address. No refunds.