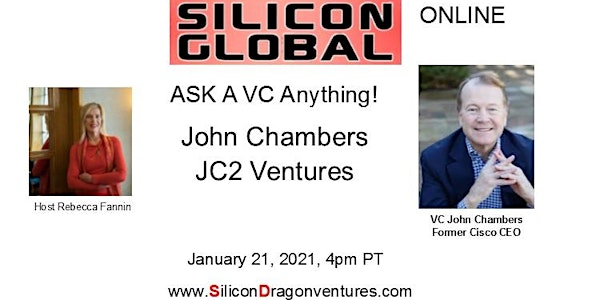 Ask VC John Chambers Anything!
Ask A VC Anything! John Chambers, JC2 Ventures
About this event
Silicon Global Online Presents
Ask A VC Anything!
featuring John Chambers, former Cisco CEO / Founder, JC2 Ventures
Bio: John Chambers
John Chambers is the founder and CEO of JC2 Ventures, which is helping disruptive startups from around the world build and scale. Additionally, Chambers is promoting the development of startup nations and a startup world that can drive economic progress and job growth in a Digital Age. He invests in companies across categories and geographies that are leading market transitions, helping them to act before the market shifts, tap customers for strategy, partner for growth, build teams, and create disruptive innovations.
Prior to founding JC2 Ventures, Chambers served as CEO, Chairman and Executive Chairman at Cisco Systems. During his 25+ years at Cisco, he helped grow the company from $70 million when he joined in 1991, to $1.2 billion when he became CEO in 1995, to $47 billion when he stepped down as CEO in 2015. As Executive Chairman, a position Chambers held until December 2017, he led the Board of Directors. His book, Connecting the Dots, shares his management, leadership and business principles that led to this success.
Chambers has provided industry expertise to government leaders around the world, including nine U.S. Secretaries of State and Presidents Bill Clinton and George W. Bush. He is Chairman of the US-India Strategic Partnership Forum (USISPF) and Global Ambassador of President Macron's French Tech. He is widely recognized for his leadership in philanthropy and corporate social responsibility.
He holds a bachelor of science/bachelor of arts degree in business and a law degree from West Virginia University, as well as a master of business administration degree in finance and management from Indiana University.
Bio: Rebecca A. Fannin
Rebecca is the founder of news and events group Silicon Dragon Ventures. Her journalistic career covering global innovation began in Silicon Valley during the dotcom era. Following the venture capital trail to Asia, she was one of the first American journalists to write about China's entrepreneurial boom, interviewing Jack Ma of Alibaba and Robin Li of Baidu, among others. A regular media commentator and speaker, she also has frequently contributed to CNBC and Forbes, and her articles have appeared in Harvard Business Review, CEO and Inc. magazine. Rebecca's three forward-looking books, Silicon Dragon, Startup Asia and her latest title, Tech Titans of China, are a go-to resource on top innovation trends and players. Rebecca has worked in the world's leading tech hotspots as a pioneering journalist and host of numerous events and forums.
About Silicon Dragon on Zoom
Silicon Dragon presents its online series, Ask A VC Anything. We kicked off the series with Bill Tai, a first investor in Zoom. Each week, we feature a VC in a Q&A session. This series helps startups and investors connect and provides valuable insights into what makes each VC tick. Whether you're raising capital, perfecting your business model, scaling during challenging times, or figuring out how to get unicorn status, an IPO or M&A deal, don't miss this series. Register and join us online.