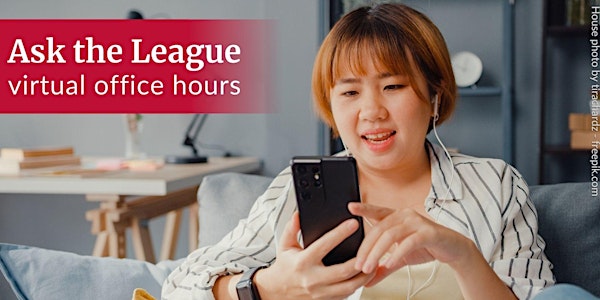 Ask the League: League of Women Voters Resources Hour
Get answers to your questions about redistricting, voter registration, and your ballot from the League of Women Voters of San Francisco!
About this event
There's a lot you might want to know about local redistricting, voter registration, your ballot, and upcoming elections. Our members will be on hand to answer your questions at our Ask the League virtual office hours.
This recurring session is meant to answer your individual questions about redistricting or upcoming elections. There will be no standard program or presentation.
Sundays 11:00am-11:45am
Zoom:
https://us02web.zoom.us/j/84489650780?pwd=dStuRy94ZG1zV2ZLblBQKzE4WTkrdz09
By Phone:
+1 669 444 9171 US
Meeting ID: 844 8965 0780
Passcode: 126158
Resources:
Questions? Email voterservices@lwvsf.org
About us
The League of Women Voters of San Francisco is a nonpartisan political nonprofit that defends democracy. We provide education to encourage people to vote in elections and participate in government. We also engage in advocacy to influence public policy that benefits the community. People of all genders are welcome.