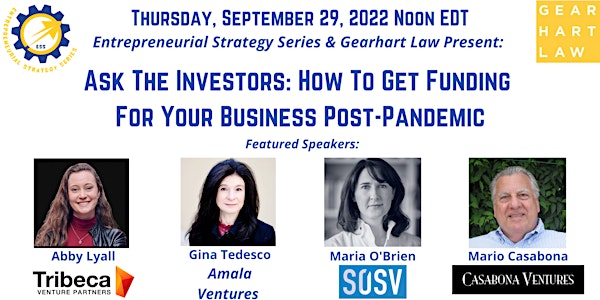 Ask The Investors: How to Get Funding For Your Business Post-Pandemic
Angels and Venture Capitalists confirm truths and even dispel the myths about investors' post-pandemic strategies!
About this event
ASK THE INVESTORS: Everything You Need to Know About Getting Funding for Your Business Post-Pandemic
Presented by the Entrepreneurial Strategy Series and Gearhart Law.
Reports state that Post COVID investors have changed their strategies in how they invest in companies. Our esteemed panel consists of Angels and Venture Capitalists who can confirm truths and even dispel the myths about post pandemic investments! The panel will also let you what it takes in today's current economic climate to get their attention and their support. The panel will also discuss investment trends from their unique perspectives post Covid.
What are investors looking for?
How can your company stand out?
What types of technologies and brands are they looking for.
How important is your Intellectual Property and much much more.
We encourage you to submit your questions before the session upon registration!
Abby Lyall, Investor at Tribeca Venture Partners: Abby focuses on sourcing and conducting diligence on disruptive tech companies across industries. Prior to joining Tribeca Venture Partners, Abby was a Vice President and an early employee at Big Idea Ventures, an early-stage venture fund focused on alternative protein and food technology. She began her career at Quake Capital Partners, an industry-agnostic venture firm and accelerator in NYC where she was the second employee. While studying at New York University's Stern School of Business, Abby co-founded MyDrop, an education technology company focused on student community service, which inspired her to pursue a career in entrepreneurship and innovation. Abby is passionate about mental health, fighting global climate change and using entrepreneurship and technology to make the world a better place. Read more at: https://tribecavp.com/
Gina Tedesco, Managing Member of Amala Ventures: Amala Ventures invests in early-stage companies with diverse teams and innovative and disruptive technology in the USA and Brazil. She is also a Managing Director and NJ Chapter Lead of Golden Seeds, a national network of angel investors dedicated to investing in early-stage companies founded and led by women and a member and board trustee of Jumpstart NJ Angel Network, a private, member-lead, angel group that invests in early-stage technology companies in the Mid-Atlantic region. Read more at: https://www.linkedin.com/in/gina-tedesco-48947613/
Maria O'Brien, General Counsel for SOSV: SOSV is a global, multi-stage venture capital firm that operates early stage startup development programs. Maria leads the SOSV in-house legal team from the SOSV offices in Cork, Ireland. In her role, Maria oversees all legal matters for the firm, including reviewing, co-ordinating, and managing 150+ program and follow-on investments annually, liaising with the SOSV finance and operations teams on execution and fund management, providing counsel to SOSV General Partners on investments and partnerships, and actively mentoring SOSV startups and entrepreneurs on a variety of corporate and commercial matters. Before joining SOSV as in-house counsel in 2015, Maria worked in private practice as a commercial solicitor involved in national and international transactions including mergers and acquisitions, joint ventures, private equity, corporate reorganizations and liquidations. Read more at: https://sosv.com/
Mario Casabona, Founder of Casabona Ventures: Mario Casabona is a Serial Entrepreneur, Active Angel investor and the former Founder and CEO of Electro-Radiation Inc., a Defense Electronics Company which was acquired by Honeywell Aerospace. Currently, General Partner on 3 Limited Partnerships; Founder (2007) and Managing Director at Casabona Ventures; Founder (2012) and Managing Director at TechLaunch; active member (since 2007) of Jumpstart NJ Angel Network; Board Member on several early stage tech ventures; Advisory Board member on several Universities. He was past Chairman of Jumpstart NJ Angel Network and the R&D Council of NJ. Past Commissioner on the NJ Commission on Science and Technology. Mario holds a degree in Electrical Engineering and awarded 11 Patents. Mario enjoys mentoring entrepreneurs and being a guest speaker. Read more at: https://casabonaventures.com/
Richard Gearhart, Esq, Founding Partner at Gearhart Law is our event moderator. Please email him with questions for our guests at: richard@gearhartlaw.com.
This event is sponsored by Gearhart Law, a full service Intellectual Property firm specializing in Patent, Trademark and Copyright Law domestically and globally. We serve inventors, entrepreneurs, and established businesses. We can help you strategize and build your IP portfolio based on your business needs. Call us for a free consultation at 908-273-0700 or contact us through https://www.gearhartlaw.com/.