Ask the Expert NETWORK - APRIL Edition with Trisha Bradley - How Women EFFE...
Description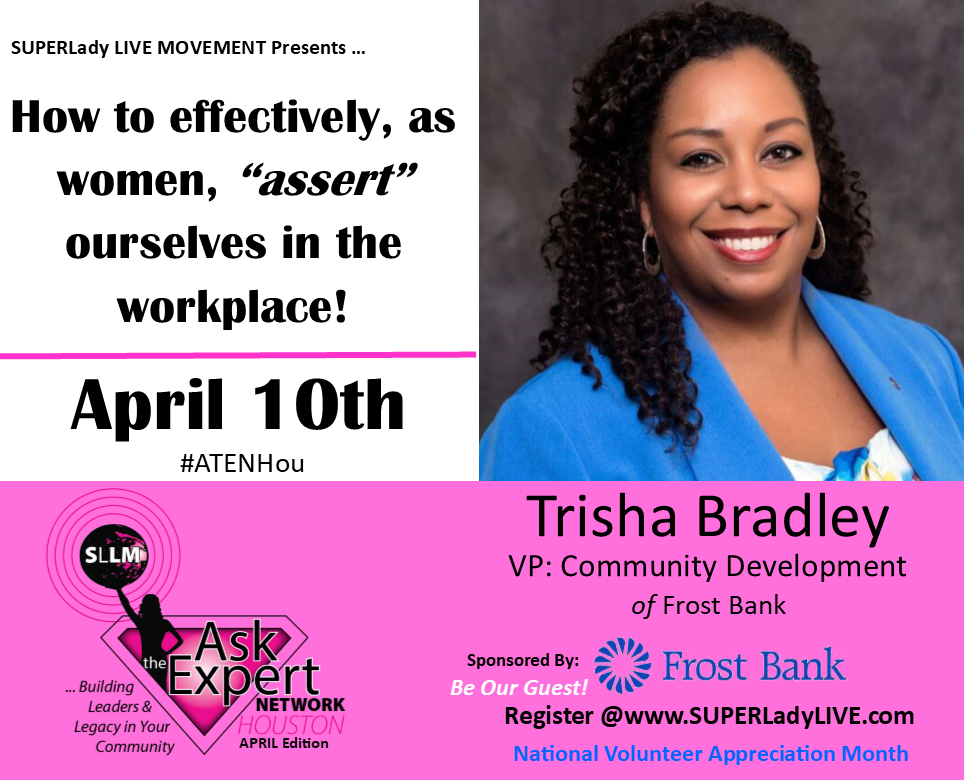 As SUPERLady LIVE MOVEMENT, in Collaboration with Frost Bank says, THANK YOU Volunteers, Supporters and Champions.
Come out and enjoy Networking on purpose with Men & Women in a Variety of Professional Industries.
Then join our LIVE Taping conversation on "How to effectively, as women, "assert" ourselves in the workplace!" with Trisha Bradley, VP: Community Development of
Frost
Bank, hosted by Loretta Williams Gurnell, CEO & Managing Partner of
SUPERLady LIVE MOVEMENT
. Great conversation for the working man, woman, colleague, friend, mentor and mentee!
According to a recent study, women who are assertive in the workplace are compensated more than their "nice" counterparts. But even the most dominant women are still paid less than the least assertive men.
Hurry, tickets won't last! WHY?
#TOGETHERWeAreSTRONG
NETWORK with men and women.
Get the 411.

Ask Questions.

Learn How to Team Up.

Position your Business.

Engage in Authentic Dialogue.

Be the Change.

Challenge with Integrity.

Build Momentum.

Create a Buzz.

Complete to COMPLETE.

Be Seen and Heard.

Strategies for Longevity.

Deliverables!
Remember this ... "The size of your dreams must always exceed your current capacity to achieve them. If your dreams don't scare you, they aren't big enough!" ." - Ellen Johnson Serleaf, President of Liberia
Great for colleagues, team members, mentors and mentees. WHY? #TOGETHERWeAreSTRONG
#ATENHOU Pre-register Now.