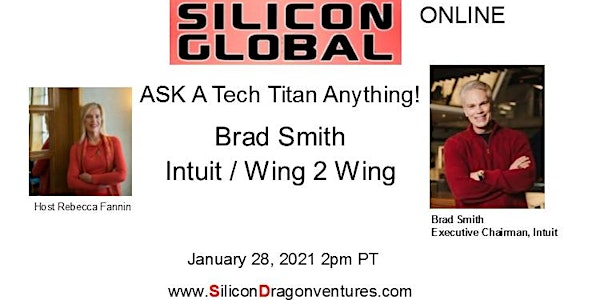 Ask Tech Titan Brad Smith Anything!
Fireside chat with Intuit and Wing 2 Wing leader Brad Smith
About this event
Silicon Global Online Presents
Ask A VC Anything!
featuring Brad Smith, Executive Chairman, Intuit / Co-founder, Wing 2 Wing
Bio: Brad Smith
Brad D. Smith is the former CEO of Intuit and co-founder of The Wing 2 Wing Foundation. He currently serves as Intuit's executive chairman of the Board of Directors and is chairman of Nordstrom's Board of Directors, and a sitting member of the Board of Directors of SurveyMonkey.
Smith led Intuit's transformation from a North American desktop software company to a global, cloud-based product and platform company, proving himself as a leader capable of the necessary flexibility to thrive in today's tech landscape. By the conclusion of Smith's 11-year tenure as Intuit's CEO, he nearly doubled the company's revenue and increased its stock price more than 500%, while accumulating a robust list of annual "Best Places to Work" awards and accolades.
In 2018, Smith announced that he was leaving his CEO role at Intuit. Shortly after, he co-founded The Wing 2 Wing Foundation with his wife, Alys.
The organization's goal is to advance the great equalizers of education and entrepreneurship in regions where individuals and communities have been overlooked and underserved. In doing so, they strive to champion human dignity and unleash human potential.
Smith received his BA in marketing from Marshall University in 1986, followed by his MA in leadership development from Aquinas College in 1991.
He currently resides in Menlo Park, CA.
Bio: Rebecca A. Fannin
Rebecca is the founder of news and events group Silicon Dragon Ventures. Her journalistic career covering global innovation began in Silicon Valley during the dotcom era. Following the venture capital trail to Asia, she was one of the first American journalists to write about China's entrepreneurial boom, interviewing Jack Ma of Alibaba and Robin Li of Baidu, among others. A regular media commentator and speaker, she also has frequently contributed to CNBC and Forbes, and her articles have appeared in Harvard Business Review, CEO and Inc. magazine. Rebecca's three forward-looking books, Silicon Dragon, Startup Asia and her latest title, Tech Titans of China, are a go-to resource on top innovation trends and players. Rebecca has worked in the world's leading tech hotspots as a pioneering journalist and host of numerous events and forums.
About Silicon Dragon on Zoom
Silicon Dragon presents its online series. We kicked off the series with Bill Tai, a first investor in Zoom. We regularly feature a VC or Tech Titan in a Q&A session. This series helps startups, strategists and investors connect and provides valuable insights into what makes them tick. Whether you're raising capital, perfecting your business model, scaling up, going for unicorn status, an IPO or M&A deal, or figuring out your Give Back strategy, don't miss this series. Register and join us online.