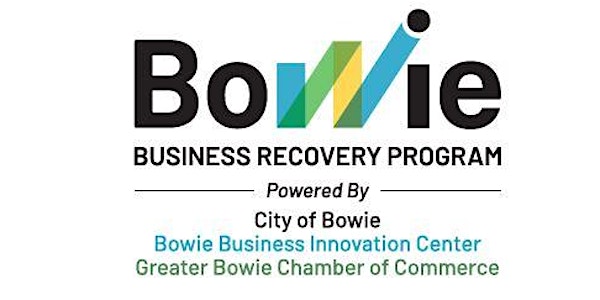 Ask Questions about Capture Management: Are You Prepared to Win Business
Bowie Business Recovery One-on-One (Individual) Sessions:
About this event
The Bowie Business Recovery (BBR) program offers a FREE Open Door Session exclusively for Bowie businesses. Our next session, hosted by Mike Byrd of Sydian Systems will be held on May 19th from 2:00 - 3:30pm. Mike will be available to meet One-on-One via phone with Bowie companies who have questions related to the Capture Management and/or Business Development processes necessary to effectively position your company to identify, engage and win new business and clients.
Priority will be given to businesses located in the City of Bowie.
The Bowie COVID-19 Business Recovery Assistance Program delivers online technical assistance to help Bowie businesses accelerate their post-pandemic economic recovery. This program is a collaboration between the Bowie Business Innovation Center business accelerator and the Greater Bowie Chamber of Commerce, funded by the City of Bowie.
Bowie BIC is a hub for business acceleration where technology companies and government contractors in Prince George's County and the City of Bowie access the entrepreneurial resources, capital and connections they need to thrive. (www.bowiebic.com )